The Daily Escape: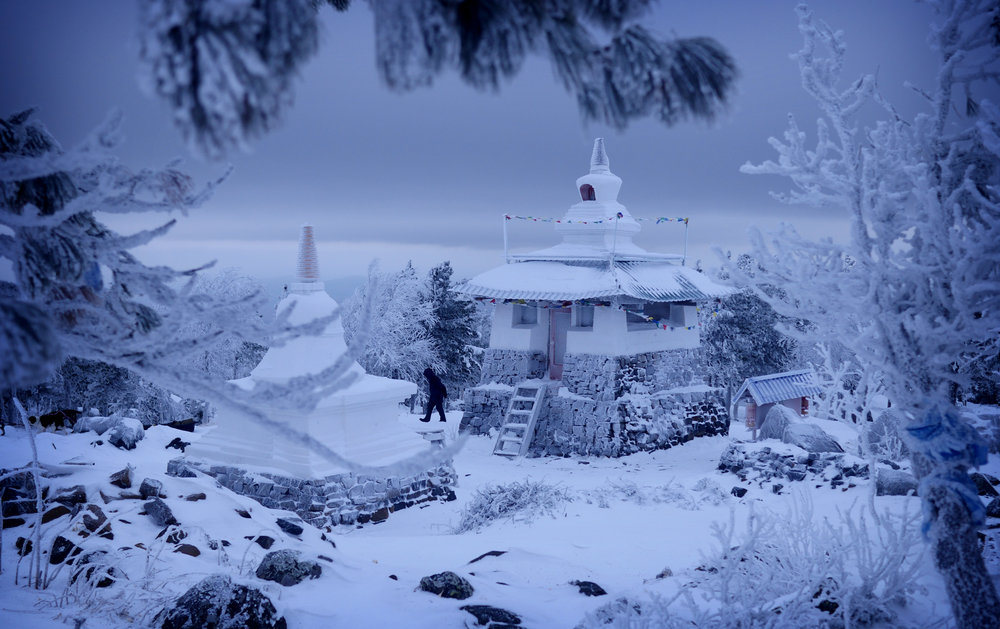 Monastery at Mt. Kachkanar, Ural Mountains, Russia – 2017 photo by Amos Chapple. Built by a Russian Afghanistan war veteran, the monastery sits on land to be mined for its iron deposits. The land is owned by Roman Abramovich, an oligarch with close ties to Russian President Vladimir Putin.
"You've got to get yourself together,
You've got stuck in a moment,
And now you can't get out of it.
Don't say that later will be better
Now you're stuck in a moment,
And you can't get out of it" – U2
The Wall is Trump's moment. He believes he doesn't have to cave in to Democrats. Democrats face the same moment. They rightly believe that if they cave in, Trump will ride them all the way to the 2020 presidential election. We the people are all stuck in this moment, too.
So, let's take a moment, and understand the border wall today. The border with Mexico is roughly 1,900 miles long, and spans four states: California, Arizona, New Mexico and Texas. The Berlin Wall was 96 miles long, while the Great Wall of China is 13,000 miles long.
The current wall consists of about 700 miles of varied barriers, ranging from 10-foot rusted fencing made from military surplus corrugated metal left over from the Vietnam era, to chain link fencing and vehicle barriers that are no barrier to pedestrian traffic. Most of this needs replacing just to maintain the status quo. Here's a map of where and what kind of wall we have: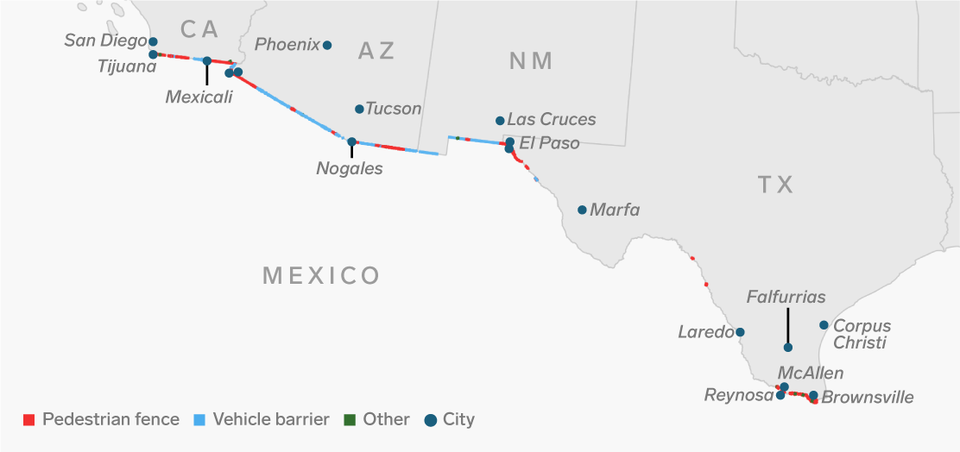 Source: The Center for Investigative Reporting and OpenStreetMap contributors
A total of $1.7 billion was appropriated in FY17 and FY18 for new and replacement barriers and fences. Most of these funds have been designated to the Army Corps of Engineers. Much of that has been awarded to contractors. Only a small percentage (6%) has been paid out.
The following projects account for about half of these funds:
Near San Diego to replace 14 miles of 8-10 foot metal wall/fence with 18-30 foot tall bollard wall system for $287 million to begin in July 2019.
In the Rio Grande Valley to build 8 miles of 18 foot bollard wall and replace existing levee wall for $167 million to begin in February 2019.
In New Mexico to replace 20 miles of fencing with bollard wall for $73 million
In Arizona to build/replace 32 miles of "primary pedestrian wall" for $324 million to begin in April 2019.
That's roughly $850 million for 75 miles of replacement fencing. At that rate, rebuilding the existing "wall" will take $8.5 billion and 10+ years.
The existing border fence cost about $2.4 billion. Building the rest of it could cost between $15 billion and $25 billion, with an annual maintenance cost of $700 million, according to an estimate by Marc Rosenblum, the deputy director of the US Immigration Policy Program at the nonpartisan Migration Policy Institute.
Trump will be long gone before his big, beautiful wall from sea to sea is built, if ever. It's possible that migration patterns will change before that were to happen. And however the barrier system eventually turns out, it still has to be manned and maintained to be effective.
The question on the table this week is does Trump need approval from Congress, or can he just declare a national emergency and build away?
The Secure Fence Act  was signed in 2006 by George W. Bush. The majority of the fencing now in was built before he left office. The last remnants were completed after Obama took office in 2009. However, Trump must follow a decades-old border treaty with Mexico that limits where and how structures can be built along the border.
The 1970 treaty requires that structures cannot disrupt the flow of the rivers, which define the US-Mexican border along Texas and 24 miles in Arizona, according to The International Boundary and Water Commission, a joint US-Mexican agency that administers the treaty.
Turning to Trump's national emergency idea, The National Emergencies Act was created to limit the power of a president to act without restriction in a situation that he deemed to threaten the republic. It limits the funds available for such construction to funds already appropriated for military construction.
The question is whether Trump can truly declare a "National Emergency" over a political fight. If so, can Trump go forward and legislate by Executive Order in a way that Obama was reviled for?
Time to wake up America! We need to look carefully at what limits on presidential power will be supported by Republicans.
After all, they thought Obama acted as a King.