The Daily Escape: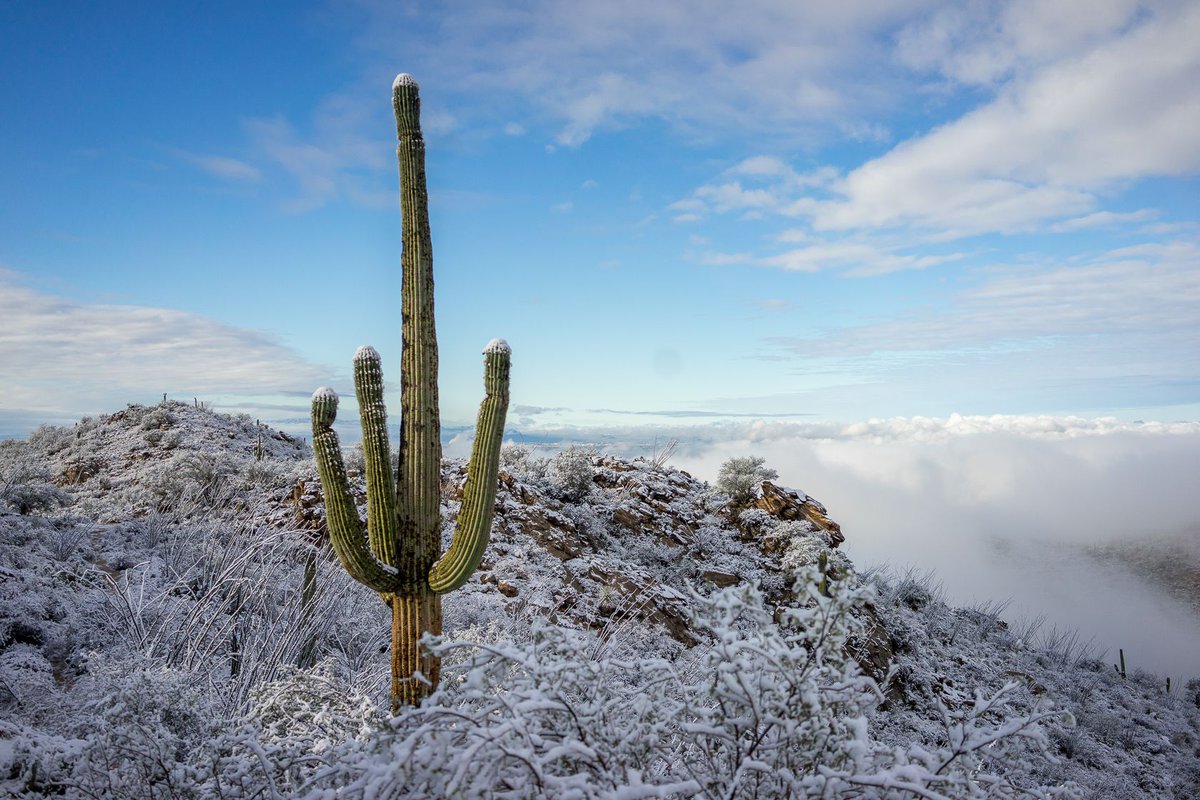 Snow in Sonoran Desert near Tucson – 2019 photo by Back o' Beyond
Nothing happened during Trump's dog and pony show last night. He tried reframing his demand for a wall as a need for better security from drugs, terrorists and criminals. Today, he's again brought up the national emergency trope. This should be America's reaction: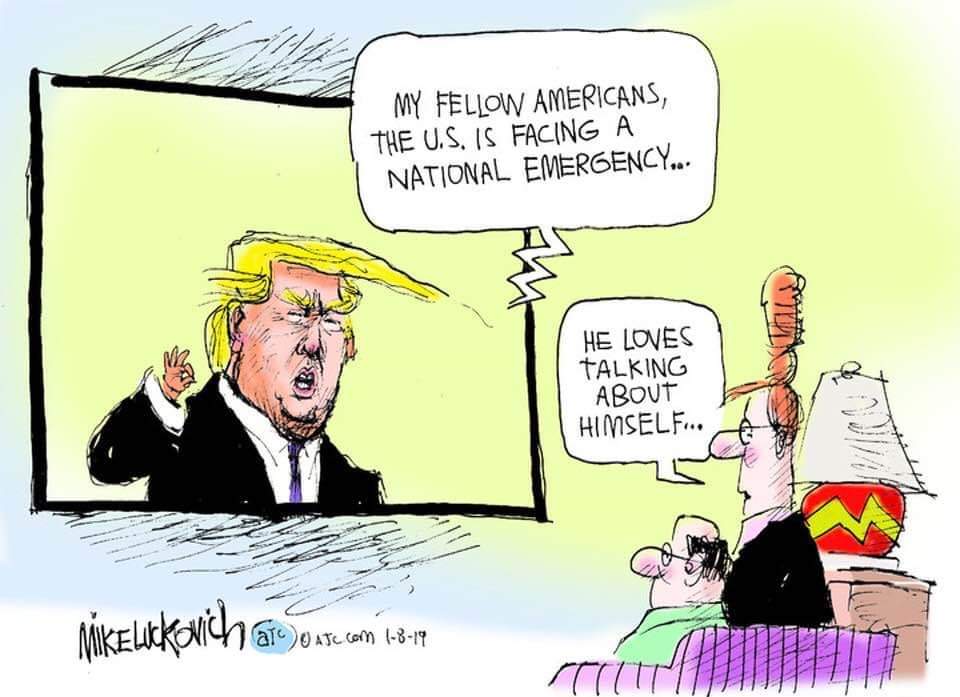 Much of his talk was a return to his campaign message that brown people from south of the border must be stopped before they pollute our glorious and exceptional culture. The biggest whopper was that:
Law enforcement professionals have asked for $5.6 billion.
We know who did the asking. We also know that most drugs enter via existing ports of entry that cannot be walled off. We know that the vast majority of terrorists enter via airports, and the paltry number stopped at the border came in from our wall-less neighbor to the north, Canada. Simply put, he couldn't put together a coherent argument for why this funding dispute about fence construction justifies a government shutdown.
At the end of the day, there is nothing more banal in American politics than a president having a proposal he can't get the opposition party to agree with. If every policy standoff ended in a government shutdown, we couldn't have a country at all.
This raises the frightening question of how a president who can't successfully manage peace and prosperity would deal with an actual crisis.
And one may be in the wings. On Sunday, National Security Advisor John Bolton tried to set conditions for a US retreat from Syria, changing what Trump has said about leaving as soon as possible. Bolton, on a trip to Israel and Turkey, said he would stress with Turkish officials, including President Erdogan, that Kurdish forces must be protected:
We don't think the Turks ought to undertake military action that's not fully coordinated with and agreed to by the United States at a minimum…so they don't endanger our troops, but also so that they meet the president's requirement that the Syrian opposition forces that have fought with us are not endangered."
Turkey was not amused. The YPG Kurds, our allies in Syria, are affiliated with the PKK which is viewed as a terrorist group in Turkey. Turkey has said they won't allow that group to exist on its border as an organized military force.
When Bolton, accompanied by Joint Chiefs head Joe Dunford and Syria envoy James Jeffrey, landed in Turkey, they received a cold shoulder. The planned meeting with President Erdogan didn't happen. The meeting was held instead with the Turkish National Security Advisor Ibrahim Kalin and took less than two hours. A planned joint press conference was canceled.
After Bolton's meeting, Raqip Solyu, Turkey Correspondent for MiddleEastEye reported on an Erdogan speech to his parliament group. It was a slap in Bolton's face:
YPG/PKK are terrorists. Some say 'don't touch them because they are Kurds'. This is unacceptable. Everyone can be a terrorist. They could be Turkmans. Their ethnicity doesn't matter. Bolton made a big mistake by his statements…
Solyu also reported that Erdogan said:
As it happened in the past, despite our clear agreement with Trump on US withdrawal from Syria, different voices started to come out from different levels of the American administration.
An editorial in an Erdogan aligned newspaper called Bolton's position a soft coup against Trump.
We have to ask: Is Trump really in charge?
We know he got tough on having a wall once Rush Limbaugh and Ann Coulter said he was a weakling if he kept the government open without getting his wall.
The NYT reported that in a lunch with television anchors before last night's Oval Office address, Trump said he was not inclined to give the speech, but was talked into it by his advisers. Trump said:
It's not going to change a damn thing, but I'm still doing it….
Erdogan likewise had a deal with Trump about the US leaving Syria. Bolton has changed the deal, to add conditions and to prolong the timeline for exit.
So, where is Trump on these issues? If he sticks with what Bolton said, Erdogan is likely to escalate to test who is in charge. His army will probably fire artillery on one or more Kurdish positions near the Turkish border. It may even invade a few towns. This will put serious pressure on the US occupation force, which at least right now, isn't leaving any time soon.
So, is Trump in charge? Who's gonna negotiate to reopen the government? Anybody?
Next we'll hear Trump say:
Government shutdowns are good and easy to win.