The Daily Escape: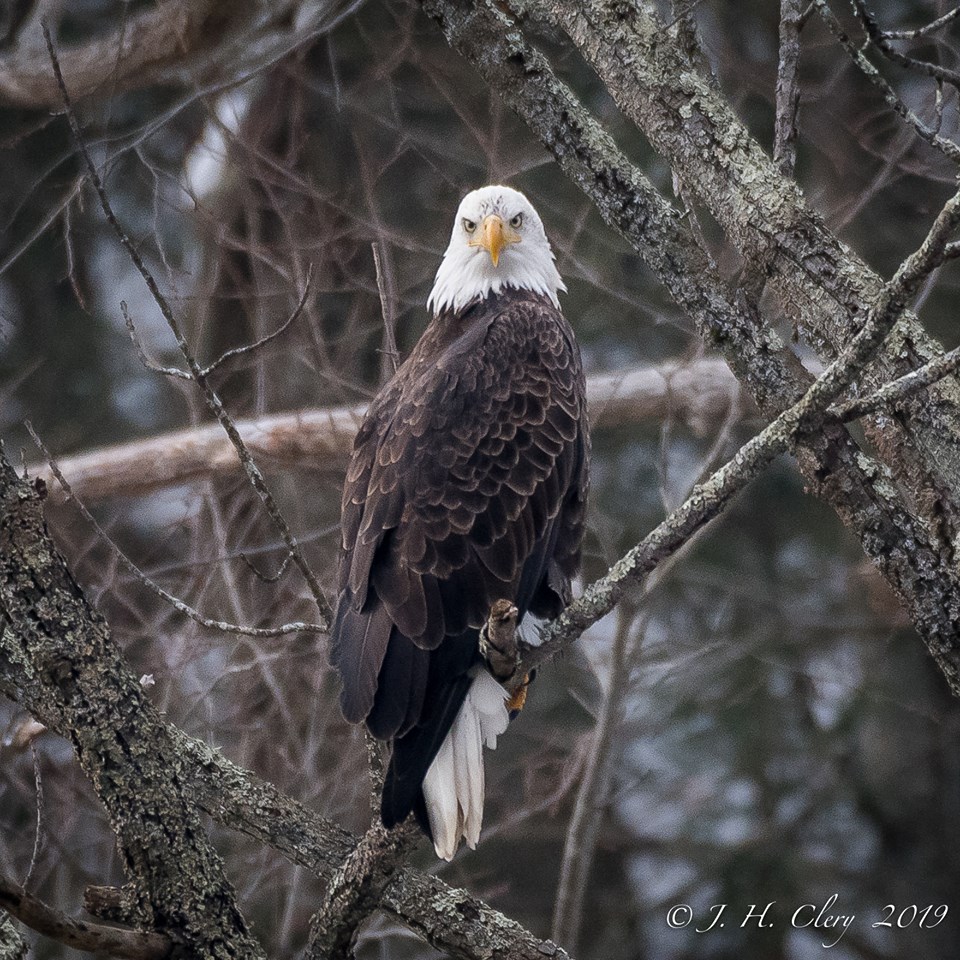 Bald Eagle on the Housatonic River, CT – February, 2019 photo by JH Clery
On Sunday's Face the Nation, Trump was asked about Venezuela and whether he'd negotiate with President Maduro to convince him to exit. Trump put military intervention squarely on the table:
"MARGARET BRENNAN: What would make you use the U.S. military in Venezuela? What's the national security interest?

DONALD TRUMP: Well I don't want to say that. But certainly it's something that's on the- it's an option."
This seems to be part of a larger Latin American plan. The WSJ reports that the Trump administration's plans include regime change in Venezuela, Nicaragua and eventually Cuba. This is a multiyear neocon project that has at least some bipartisan political support. It may require military force, as Trump indicated to CBS that he's willing to consider. One thing that the WSJ reports is this:
"US law-enforcement officials say they have evidence Mr. Maduro directed state resources to create what they allege has become one of the most powerful international narco-trafficking operations in the world, and with links to Hezbollah, the Lebanese group designated by the US as a terror organization."
So, there you have the first Western Hemisphere argument to "fight them over there, rather than fight them here".
As we said on Saturday, nothing unites a country like a sovereign enemy on its borders. Venezuelans may hate Maduro, but they also hate the US. China and Russia may be worried about the $50 billion and $17 billion Venezuela owes each respectively. Turkey has also supported Maduro. Although they all are Maduro's allies, it is unclear if they would be willing to help, should the US intervene.
The consequences of all of our former interventions should be screaming at us. But, John Bolton, Mike Pompeo and Donald Trump seem deaf to the messages. Bolton said:
"We think stability and democracy in Venezuela are in the direct national interests of the United States right now…The authoritarian regime of Chávez and Maduro has allowed the penetration by adversaries of the United States, not least of which is Cuba.

Some call the country 'Cubazuela', reflecting the grip that Cuba's military and security forces have on the Maduro regime. We think that is a strategic significant threat to the United States and there are others as well, including Iran's interest in Venezuela's uranium deposits."
Maduro is no prize. The Economist reports: (brackets by Wrongo)
In the past five years GDP has fallen by half. Annual inflation is reckoned to be 1.7m%…which means that Bolívar savings worth $10,000 at the start of the year [will] dwindle to 59 cents by the end….People are malnourished and lack simple medicines, including antibiotics. Hospitals have become death traps for want of power and equipment. Blaming his troubles on foreign conspiracies, Mr. Maduro has rejected most offers of humanitarian aid.
Juan Guaidó, head of the Maduro opposition, and President of the National Assembly, has support from the EU, and the Lima Group of 12 Western Hemisphere countries (including Argentina, Brazil and Canada). The US recognized Guaidó early.
The question is, should we intervene at all? And if the answer is yes, how should we intervene?
The US is still Venezuela's main trading partner. Last week, we imposed curbs on purchases of the country's crude oil, and a ban on imports from the US of the diluents that must be blended with the extra-heavy oil from the Orinoco Belt to allow it to flow through domestic pipelines. The first hits Venezuela's oil exports, while the second curbs their production. This will reduce revenue from oil exports by more than $11 billion.
By ordering that payments for Venezuelan oil be put in bank accounts reserved for Guaidó's government, the US hopes to asphyxiate the regime, expecting that the armed forces will then switch sides to Guaidó.
Venezuelans face the dreadful task of having to topple their own government. This primarily means persuading their army to change sides. Other nations can pledge moral support to Juan Guaidó. But sanctions and US threats may prove counterproductive.
Venezuela poses no threat to US security. Since GW Bush, we've found excuses to attack Iraq, Afghanistan, Libya and Syria. We've imposed economic sanctions on Russia, Iran and Myanmar. The gain for our security has been negligible.
Military intervention has become an occupational disease of America's leaders.
The urge to help Venezuelans in need is natural. Doing nothing is painful and seems callous. But will intervening really help? Even states with despotic leaders are sovereign. They must make and correct their own mistakes, and ultimately, be strengthened by doing so.
Regime change in Caracas is one possible outcome of our intervention. Civil war is another.
It is a certainty is that American lives and money will be lost.
Trump must choose wisely if intervention is on the table.
Any bets on that?