The Daily Escape: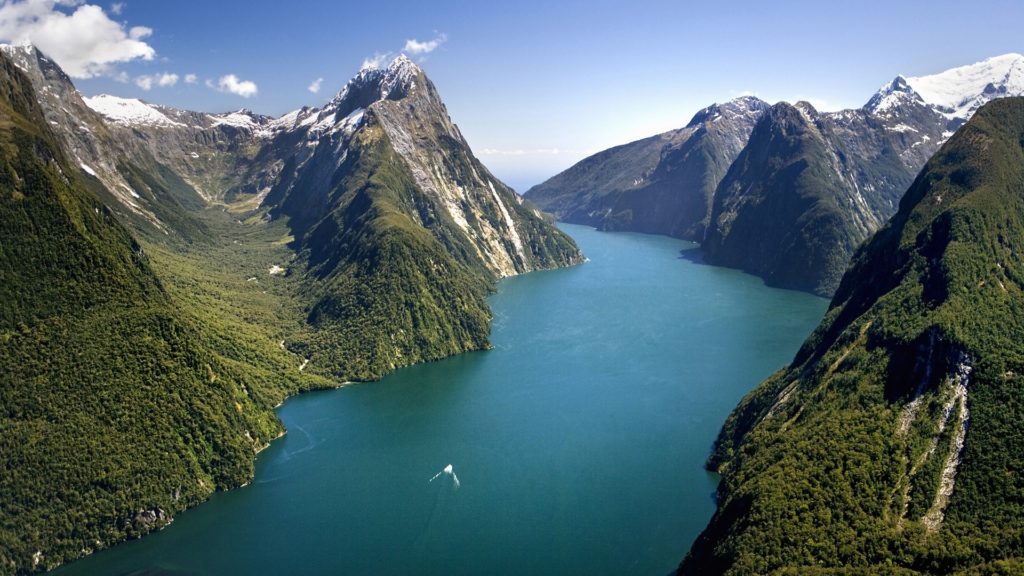 Milford Sound, New Zealand – photo via The Travel Guys
You know leadership when you see it. In the US, we are chronically short of inspiring leaders. But there is a great model of leadership on view in New Zealand, their Prime Minister Jacinda Ardern. Now 38, she was the world's youngest female head of government, when she took office at age 37.
We've seen her response to the Mosque killings. In lieu of texting thoughts and prayers, she donned a black head scarf and led a group of politicians to visit victims' families. She went to a high school that had lost two students in the attack, and told the children they need to fight prejudice:
"Let New Zealand be a place where there is no tolerance for racism….That's something we can all do."
She announced a ban on military-style assault rifles and ammunition on Thursday. She has hammered social media companies for allowing and amplifying extremism. Ardern has called capitalism a "blatant failure" due to the extent of homelessness in New Zealand.
She has spent her political capital to unite her country, not to divide it.
None of those things could have been accomplished by Trump. And none will ever be accomplished by him. He's too politically and ideologically conflicted to give a full-throated denouncement of extremism from the right.
He doesn't have the empathy to sit with relatives of the dead and comfort them. He's not capable of leading us through a teachable moment. He can't move our government to action, except to pass unnecessary tax cuts and hire right-wing Supreme Court Justices. He can't be a role model for any positive behaviors, and is a terrible communicator to the general public.
So, look clearly at America's politicians, and find someone who has the ability to lead like Ms. Ardern. Wrongo doubts that you will find many. Ms. Ardern is a politician not a saint, but her actions prove that politicians exist who can be effective thought and cultural leaders.
Remember that she's just 38 years old!
Does this imply we shouldn't be thinking that America necessarily needs an older politician driving the bus of state?
By the time you're reading this, you'll already know that the Mueller Report has been submitted to the Attorney General. Where we go from here depends to a great extent on the leadership of the Attorney General, the House and Senate, and the president.
Sadly, there's no Jacinda Ardern in sight.
Time to unplug and get as soothed as we can under the current circumstances. Start by brewing up some Eaagads Estate Kenyan small batch coffee ($19/12oz.) from Austin Texas's Greater Goods Coffee. The roaster says it pairs well with blackberry scones and citrus fruit.
Now, get to your favorite chair, put on your headphones and listen to Roxane Elfasci play "Clair de Lune" by Claude Debussy, on guitar. This 2016 live performance was in Paris. "Clair de Lune" is the third movement of "Suite Bergamasque" by Claude Debussy, from a poem by Paul Verlaine. It was written for piano, and here it is arranged for guitar by James Edwards. This is a wonderful performance of a well-known piece which is incredibly difficult to play on solo guitar:
Those who read the Wrongologist in email can view the video here.