The Daily Escape: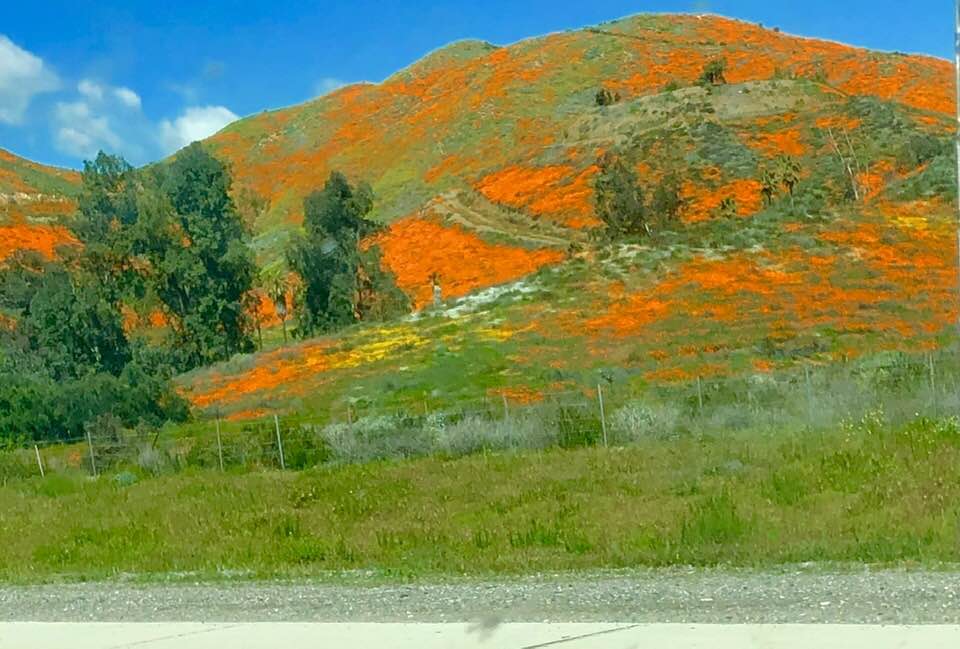 Poppies in bloom, Southern California – March 2019 photo by Leslie Simis. This annual explosion of color is enhanced this year by extraordinary rainfall
You can call the period in US history from FDR to Nixon "America's social democratic era".  A collection of politicians had hammered out the policies and regulations that became FDR's New Deal in America. It became a period of post-war prosperity during which inequality narrowed, economic growth boomed, and optimism reigned.
The characteristics these policies shared were reciprocity and generosity. For the citizen, there was some form of social support that grew from Social Security in 1935 through the 1960's with Medicare and Medicaid. In 1970, Nixon implemented the Environmental Protection Agency. There was also a willingness to care for the disadvantaged. Our Marshall Plan and our commitment to foreign aid are both great examples. The success of social democracy in the postwar era weakened the market's power to act independently within our society.
But then things changed. Our government's role became a helpmate for corporations, financial institutions, and their lobbyists. The result has been growing inequality between suppliers of capital and the suppliers of labor, even of highly educated labor, like teachers and professors. Economic growth slowed, and we have developed a permanent underclass that seems impervious to repair.
Yesterday, we talked about Economic Dignity, and how focusing on it might help solve inequality. Today's market economics is partly based on the ideas of Jeremy Bentham and John Stuart Mill, economists who viewed human beings as supreme over the state. As individuals who would make rational decisions to maximize utility. It turned out to be incomplete, since it left out key dimensions of human psychology, like the individual's need for social esteem or respect. In other words, they ignored economic dignity.
Couple that with Milton Friedman's idea, that the mission of the firm is to solely maximize profits, that any responsibilities to its employees, consumers, or society should be ignored. Profit maximization at all costs has done great damage to American society. And conservatives and free marketers have married the ideas of these three economists, making the removal of government from markets their primary mission.
But what they call "the market" is really a bundle of regulatory (and non-regulatory) rules by which market activities operate. The mix of free and regulated market activities can be changed, even though capitalists say we shouldn't change the rules, because it adds uncertainty to markets.
Just because in baseball, three strikes and the batter is out, or with four balls, there is a free pass to first base, doesn't mean it has to be that way. It could be five strikes and you're out, or three balls is a walk.
As an example, we tend to fight unemployment with "trickle-down" solutions. That means we bribe the rich and corporations to hire more. But, the bribe is always bigger than the payrolls that are generated.
We could fight unemployment with fiscal policy, such as infrastructure spending by the government. It would employ many, possibly hundreds of thousands, and there would be no need to pay any entity more than was warranted by the tasks at hand.
America needs a return to what economist Paul Collier calls the "cornerstones of belonging"— family, workplace, and nation, all of which are threatened by today's market driven capitalism. That means capitalism has to return to the ethics of the New Deal. Joseph Stiglitz, Nobel laureate in economics, says: (parenthesis and emphasis by Wrongo)
Over the past half-century, Chicago School economists, (including Milton Friedman) acting on the assumption that markets are generally competitive, narrowed the focus of competition policy solely to economic efficiency, rather than broader concerns about power and inequality. The irony is that this assumption became dominant in policymaking circles just when economists were beginning to reveal its flaws.
Stiglitz says we need the same resolve fighting for an increase in corporate competition that the corporations have demonstrated in their fight against it. We'll need new policies to manage capitalism.
It means higher taxes on profits.
It means paying workers more.
It means rebuilding public assets like roads.
It means teaching students to be both technically capable, and grounded in their values.
Speaking of needing to teach our students, if you think we're not in a rigged game, think about one "USC student" who is part of the admissions fraud scandal, Olivia Jade Giannulli. She was on the yacht of the Chairman of USC's Board of Trustees when she heard about it.