The Daily Escape: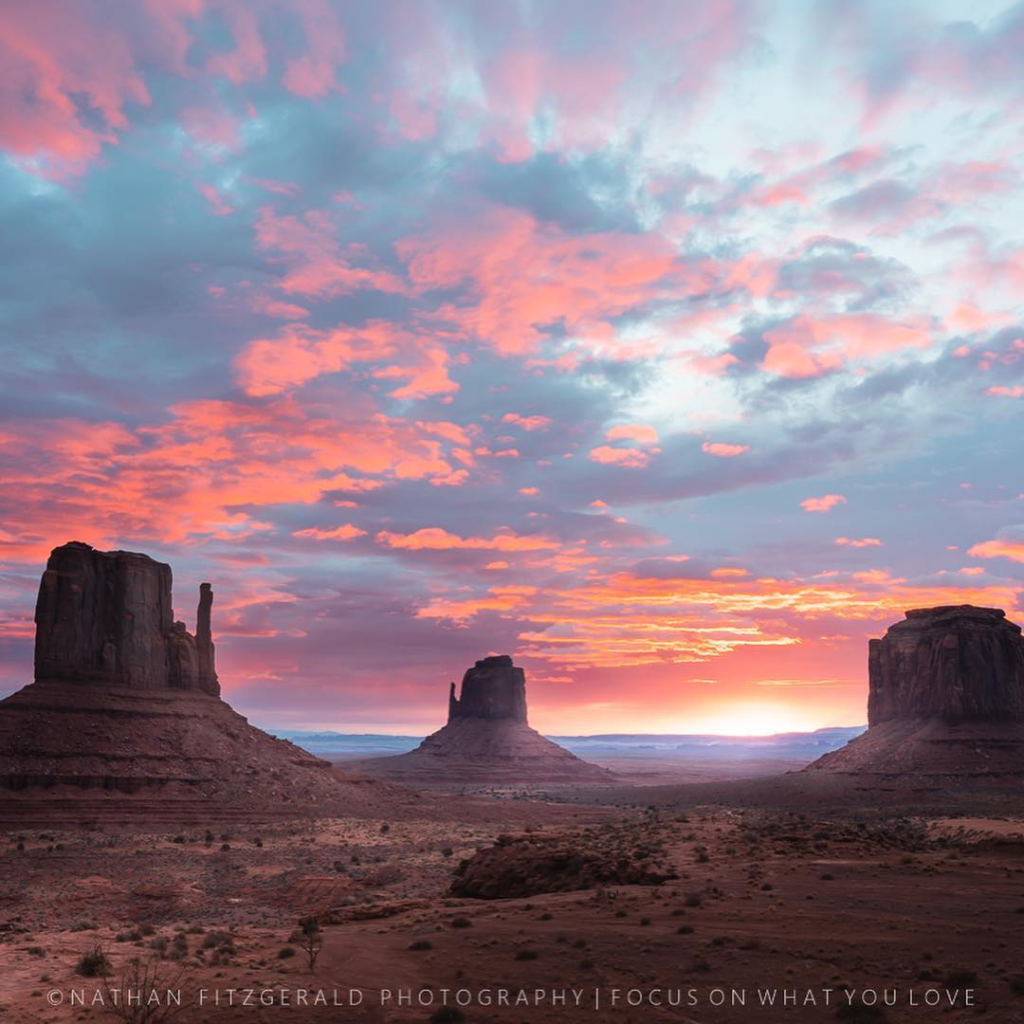 The Mitten Buttes, Monument Valley, UT – photo by Nathan Fitzgerald
Here we go, a new gambit on Iran. The Trump administration moved on Monday to isolate Tehran economically and undercut its power across the Middle East by not extending the waivers of sanctions against countries purchasing Iranian oil.
Secretary of State Pompeo announced that the waivers which allowed eight countries to import Iranian crude oil without being subject to US sanctions will expire on May 2nd. The eight countries included are China, India, Turkey, South Korea, Japan, Greece, Italy and Taiwan. From the NYT:
"Secretary of State Mike Pompeo said in announcing that current sanctions waivers…would expire on May 2, clearing the way for American economic penalties against all companies or financial institutions that continue to take part in transactions linked to buying Iranian oil."
This decision to stop Iran's biggest customers (China, who buys half of Iran's oil exports) along with Japan, South Korea, India and Turkey, is a strike at Tehran's lifeline. They export one million barrels of oil daily, and it accounts for 40% of their GDP.
Immediately, there were repercussions. Bloomberg reported that Iran threatened to close the Straits of Hormuz, a choke point in the Persian Gulf, while the Washington Examiner reported that the US has positioned a second aircraft carrier in the region.
What Trump seems intent upon is regime change. He campaigned against further wars in the Middle East, but now is catering to Saudi Arabia and Israel, both of whom, along with National Security Advisor John Bolton, are intent upon toppling the Iranian regime.
Trump's Iran obsession makes us look terrible. Taking pages from the Iraq War playbook, Trump and Pompeo paint a picture of a rogue, outlaw, terrorist regime bent on acquiring nuclear weapons and whose "malign activities" are the cause of all the chaos in the Middle East.
This is straight from the neocon playbook: The one they've used before. They are building a case for war. America wants Iran out of Syria. We condemn their support for Hezbollah. We say that Iran supports the Houthis in Yemen, against our great friends, the Saudis.
This latest move is called the doctrine of "Maximum Pressure". The goal is to cut Iran's oil exports to zero. Will this gambit force the capitulation, or collapse, of the regime? That seems difficult to believe, but Trump and Bolton may have teed up a war.
Think about this: America is now decreeing to the rest of the world that only we decide which countries get to trade with whom. We're telling China, the second largest economy in the world, that it lacks the sovereign authority to buy oil from Iran if it so desires.
Which do you think China will do? Both Iran and China appear to hold a better hand than the US. We can't invade Iran and win. We can't force China to do anything they refuse to do.
The rest of the world will have trouble understanding what Trump thinks the US can gain from this gambit, because there is no plan behind it. If Iran closes the Straits of Hormuz, will we bomb, bomb, bomb, bomb, bomb Iran?
If China, Turkey, India and Japan continue to purchase Iranian oil, will we freeze their dollar-denominated assets in the US? If this leads to the creation of a non-dollar global payments system, what happens to the dollar as the global reserve currency? Has anyone in the Trump administration thought about that?
Once, the US used its reserve currency status and clout (largely) for good. Now, it's just more bullying by Trump. In the end, the Trump administration may achieve a new level of worldwide cooperation against a common enemy: the USA.
Aren't Americans sick of this neocon warmongering? Americans don't want to be drawn into yet another ME action. It isn't an accident that Trump's National Security Advisor John Bolton, declared unequivocally in November 2002:
"We are confident that Saddam Hussein has hidden weapons of mass destruction and production facilities in Iraq…"
Is now the chief strategist behind Trump's drive towards war, with Secretary of State Pompeo, happily riding shotgun.
It doesn't matter that US intelligence, along with Israeli intelligence and the International Atomic Energy Agency confirm that Iran is complying with the Iran Nuclear Agreement. Or, that the US invasion of Iraq is the principle cause of Middle East chaos today.
Trump officials will cherry-pick information, package it, and amplify it, exactly as the Bush administration did in the lead-up to the Iraq war.
The real question is whether American voters will fall for this again.