The Daily Escape: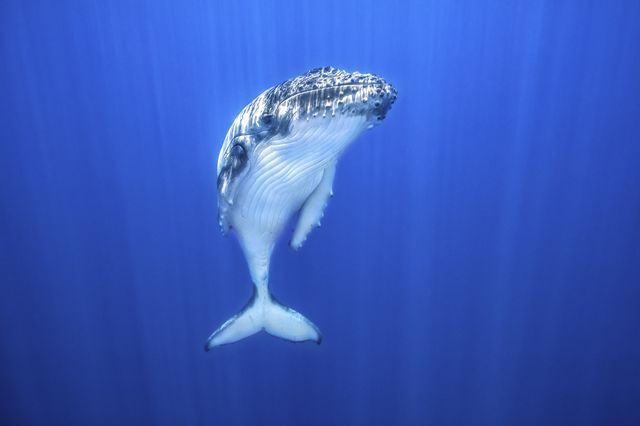 Humpback Whale, Tonga – Photo by Rita Kluge
Joseph Stieglitz has an op-ed in the NYT about saving capitalism from itself. He wants to re-brand capitalism as "progressive capitalism": (emphasis by Wrongo)
"There is an alternative: progressive capitalism. Progressive capitalism is not an oxymoron; we can indeed channel the power of the market to serve society….The prescription follows from the diagnosis: It begins by recognizing the vital role that the state plays in making markets serve society. We need regulations that ensure strong competition without abusive exploitation, realigning the relationship between corporations and the workers they employ and the customers they are supposed to serve. We must be as resolute in combating market power as the corporate sector is in increasing it."
America has been debating the role of capitalism in our society since our beginnings. In 1790, John Adams published the Discourses on Davila in which he said that entrenched economic inequality would create a political oligarchy in America similar to what had already occurred in Europe.
The problem isn't inequality. We've survived a permanent underclass, but until recently, it has been a statistical minority. But, we won't survive today's continuing erosion of the middle class. Stieglitz says:
"We are now in a vicious cycle: Greater economic inequality is leading, in our money-driven political system, to more political inequality, with weaker rules and deregulation causing still more economic inequality."
He calls for:
"…a new social contract between voters and elected officials, between workers and corporations, between rich and poor, and between those with jobs and those who are un- or underemployed."
Call it progressive capitalism, capitalism plus, democratic capitalism, or whatever you want. At the core of any reform of capitalism is less corporate control over the levers of power, and a redistribution of wealth. Along with the growth in economic inequality and political impotence, so grows the myth propagated by the ultra-rich that higher taxes are a public theft of their hard earned fortunes, and are a threat to their personal freedoms.
Let's spend a minute on the difference between positive and negative rights.
In the simplest terms, negative rights (most of the Constitution's Bill of Rights) protect us from the government. They tell us what the government can't do. The Constitution was designed as primarily a negative rights document, to maximize our individual liberty, and to protect us from the government interfering in our lives. They are most helpful to people whose rights are already protected.
Positive rights are different. They include things like the right to an education, and in some countries, the right to healthcare. Most of us define freedom as: freedom from hunger, freedom from ignorance, freedom from exploitation, freedom from poverty, freedom from hopelessness and despair. Very few positive rights are enumerated in the Constitution, with the exception of the right to have the government protect private property.
Today, if there's one enduring myth that drives US politics, it is the myth that the rich have earned their reward, through nothing but their own hard work and savvy. The rich want no income redistribution, which they call "socialism", just as the fat cats said in this cartoon from 1912: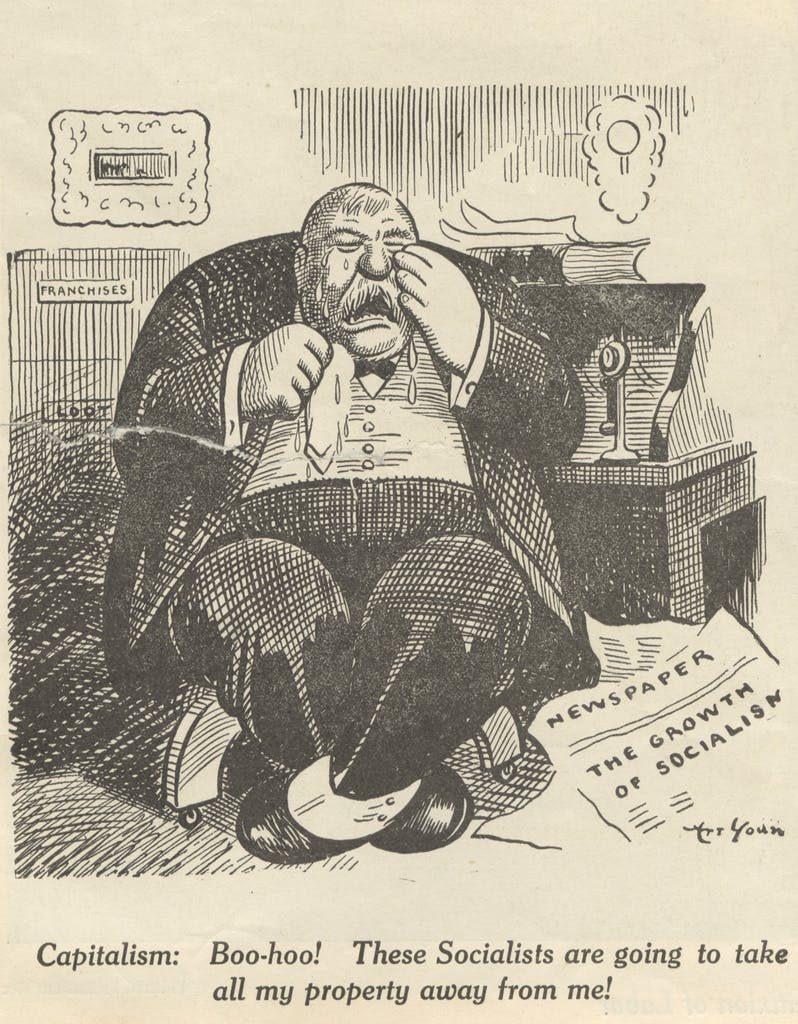 The Republicans in the 1930s called FDR a socialist. Now, as we are thinking about a New Deal 2.0, today's Republicans want to again brand all Democrats as socialists.
Corporations and the 1% ignore how much they are helped by a system designed by them, and for them. They are contemptuous of government and public authority, which they say act as agents of the poor, attempting to extort the rich.
They forget that our government facilitates and protects their wealth. If not for the many Federal agencies that write regulations favorable to industry, the Federal Reserve, protectors of the banking industry along with others, there would be a lot less wealth for corporations and the 1% to aggregate.
Therefore, they should pay the most.
And remember, rural electrification was a federal project under FDR. The dams on the Columbia River made irrigation possible, opening up western lands to agriculture. The Tennessee Valley Authority (TVA) was the Green New Deal of its time, and was the basis for development of a modern Southeastern US. The railroads that opened up the West relied on government property provided to private companies (redistribution?) to develop.
Let's decide to reform capitalism. First, by making it responsive to the positive rights that average Americans are longing for. Second, paying for that with much high taxes on corporations. If the loopholes created by savvy corporate tax lawyers remain on the books, let's create a stiff Alternative Minimum Tax (AMT) for corporations.
Just like the AMT that Wrongo has had to pay for lo, these many years.



Category:
2016 Election
,
2018 Elections
,
2020 Election
,
Abandonment of Middle Class
,
Capitalism Reform
,
Corporate Welfare
,
Corporatism
,
Daily Escape
,
Economic Policy
,
Green New Deal
,
Regulation
,
Socializing Losses
,
Tax Policy
,
Transformational Ideas
,
US Corporations