The Daily Escape: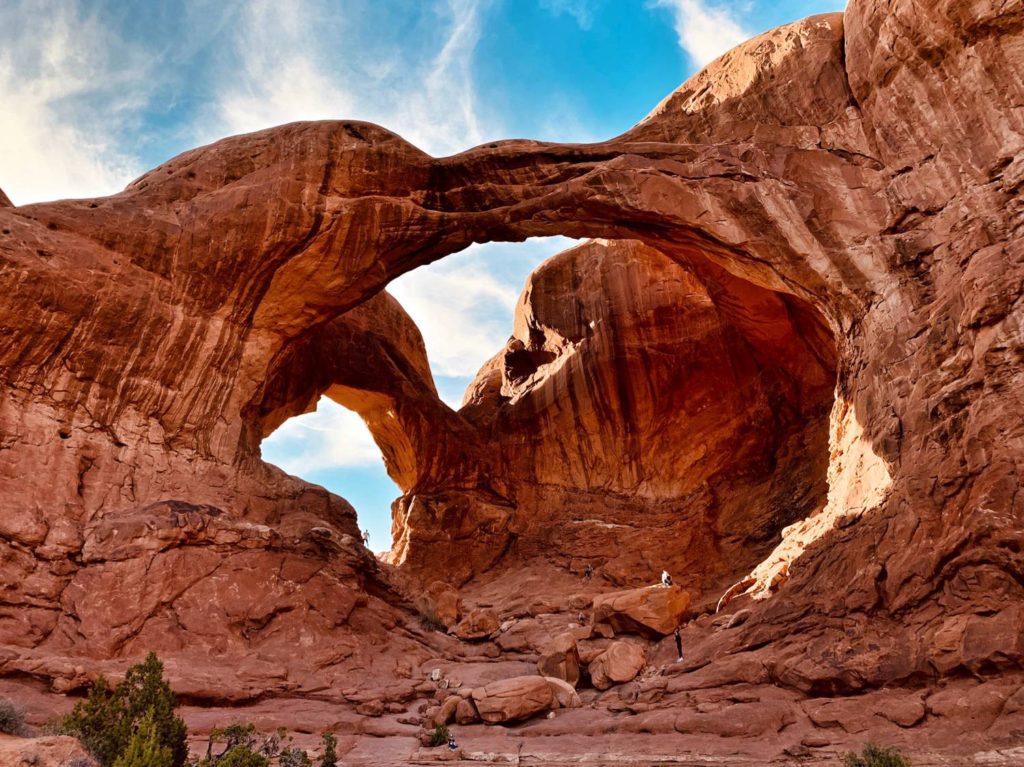 Double Arch, Arches NP, Utah – photo by Bryol. The size of the people in the foreground give an indication of the mass of these formations.
Are you aware that the US Army is transitioning away from the counter-insurgency mindset that we have used for nearly 20 years in Iraq and Afghanistan? Or that we are now focusing on fighting large-scale, conventional battles against foes of equal strength?
Who are we talking about when we say "foes of equal strength"? It means countries with large land-based traditional armies. One new objective is to train Army personnel to fight underground. That doesn't mean in the claustrophobic Vietnamese tunnels our GIs fought in during the 1970s, it means urban warfare in subways, large tunnel structures, and sewers. These days, most big cities all have utilities, water, electricity, sewer, and communications underground.
It also means fighting in subterranean facilities. Military.com estimates that there are about 10,000 large-scale underground military facilities around the world that are intended to serve as subterranean cities.
Some of these targets are in North Korea, where vast infiltration tunnel networks can move 30,000 NK soldiers an hour directly to the border with South Korea. China and Russia also have vast underground networks, so presumably, they might be targets as well.
In a way, this is old news. In addition to Vietnam, history reminds us that during the Battle of Stalingrad, the Russians used their sewer systems to spring surprise attacks behind the German lines. In Iraq, US troops conducted search missions in tunnels.
In late 2017, the Army launched an effort costing more than $500 million to train and equip most of its 31 active Brigade Combat Teams (BCTs) to fight in subterranean structures that exist beneath dense urban areas around the world.
There are big problems, though. The US Army hopes to meet its goals for urban warfare by 2022, but Military.com says most young sergeants don't know how to maneuver their squads:
"For example, sergeants in the majority of the Army's active brigade combat teams (BCTs) don't know the importance of gaining a foothold when leading squads on room-clearing operations, according to a series of report cards from the service's Asymmetric Warfare Group, known as the AWG."
It gets worse. They can't do basic land navigation: (emphasis by Wrongo)
"Additionally, the Army's Non-commissioned Officer Academy is seeing sergeants routinely show up for courses unable to pass a basic land navigation course using a map and compass."
And even worse. sergeants show up with:
"…poor physical fitness and body composition, and….not able to qualify as Marksman using backup iron sights."
This means that many sergeants can't shoot straight without either an optic lens, or laser pointer on their weapon!
This is surprising. Sergeants are the backbone of the Army. They are supposed to be the best-trained, best motivated members of their units. The basic unit in the Army is the squad, so when sergeant squad leaders can't do basic land navigation, or shoot a gun without technology, we have a huge problem.
Remember that for the past 17.5 years in Afghanistan, we have been fighting an untrained enemy wearing flip-flops. Of course, they know how to shoot without optics. Maybe that's why they won.
Wrongo was in the US Army in the late 1960s. At that time, a Corporal (E-4) or a Sgt. (E-5) had to know squad and fire team maneuvers, hand signals, placement of personnel in attack and defense, and fire direction (how to direct remote artillery or planes to a ground target).  All of that required map reading. So, Wrongo finds this disturbing, as should everyone else.
If using a map, protractor and compass is too difficult for today's sergeants, then we need more/better training. Infantry soldiers must be proficient in these skills. Even though today's soldiers rely on modern technology, those technologies sometimes fail, and sometimes tools like GPS aren't available.
For example, we know that GPS won't work reliably in a tunnel or sewer, so we need a continued emphasis on knowing how to use those non-technical solutions that worked back in the day. All Non-Commissioned Officers (NCOs) should be able to meet these basic infantry leadership requirements. All soldiers should be taught land navigation, regardless of whether they wind up in front-line combat units or support units.
We are being deluded by our military brass. We are no more ready to fight an urban war than we were ready to fight a counter-insurgency war in the Middle East. And why urban wars? What scenarios will get us into a fight in the big cities of Asia, or Europe? Or Russia?
Here's a thought: How about the US doesn't get involved in a foreign war where we have to "occupy" a city?