The Daily Escape: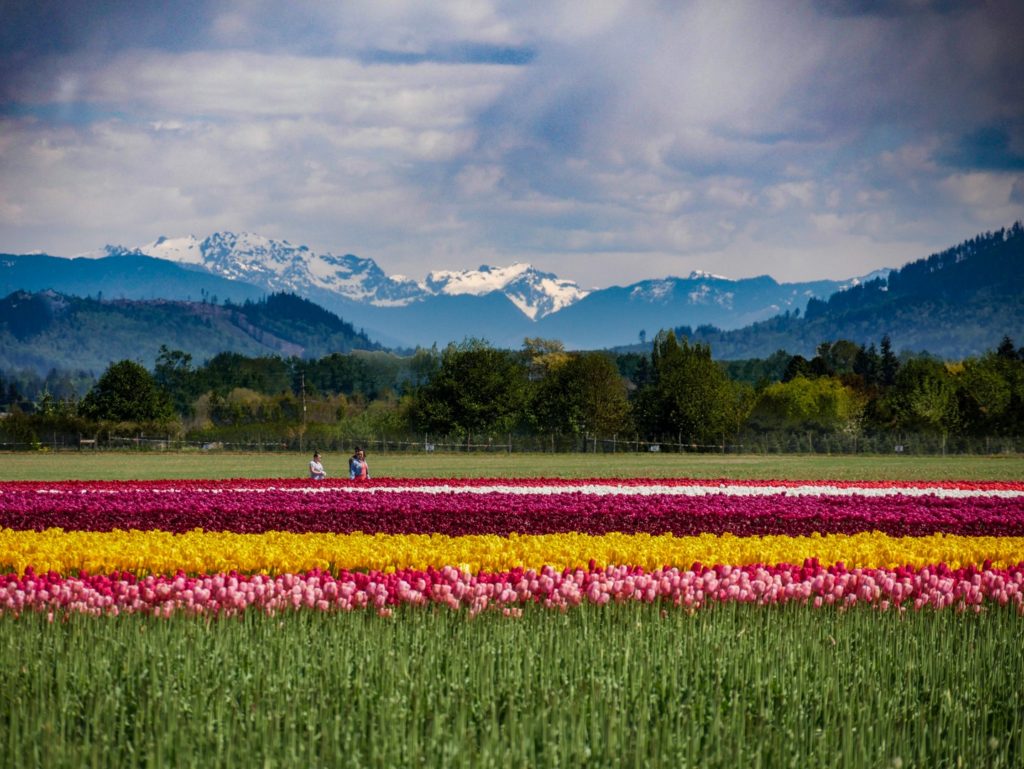 Tulip time, Skagit Valley, WA – 2019 photo by Karen Randall
Yesterday, we talked about how the Democrats might ultimately need Wall Street money for the 2020 presidential election. Now, we learn from Americans for Financial Reform (AFR), a consumer interest group, that Wall Street spent at least $1.9 billion on political campaigns and lobbying during the 2018 mid-term elections:
"The figure, which includes contributions to campaign committees and leadership PACs ($922 million) and lobbying expenditures ($957 million), reflects a massive rush of pro-industry nominees and legislation over the last two years, at a time when the biggest banks made $100 billion in profits for the first time."
That was the largest-ever amount for a non-presidential year, outstripping the total of $1.4 billion, in the 2013-14 election cycle, by 36%.
The 63-page report, "Wall Street Money in Washington", uses a special data set compiled by the Center for Responsive Politics on behalf of AFR in order to provide a more precise look at financial services industry spending. The data excludes spending by health insurers, who work to influence a different group of issues than do US banks.
The data also doesn't include "dark money" that goes mostly unreported, so the actual sums of Wall Street spending are likely to be much higher.
The report breaks its findings down by Campaign Contribution and Lobbying:
Campaign Contributions:  Individuals and entities in the financial sector reported making $921.8 million in contributions to federal candidates for office during the 2017-18 election cycle.
Of the $519.6 million in party-coded contributions by individuals and PACs associated with finance, 53% went to Republicans and 47% went to Democrats. About $402.2 million in additional cash flowed from financial sector contributors to candidates through outside groups.
Lobbying: The financial industry reported spending a total of $956.8 million on lobbying in calendar years 2017 and 2018. This spending only got the financial sector to third place. The "Health" sector was second, spending $1.12 billion, and "Miscellaneous Business" which comprises companies and trade associations, was first, spending $1. 02 billion. "Miscellaneous Business" includes the US Chamber of Commerce, which spent $189.4 million.
And which politicians got the money?
In the House, Republicans did very well, with Former Speaker Paul Ryan (R-WI) leading the way. Rep. Kevin McCarthy (R-CA), now the House minority leader, and Rep. Patrick McHenry (R-NC), now the ranking member on the House Financial Services Committee, both benefited from Wall Street largesse.
The freshman class in the House, including first-term Democrats, had substantially less reliance on money from Wall Street than those Democratic incumbents who won re-election. Another report that AFR co-authored on small-dollar contributions found that 17% of money contributed to the Democratic freshman came from small donors, compared to 9.4% for incumbent members.
In the Senate, the data underscores how money moved to members who supported the industry's legislative goals. Overall, spending favored Republicans. But the industry gave significant amounts to Democratic Senators who helped get S. 2155 passed, which was a significant rollback of the Dodd-Frank regulations.
Wall Street gave heavily to the Democratic senators who supported the bill and were up for reelection in 2018, mostly from states that Trump won in 2016. One Dem who won in 2018, was Jon Tester (D-MT); others, including Joe Donnelly (D-IN), Heidi Heitkamp (D-ND) and Claire McCaskill (D-MO) did not win.
Sen. Kyrsten Sinema (D-AZ) won after she supported the legislation as a House member.
But, not all top Senate Democratic recipients of Wall Street money did the industry's bidding. Sen. Sherrod Brown (D-OH) opposed S. 2155.  He was the only Democrat in Ohio to win statewide office in 2018.
Who spent the most? The top five donor companies and trade associations in the financial sector were:
National Association of Realtors — $144,716,676
Bloomberg LP — $96,481,469
American Bankers Association — $25,769,494
Paloma Partners — $25,575,800
Citadel LLC — $20,596,381
You can see a list of the top 20 donors here. It is easy to see that turning down Wall Street funding could put a big dent in the Democratic nominee's spending plans for 2020.
It also seems clear from yesterday's reporting that Wall Street Democrats might bolt to Trump if the 2020 nominee is Sanders or Warren. A decision to reject Wall Street funding could hand Trump a very large gift.
The money spent by the financial services industry won't be any lower in 2020 than in 2018. We'll just have to wait and see if the 2020 Democratic presidential nominee rejects their support.
OTOH, this money helps Wall Street rig the system in its favor, largely by buying the support of politicians who will help insulate them from accountability.
Does any Democrat have the guts to reform capitalism?