The Daily (no) Escape: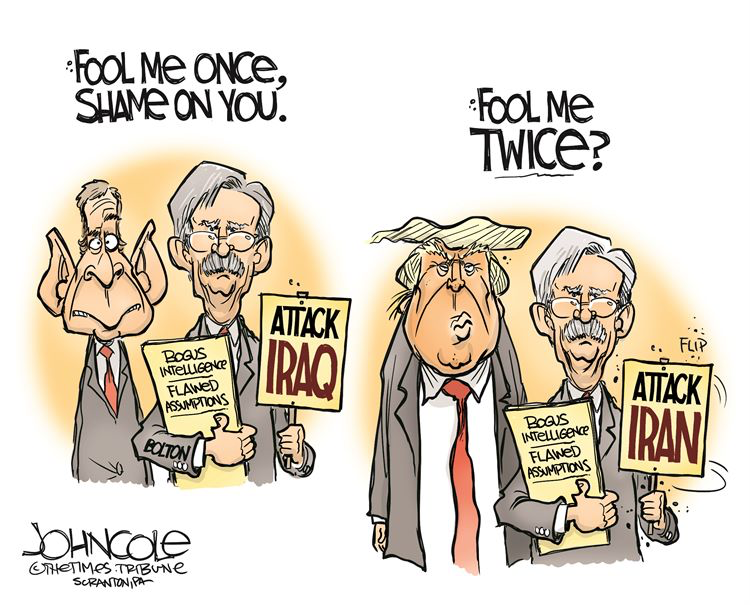 Did Donald Trump lose all credibility last week? First, more of the "Russia, if you are listening…" in which he solicited election help from foreign governments, before backing down a little bit.
Next, hours after an attack on two tankers in the Gulf of Oman, Trump said he knew who did it:
"Iran did do it and you know they did it,"
— Donald Trump on "Fox & Friends", June 14th.
This was before experts had much evidence, let alone time for analysis. Next, US Central Command released a video which they said showed:
"Iran's Revolutionary Guard removing an unexploded limpet mine from one of the oil tankers targeted near the Strait of Hormuz, suggesting the Islamic Republic sought to remove evidence of its involvement from the scene."
The video is of such poor quality that it's impossible to tell what's really going on, where the boat came from, or who's on board. Trump and Pompeo want us to believe that Iran cruised over to a heavily surveilled tanker in broad daylight to remove a limpet mine, placed several feet above the water line.
Also, it's hard to believe that military photography technology has again failed just when we needed it. We're back to blurry Brownie box camera pictures. When Russian artillery was photographed in Ukraine, we saw blurry indistinct B&W photos. When Russia aircraft were photographed in Syria, we saw razor sharp color images. Why can't the US Navy buy a few iPhones to use in videoing the "Iranians"?
Finally, it's interesting that America's Enemy du Jour always does exactly what we want them to do, and just when we want them to do it!
The captain of the Japanese tanker said he was hit from the air, not by a mine. A photo of the Japanese tanker shows two holes well above the waterline. Iran might have done this, or it might have been a false flag operation.
We should remember that in the past 20 years, the US has attacked nations based on similar information to this. There are groups other than Iran that would benefit from the US stepping up its anti-Iran campaign, moving from an economic war to a military one.
But let's widen out to strategy: While Trump and Pompeo were itching for a fight with Iran, China's President Xi was completing a three-day visit to Moscow. He hailed China's strategic ties with Russia. At the same time, Chinese and Russian military commanders met to discuss deepening their strategic partnership.
Then, both Putin and Xi met with Iran's President Rouhani and expressed their full support for Iran despite the smoking tankers, or the US evidence that Iran was behind the attack. And China afforded its highest diplomatic status to Iran.
A strategically-minded US president would have turned the situation with tankers burning in the Persian Gulf to an advantage. It could have been an opportune time to engage China and Russia in a diplomatic coalition to deal with threats to commerce and free navigation in the Gulf.
Both China and Russia understand the potential impact of a Persian Gulf conflict to their economies. They probably would have listened. Our European allies are waiting for real proof of what happened to those tankers before expressing an opinion, given the state of America's credibility. Only the UK currently supports Trump.
Another opportunity missed, thus advantage to Iran, while limiting US options.
Trump's (and Bolton's) policies of piling on more strategic risk without any gain is driving our allies away, and pushing our peers/competitors closer together.
Trump is increasing our risk of conflict, and the ramifications are global.
The main issue is credibility. We can no longer trust our government. When you can lie without consequence, then there is no value to discussing policy. If Trump wants a war, he'll have one.
We need to wake up the American voters, who are the only people who can change this.
Their record to date, however, isn't promising. Hopefully, the world won't be in tatters before the November 2020 election.