The Daily Escape: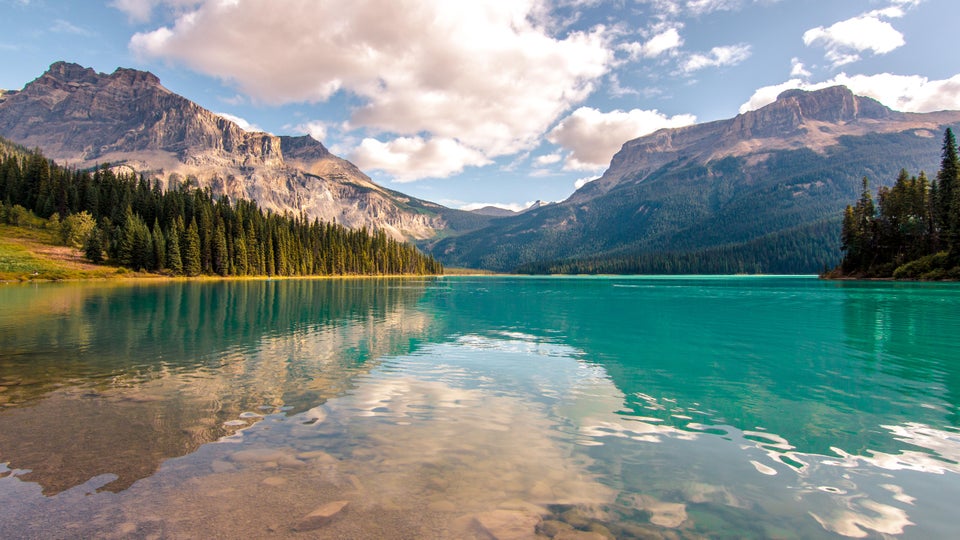 Emerald Lake, Yoho NP British Columbia – photo by newenglandmtbr
The basketball season ended on Thursday night, but the DNC gave us a new made-for-TV sport, the two-day Democratic presidential primary debates. If you are thinking Wrongo shouldn't be using sports analogies for something of consequence, consider that the NYT called them "match ups" in their announcement. A sporting contest is how the media sees the Democratic primary race.
The fact that the future of the country rides on how these "match-ups" play out in November 2020 doesn't seem to faze the media. Here is the line-up for June 26th:
| | |
| --- | --- |
| Booker | Inslee |
| Castro | Klobuchar |
| De Blasio | O'Rourke |
| Delaney | Ryan |
| Gabbard | Warren |
It appears that Warren is the star of Wednesday night. She'll try to knock off Booker, and audition O'Rourke for VP. FWIW, O'Rourke has the ability to knock off Warren, but he's nowhere near as experienced. The rest will audition for VP.
This isn't a debate. It's a two-hour effort by each candidate to break through into the consciousness of viewers and the media. That 120 minute time slot will be reduced by at least 20 minutes of commercials. Ten candidates will then split 100 minutes, or about 10 minutes each, unless someone is a hog. A few of these candidates have a very hard time putting complex ideas into short sentences, so the role  of the moderators will be crucial.
Here's the Thursday, June 27th line-up:
| | |
| --- | --- |
| Biden | Hickenlooper |
| Bennet | Sanders |
| Buttigieg | Swalwell |
| Gillibrand | Williamson |
| Harris | Yang |
On Night Two, it seems certain that Sanders and Harris will try to poke Biden, another person who has difficulty with short sentences. Buttigieg will be trying to break through. Gillibrand looks to be auditioning for VP. Who is Swalwell?
We'll get through this June circus, and then see another at the end of July. But for the third round in September, the qualifying thresholds jump significantly:
"The DNC's outline for its September debate — the third of at least a dozen promised matchups during the 2020 nominating fight — decrees that candidates can participate only by reaching 2% in four approved polls released between June 28 and Aug. 28 while also collecting contributions from a minimum of 130,000 unique donors before Aug. 28. That donor list must include a minimum of 400 individuals in at least 20 states."
That could cull half or more of the herd. Given today's polling averages at Real Clear Politics, that could leave: Biden, Bernie, Elizabeth Warren, Mayor Pete, Kamala Harris, and possibly, Beto in the top tier.
It is also possible that one or two other candidates could break through in the initial debates and get their numbers up significantly by September. But, we can count on it being a much smaller stage after Labor Day.
But you've had enough for this week!
Iran may have blown up a tanker or two, or it may be a false flag operation. Sarah Sanders leaving the White House confirms that it's difficult to spend more than two years working for Trump. Trump said he'd cheat again, if a foreign country gave him another chance.
With all of this, it's time for a Saturday Soother.
Start by brewing up a cup of Rocketeer Blend ($14.00/12 oz.) coffee from Massachusetts's Atomic Roastery. They say you will taste chocolate, nutty tones and sweet spices.
Now settle back at listen to "Adagietto" (movement 4) from Mahler's Symphony No. 5, conducted by Herbert von Karajan and the Berlin Philharmonic. The Adagietto is the most frequently performed of Mahler's works. This leads to two stories.
Mahler was in love with Alma Schindler, the woman who became his wife. She was considered the most beautiful woman in Vienna. He didn't declare his love, but instead, composed this piece and sent it to her without a note. She played the music, and said to Mahler, "Now you should come here."
Story two: Their marriage struggled, and she had an affair with Walter Gropius, founder of the Bauhaus School of architecture. After Mahler died, Alma married Gropius. During her marriage to Gropius, Alma had an affair with Franz Werfel, an Austrian novelist and playwright. Alma and Werfel were eventually married after Alma separated from Gropius. They fled to the US when the Nazis took over Austria, and settled in Los Angeles. Alma died in 1964.
The Adagietto was chosen for the 1971 film "Death In Venice". A member of the film crew was impressed with the music, and asked who wrote it. He was told "Gustav Mahler". The guy replied "Can we hire him"? Mahler died in 1911.
Here is the beautiful Adagietto:
Those who read the Wrongologist in email can view the video here.