The Daily Escape: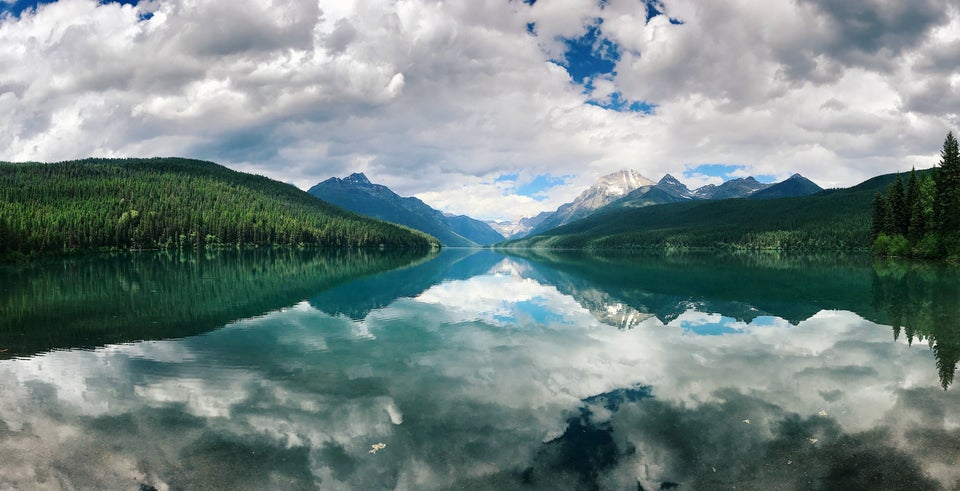 Bowman Lake, Glacier NP – June 2019 photo by TheChariot77
We're facing multiple crises over the next few years that require big policy fixes. Climate change is an existential threat, and the consequences of inaction far outweigh the risk of doing too much, too soon in trying to solve it. Education, healthcare, and housing costs are growing in unsustainable ways, and threaten to leave large swathes of Americans behind. The under-investment in our infrastructure is approaching a point of no return. The toxic combo of immigration, income inequality and political division could lead us into a second Civil War.
When we look at both Party's candidates for 2020, do any of them have ideas that can solve these problems? Trump offers nothing to address them. A few of the Democrats running for the nomination have big ideas, and a few newbies in Congress have big ideas of their own.
The question is, will the Establishment Democrats prevent the candidates from offering big ideas to American voters?
In a prescient article in the WaPo, "Haunted by the Reagan era", Ryan Grim made the point that older Democrats, like Pelosi, Schumer and Biden were scarred by past defeats, and subsequently, have attempted to placate their Republican opposition. From Grim:
"It's hard to overstate how traumatizing that 1980 landslide was for Democrats. It came just two years after the rise of the New Right, the Class of '78 led by firebrands like Newt Gingrich, and it felt like the country was repudiating everything the Democrats stood for. The party that had saved the world from the Nazis, built the modern welfare state, gone to the moon and overseen the longest stretch of economic prosperity in human history was routed by a C-list actor. Reagan won 44 states…."
It also happened in 1972, when Nixon swamped the liberal Democrat, George McGovern, 49 states to one. More from Grim: (emphasis by Wrongo)
"When these leaders plead for their party to stay in the middle, they're crouching into the defensive posture they've been used to since November 1980, afraid that if they come across as harebrained liberals, voters will turn them out again."
Maybe it's political PTSD. For younger politicians like Rep. Alexandria Ocasio-Cortez (D-NY), this is a strategic error. For the young Democrats, Republicans shouldn't be feared, they should be beaten.
But, Joe Biden is leading the polls for the Democratic nomination. He, like the other Establishment Dems, assume the voters won't agree with them on fundamental change. They think that Democrats only get elected by avoiding riling up the conservative silent majority, or, at least, the majority of those who actually turn out to vote. From David Atkins:
"They hew to the late 20th century perspective that the wisest course lies in not making change too quickly, or giving any political party the power to make sweeping changes. This status-quo philosophy is part of why America hasn't made any major changes to its economic or political structures since enacting Medicare in the 1960s."
They believe this, no matter how much polling shows that voters increasingly reject conservative precepts. More from Atkins:
"Voters swept Barack Obama and the Democrats into unitary control of government in 2008, and got for their trouble a too-small stimulus and a relatively minor adjustment to the healthcare system. Voters… swept Donald Trump and Republicans into unitary control of government in 2016, and for their trouble got a tax cut for the wealthiest Americans….And when neither party has total control of government, practically nothing happens at all."
So, should the Democrats run to the center in 2020? Hillary lost doing precisely that in 2016, but the Dems took back the House in 2018 mostly by winning centrist districts, including many that had voted for Trump in 2016. The Establishment Democrats want to hedge their bets, protecting a status quo that, in the medium-term, may prove very dangerous to the country.
The Dems won 2018 in part by promising to reign in Trump. Once in control, Pelosi took all substantive actions off the table, opting instead for a series of small, politically-irrelevant investigatory gestures.
Those who voted for them have to wonder: If this all that they're going to do, why give them the power?
Sanders and Warren are old enough to be Establishment Dems, but they are true progressives. Neither Warren, nor Sanders is a once-in-a-generation superstar like Barack Obama. Assuming none of the current pack of nominees are like him, the question is whether the Dems on the extreme left, or the center-left, are more likely to turn out enough voters to carry Wisconsin, Michigan, Pennsylvania and possibly, Florida.