(Wrongo and Ms. Right are away until July 9th visiting our CA family. Expect the next column to be posted then.)
The Daily Escape: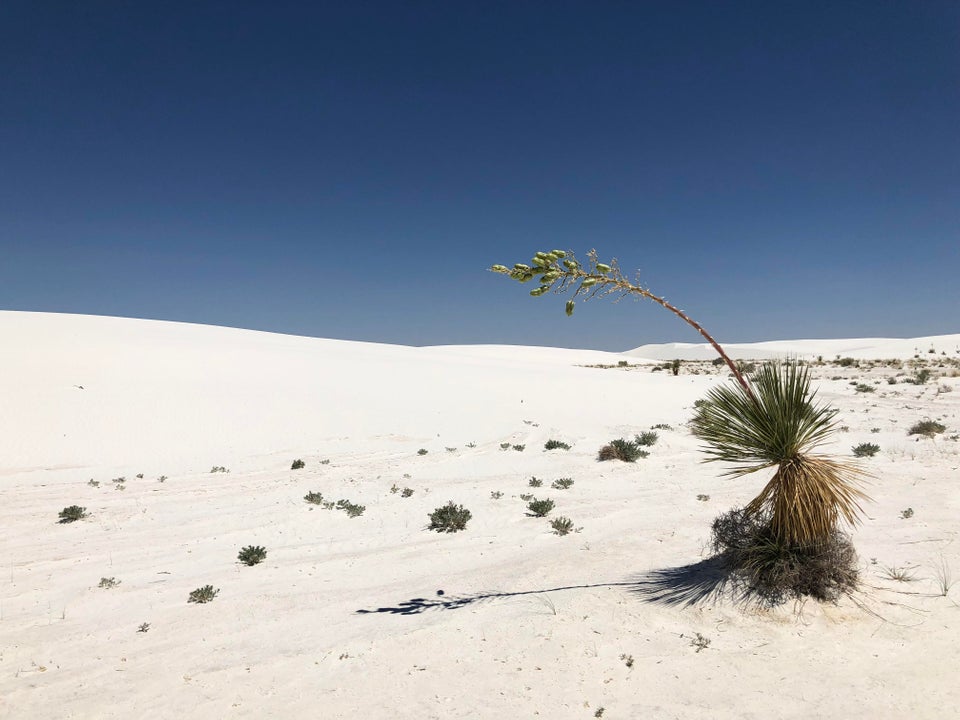 White Sands National Monument, NM – 2019 photo by Bernard-F
#1: Wrongo watched the video of Trump walking across the Korean DMZ. While most foreign policy professionals will have a cranky reaction to the event, it represents progress. Both sides had stopped negotiations and in fact, were not even talking, after Trump walked out of the Hanoi meeting.
Whether it is a breakthrough that leads to a deal remains to be seen. OTOH, Trump took his daughter Ivanka and Tucker Carlson to the DMZ, while sending John Bolton (who he called "Mike"), and Mike Pompeo on to other tasks. Anything that drives the GOP neocons crazy can't be all bad.
The incoherence of Trump's global strategy shows itself in extending himself to North Korea, a country that has nuclear weapons, and the means to deliver them. The US has no agreement with NorKo to contain its weapons of mass destruction. We don't even have a peace agreement after the War that ended in 1953, but we're talking.
Contrast that with Trump's walking away from the signed Iranian nuclear deal, which was negotiated to prevent an exact North Korea-type situation from happening. Inexplicable.
#2: Forbes has a very interesting article on new solar power capacity in California:
"Los Angeles Power and Water officials have struck a deal on the largest and cheapest solar + battery-storage project in the world, with a prestige solar battery supplier, at prices that leave fossil fuels in the dust and may relegate nuclear power to the dustbin."
Cheaper than fossil fuels, the new plant will be built north of LA, in Kern County. LA officials said that it will be the largest and lowest-cost solar and high-capacity battery storage project in the US. When up and running, it will operate at half the estimated cost of power from a new natural gas plant. The plant is expected to deliver its first megawatt by April 2023.
#3: Reuters reports that Trump's "deal" with China may not be a deal at all. In their article, China warns of long road ahead for deal with US after ice-breaking talks, Reuters quotes the official China Daily, an English-language daily often used by Beijing to put its message out to the rest of the world. It warned there was no guarantee there would ever be a deal: (emphasis by Wrongo)
"Agreement on 90 percent of the issues has proved not to be enough, and with the remaining 10 percent where their fundamental differences reside, it is not going to be easy to reach a 100-percent consensus, since at this point, they remain widely apart even on the conceptual level."
#4: Next, it's that time of year again where Americans camp out for days in order to visit with a pop-up rural clinic nurse. Why? Because we have the most expensive "health care" on earth, and a system absolutely designed to keep it that way:
"They were told to arrive early if they wanted to see a doctor, so Lisa and Stevie Crider left their apartment in rural Tennessee almost 24 hours before the temporary medical clinic was scheduled to open. They packed a plastic bag with what had become their daily essentials after 21 years of marriage: An ice pack for his recurring chest pain. Tylenol for her swollen feet. Peroxide for the abscess in his mouth. Gatorade for her low blood sugar and chronic dehydration."
A view from the volunteers:
"…a clinic volunteer….patrolled the parking lot late at night and handed out numbers to signify each patient's place in the line. No. 48 went to a woman having panic attacks from adjacent Meigs County, where the last remaining mental-health provider had just moved away to Nashville. No. 207 went to a man with unmanaged heart disease from Polk County, where the only hospital had gone bankrupt and closed in 2017."
With Republicans doing everything they can to break the Affordable Care Act, and then refusing to fix it, this is what their actions have caused. Rural hospitals are closing, people in rural counties have no health care. And the GOP tells them to blame Democrats. The reality is that Republicans in these states have cut funding for the programs that kept red state rural clinics and hospitals operating.
#5: Columbia University reported that scientists have discovered a gigantic aquifer of relatively fresh water trapped below the Atlantic Ocean. This undersea aquifer stretches from Massachusetts to New Jersey, extending more or less continuously out about 50 miles to the edge of the continental shelf.
The water was trapped in mile-deep ice 15,000 to 20,000 years ago. When the ice melted, sediments formed huge river deltas on top of the shelf, and fresh water got trapped there. It would have to be desalinated for most uses, but the cost would be much less than processing seawater.
See you next week!