The Daily Escape: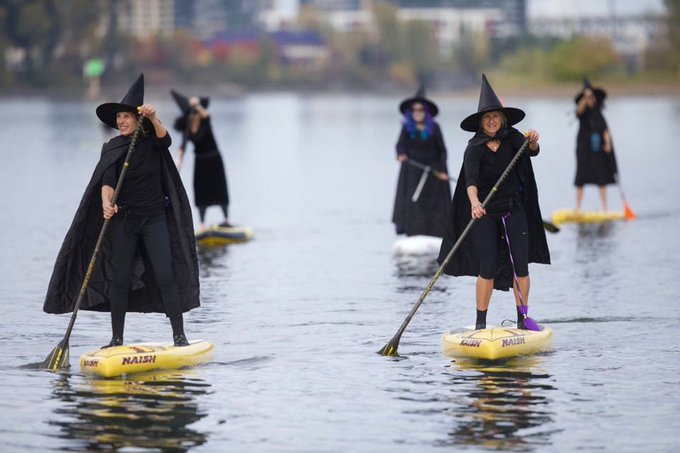 Witches paddle boarding on the Willamette River, Portland, OR. The event was the Stand Up Paddleboard Witch Paddle, that brings 100's to paddle board on the river. Useful to remember that drowning was one of the recommended witch removal methods in ye olden days. Happy Halloween!
Speaking of Halloween, it looks like rain all day in our corner of Connecticut, so those parents with little ones, are casting about for ideas on how to avoid getting little Megan's mask of Melania soaked through in the first minute.
On the flight back to the States from London, Wrongo watched the film "Vice", a film history of the life and political career of Dick Cheney. It brought back how the GW Bush administration executed its pivot from a limited war in Afghanistan to a full-scale invasion of Iraq.
Cheney is portrayed as the prime mover behind getting the Bush folks to craft false intelligence "facts" to support, and then sustain, our war in Iraq. Cheney did this by creating a separate intelligence apparatus, since the existing intelligence agencies would not produce analysis supporting Iraq's culpability in the 9/11 attacks.
One thing the movie points out was the effort by Cheney and Rumsfeld to find a connection between Saddam Hussein and al Qaeda. They settled on a minor Iraqi anti-Shiite cleric named Abu Bakr Al-Baghdadi as the person that could be plausibly presented as having a tie between Saddam and bin Laden. This turned al-Baghdadi into one of the cool dudes of Islamic terrorism. He became a regional celebrity, the head of ISIS. We've all had to live with the consequences of Cheney's "fake news": Many died, and we're still paying the price for Cheney's rogue operation that sucked us deeply in the Middle East.
Now a different Republican president has taken out al-Baghdadi in a stealth raid in Syria this week. It was similar to Obama's killing of bin Laden in May, 2011 in Afghanistan. We should be pleased that al-Baghdadi no longer controls ISIS, and we should give Trump full props for doing the deed.
We should remember that when Obama got bin Laden, the NYT reported the following from Republicans at the time:
"Former Vice President Dick Cheney declared, "The administration clearly deserves credit for the success of the operation." New York's former mayor, Rudolph W. Giuliani, said, "I admire the courage of the president." And Donald J. Trump declared, "I want to personally congratulate President Obama."
But killing bin Laden didn't kill al Qaeda, and killing al-Baghdadi won't kill ISIS.
It's good that Abu Bakr al-Baghdadi is dead. But never forget that there is a straight line between Bush and Cheney's elevation of al-Baghdadi to justify their invasion of Iraq, and al-Baghdadi driving ISIS to take over a swath of Iraq and Syria that was larger than the UK.
There's a straight line connecting Bush/Cheney, and Obama's willingness to bend our constitutional freedoms to extend the Global War on Terror for the better part of two decades.
There's a straight line connecting Bush/Cheney and what Trump is doing in the Middle East today.
Still, killing al-Baghdadi is a good thing, and Trump's pulling 1,000 troops out of Syria is not as serious an issue as most people in DC are saying it is.
But gloating over an enemy's death? That isn't something American presidents should be doing. When we celebrate the death of a foe, it shows weakness.