The Daily Escape: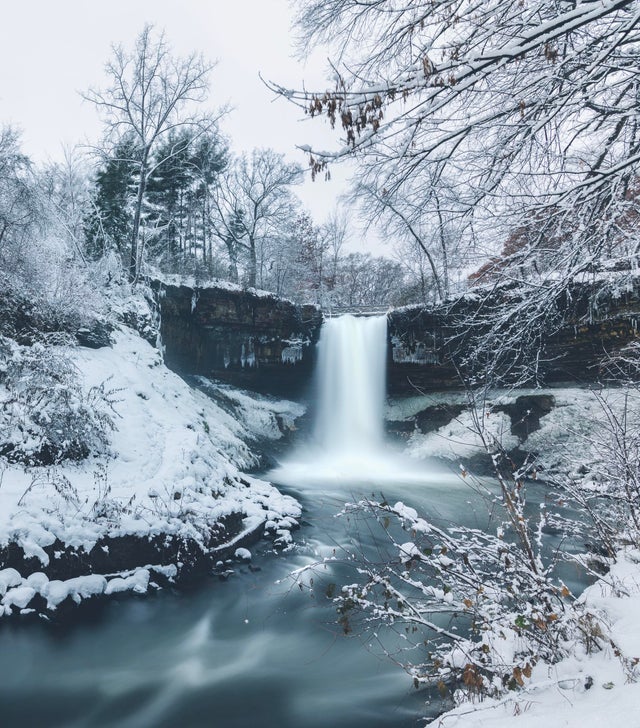 New snow at Minnehaha Falls, MN – November 2019 photo by memotherboy.
Cook Political Report's Dave Wasserman lays out a grim, but possibly likely 2020 scenario, one where Trump loses the popular vote by five million or more votes, and still wins the Electoral College:
"The ultimate nightmare scenario for Democrats might look something like this: Trump loses the popular vote by more than 5 million ballots, and the Democratic nominee converts Michigan and Pennsylvania back to blue. But Trump wins re-election by two Electoral votes by barely hanging onto Arizona, Florida, North Carolina, Wisconsin and Maine's 2nd Congressional District — one of the whitest and least college-educated districts in the country."
In 2016, Trump's victory hinged on three states he won by less than a point: Michigan (0.2%), Pennsylvania (0.7%) and Wisconsin (0.8%). All three of these relatively white states with aging populations also have high shares of white voters without college degrees, a group that has trended away from Democrats.
It's been no secret that six states — Arizona, Florida, Michigan, North Carolina, Pennsylvania and Wisconsin — are best-positioned to decide which candidate reaches 270 Electoral votes and wins the presidency.
Democrats contend that they won the Senate and governors' races in Michigan, Pennsylvania and Wisconsin in 2018. And in the House, they flipped two seats in Michigan and four in Pennsylvania.
But Trump could lose Michigan and Pennsylvania and still win the Electoral College, so long as he carries every other place he won in 2016. And Wisconsin is in play, because Democrats won Wisconsin's governor's race by just a single point, and failed to gain a House seat. If Wisconsin's Trump voters turn out in 2020, it could easily stay red.
And should a 269-269 Electoral vote split occur (not impossible), the process moves to the House, with each state delegation having one vote. A majority of states (26) is needed to win. Trump would win, since the GOP holds the majority in 26 states, while Democrats control 22. Two states, Michigan and Pennsylvania, are tied.
The Senate would elect the Vice-President, with each Senator having a vote. A majority of Senators (51) is needed to win, so the GOP would win in the VP in the Senate, as well.
There are a lot of scenarios that could happen in 2020, including a "blowout" victory by Dems. In this scenario, it's possible the Democratic nominee could win Georgia, Iowa, Ohio or maybe even Texas. But the most likely scenarios see Wisconsin as the state that decides the presidency. Running up the score in California isn't going to help Dems when it comes to beating Trump.
This makes it of utmost importance that Democrats select a presidential nominee that can energize both the Party's base, and enough independents to overcome the GOP's natural advantage in the states that voted for Trump in 2016. That's going to be harder than it seems. A November Economist/YouGov poll showed this: (emphasis by Wrongo)
A Majority (53%) of Republicans think Donald Trump was a better President than Abraham Lincoln. pic.twitter.com/CrsiYeLUdJ

— Jesse Ferguson (@JesseFFerguson) November 29, 2019
Interestingly, 75% of the country rated Lincoln as better than Trump, showing that the GOP is completely out of step with the rest of us. But, despite an approval rating in the low 40s, Trump has a path to re-election.
Keep this poll in mind whenever the Democratic Party suggests that Democrats can win over Republicans. There may be a few persuadable Republicans, but the majority of Trump's party actually believes that he is a better president than the guy who kept the nation together by winning the Civil War. Lincoln's worst day was probably better than Trump's best.
Time to wake up Democrats! You keep waiting for demographic change to swing many Red states, but most of the change is occurring in noncompetitive states, particularly California and Texas, which threatens to further widen the chasm between winning the popular vote and winning the Electoral College.
Dems need to compete as if our lives depend upon it, in all of the House and Senate elections, in addition to local elections and the presidency!
They need to, because our lives actually do depend upon changing the course we're on.