The Daily Escape: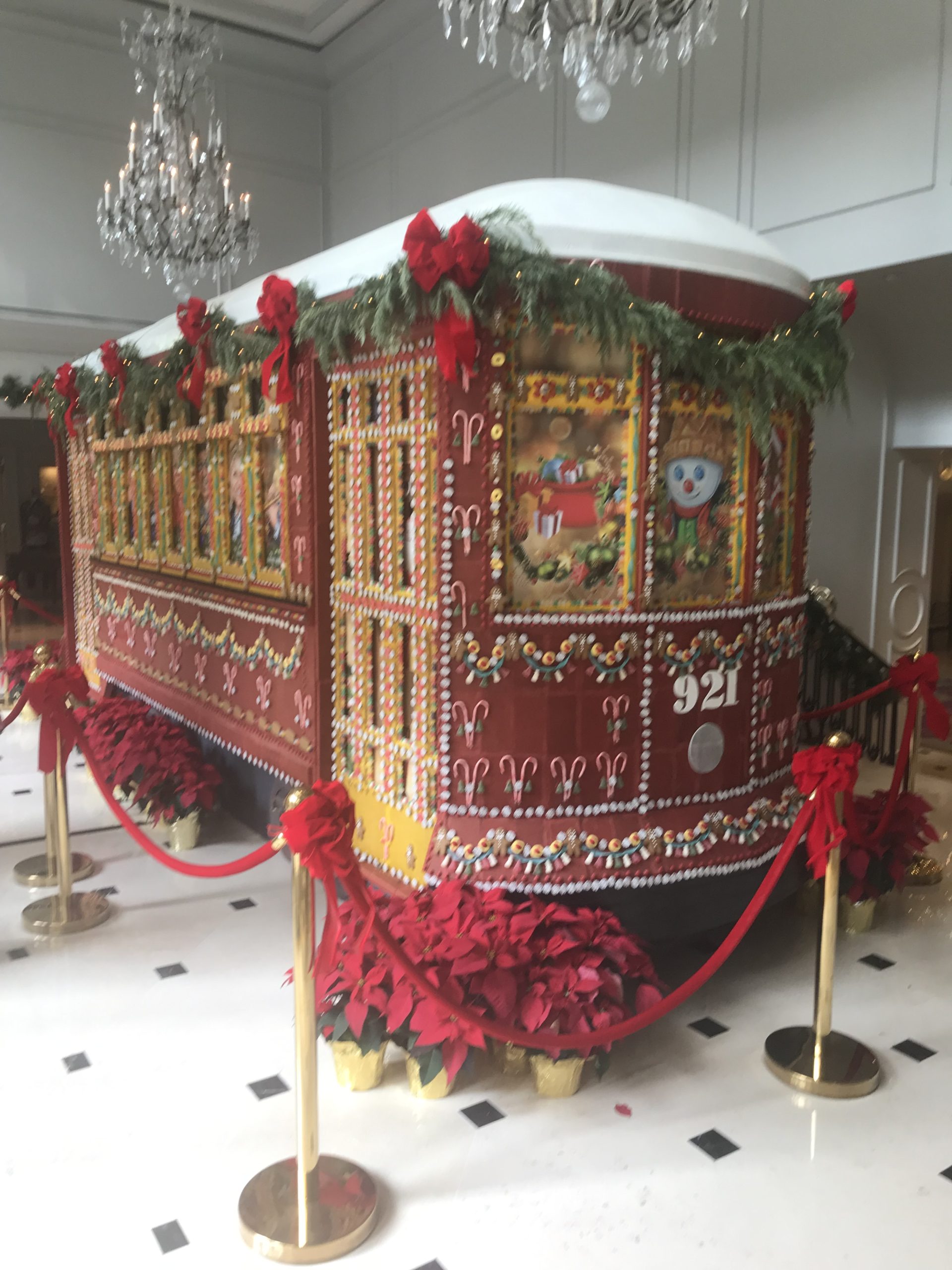 Replica New Orleans Trolley made of gingerbread, Ritz Carlton Hotel, New Orleans. It took two months to make.  – December 2019 iPhone photo by Wrongo
From Tuesday's NYT:
"President Trump has paid $2 million to eight charities as part of a settlement in which the president admitted he misused funds raised by the Donald J. Trump Foundation to promote his presidential bid and pay off business debts, the New York State attorney general said on Tuesday."
Wrongo wrote about this in November, calling it "The Only Article of Impeachment We Need":
"We should stop the current impeachment deliberations in Washington, because we know all that we need to know right now. An American president who defrauds veterans has met the bar of 'high crimes and misdemeanors'. We shouldn't need any more testimony about bribery and extortion of a foreign power."
While the fraud was committed before Trump became president, it is by itself, the greatest presidential crime in American history. And the case has already been decided in front of a judge. In the end, the president admitted in court documents that he had used the foundation's money to settle legal obligations of his businesses, and to purchase a portrait of himself.
Trump also used the charity to boost political campaigns — first, Pamela Bondi's Florida attorney general campaign, and then his own 2016 campaign. Trump gave away Trump Foundation checks onstage at rallies, despite strict rules barring nonprofit charities from participating in political campaigns.
Trump settled the case, because the alternative would have been litigation that would have exposed parts of his finances. Think about what his finances look like when his lawyers tell him that the better option is to admit that he stole $2 million from American veterans.
As part of the settlement, Trump's adult children; Donald Trump, Jr., Ivanka Trump and Eric Trump all of whom were on the board of the foundation although they never met to discuss its operations, will have to take training to make sure they don't make similar missteps in the future. That's a minor wrist-slap.
This story was reported by major outlets but it doesn't seem to have made a dent in the public consciousness. You'd think a story about $2 million worth of admitted presidential crimes would break through the noise but there's always competition. Today, it's a possible trade deal, the ongoing impeachment inquiry and Boris Johnson winning in the UK.
Nobody really cares. Outrage fatigue is a real thing. After a while, you just get worn down and become numb to the next headline. His admission of fraud would have ended any other presidency. But for him, it was Tuesday. Maybe the red hats are immune to outrage fatigue.
The Dem's impeachment strategy is a farce, as will be the Senate's "show trial". Impeaching him will happen by a straight Party line vote, followed by the Senate's acquittal by a Party line vote by the other Party. This means that both houses of Congress are a farce.
OTOH, not impeaching him would also be a farce. Because not impeaching someone who has done the things Trump has done, someone who makes a mockery of the law every day he's in office, would make the rule of law a farce as well.
Defrauding veterans is something that the public can understand, and can get angry about. It's not complicated, most citizens won't be able to tune it out. His counter argument is weak, despite incessant talking about the Clinton foundation.
These things are not equal. This isn't a "both sides" situation.
Democrats should be shouting about this every day until November, 2020. This is an arrow right at the heart of Trump's base: Those purported law and order, military-loving people who populate his rallies. It's indefensible, and it's unlikely they will take kindly to his being guilty of defrauding veterans.
Remember when the Republicans were the "Party of Principle"?
Have we seen anything from them (or from Trump) that makes you think that they truly believe in providing a safety net? They think that the primary benefit of charitable giving is to telegraph their relatively high position in society compared to that of the needy.
Conservatives have always used their supposed morality as a cudgel to beat others. Alleviating suffering isn't really important. They like the "virtue signaling". That is, feigned righteousness intended to make the speaker appear superior by condemning others.
And they plan on keeping it that way.