The Daily Escape: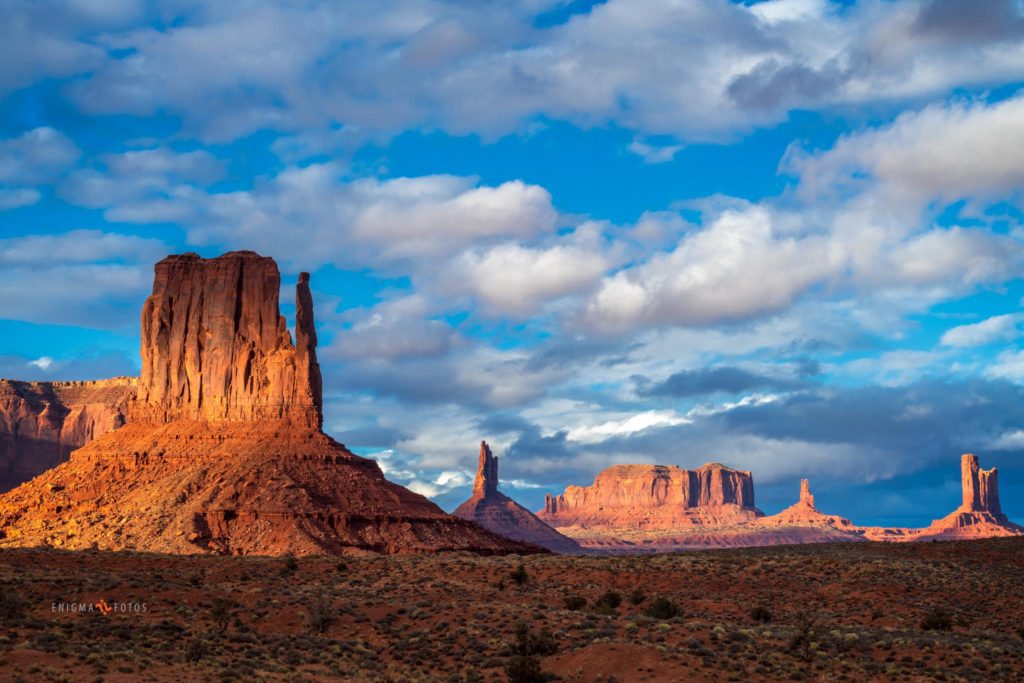 Left Mitten, Monument Valley NP, AZ – photo by Enigma Fotos
The Iowa caucuses are just around the corner. On February 3, Iowans will kick off the primary season. With so many candidates still running, it may only take 40,000 votes to "win" the caucus. Vox quotes Norm Zterzenbach, former Iowa Democratic Party official:
"Maybe the top candidate ends up with 20%, because you've got six strong candidates going into caucus night….that's only 40,000-50,000 votes."
538 says that it's likely that Sanders finishes first in Iowa. It's a little complicated, since Iowa has 41 delegates, of which 14 are decided by the state-wide vote, and 27 by the vote in each Congressional district. Here's 538's forecasted vote tally:
Sanders:   13.0
Biden:       12.4
Buttigieg:   8.0
Warren:     5.4
All other:   2.2
An important factor affecting the outcome could be Iowa's youth vote. Tufts University reports:
"Young people are poised for a potentially historic turnout in the upcoming Iowa caucuses, and young Democrats prefer Sen. Bernie Sanders…"
This is based on a poll by Tufts and Suffolk University who surveyed 500 young Iowa residents ages 18-29, who are eligible to vote, regardless of their voter registration status. The survey was conducted between Jan. 15 and Jan. 20, by telephone. The margin of error is +/-4.4%.
The key findings were:
More than a third (35%) of young Iowans (ages 18-29) surveyed say they are "extremely likely" to caucus on Feb. 3, 2020
That would represent a 300% increase over youth voter participation in 2016, when 11% participated
Moreover, the last two times that only one party had an active nominating contest, youth turnout in the Iowa caucuses was only 4%
39% of young Iowans polled intend to caucus for Sanders, followed by 19% for Warren, and 14% for Buttigieg
Among young Iowans, Yang was favored by 9% while Biden only had 7%
Among all Iowa youth polled (Democrats, Republicans, and independents), 41% support, and 49% don't support Trump's impeachment and removal
On the issues, those polled said the following issues were most important: health care (18%), the environment (12%), taxes, (mostly mentioned by young Republicans) at 12%, and international relations (9%)
The youth vote played a decisive role in the 2008 caucuses when 57% of young caucus goers supported then-Senator Obama, helping propel him to a win in Iowa. In 2016, according to the exit polls, 84% of Iowa youth supported Bernie Sanders at the Democratic caucuses, giving Sanders a virtual tie with Hillary Clinton (who won 49.9% to 49.6%) and kicking off a trend of national youth support for Sanders throughout the 2016 Democratic primaries.
Winning any election depends on turnout, and Iowa is no exception. In the Tufts poll, 72% of Iowa youth said they have been personally contacted and asked to support a specific candidate or party. That included 82% of young Democrats, and 75% of those who are Independent or unaffiliated.
One-fifth (21%) of all in the poll said that they want to register to vote, but didn't know how. Tellingly, more than half (55%) didn't know that they have to register with a party in order to participate.
Can anything be more depressing than learning that 55% of kids over 18 in Iowa don't have a basic understanding of civics? Wrongo suspects that this is true in most states. Insuring that all people are registered to vote should be every politician's job #1. The best way to achieve this is automatic voter registration (AVR).
Oregon was the first state to implement an AVR system in 2015. And in 2016, it saw 44% of automatically registered voters cast a ballot. Since Oregon, fifteen more states, and DC, have followed suit.
In general, states that have implemented AVR have higher voter turnout rates.
There are two main types of AVR implementation: front-end and back-end. In a back-end system like Oregon's, eligible voters are automatically added to the voter rolls when they interact with a government agency. They are given the chance to opt out via mail afterward.
In a front-end system, like California's or Colorado's, individuals are required to decide whether they want to register to vote, or indicate if they want to update their address while interacting with an agency. While there are advantages to each approach, front-end systems do not register as many people as back end systems. Maybe people hate spending more time at the DMV.
Nothing is more sacred to our democracy than the right to vote, but, our national electoral system is broken by gerrymandering and partisan purging of the voter rolls.
If voter rolls are missing certain groups (such as low-income voters, rural voters, and young voters) those people will not be canvassed, or mobilized, and will not turn out to vote at election time.