The Daily Escape: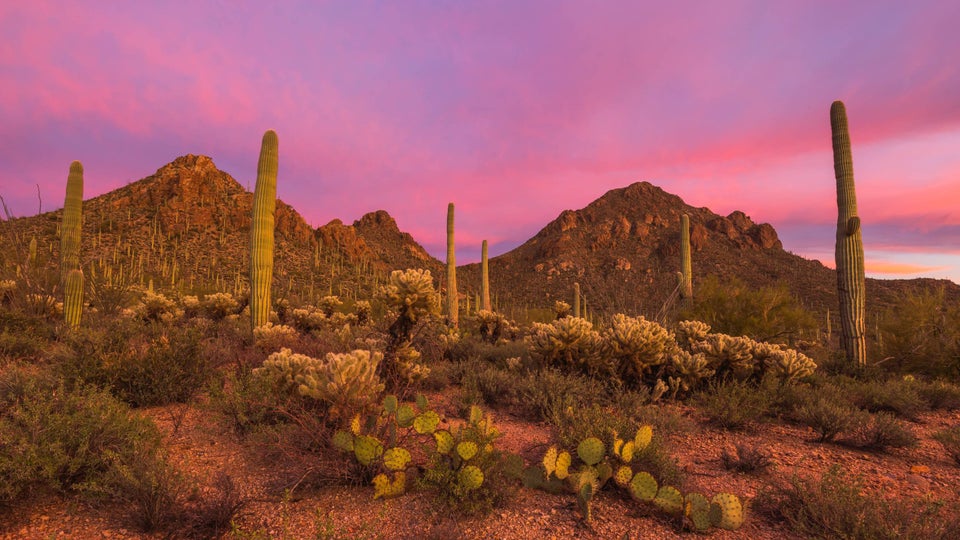 Sunset, Tucson Mountains, west of Tucson – January 1, 2020 photo by eleminohp
What's America doing in Iraq? Everyone with an internet connection knows that Trump authorized a lethal drone strike on Iran's Gen. Qassam Soleimani, a senior member of the Iranian military who was on his way to a meeting with Iraq's Prime Minister.
You may not be aware that the meeting was called by Iraq's PM at the behest of the US, as reported by the normally reliable Elijah J. Magnier:
The information that #Iran Qassem Soleimani had an appointment with the PM in Baghdad and came to #Iraq to meet him the next day with established appointment, following a request of Trump for mediation, has been read to all MPs today by the #Iraq/i PM himself.
It seems that the PM's request of Soleimani was in writing. Let's be clear about what America did: We assassinated two key military and political leaders on the sovereign territory of Iraq without the permission of the Iraqi Government. The key Iranian guy was heading to a meeting about calming tensions between the US and Iran. It's a classic hit that could have been in "The Irishman".
No one argues that Soleimani wasn't our enemy. Democrats were caught flat-footed by Trump's action. Most of the 2020 candidates tried to walk a thin line, glad Soleimani was dead, but deploring the process. Biden said it could leave the US:
 "On the brink of a major conflict across the Middle East."
Bernie:
"Trump's dangerous escalation brings us closer to another disastrous war in the Middle East that could cost countless lives and trillions more dollars."
Warren:
"Trump's reckless move escalates the situation with Iran and increases the likelihood of more deaths and new Middle East conflict."
And House Leader Nancy Pelosi:
"American leaders' highest priority is to protect American lives and interests. But we cannot put the lives of American service members, diplomats and others further at risk by engaging in provocative and disproportionate actions."
Some Dems claim that this is Trump's "Wag the Dog" play. Plenty of Republicans celebrated Soleimani's death as a decisive blow against terrorism. Their comments can be summed up as: "Boy, we showed those Iranians who is boss".
Are we getting the real story? Here's a series of tweets by Hussain Abdul-Hussain, a ME journalist who says the reports that the Iraqi government voted to expel US troops is not correct: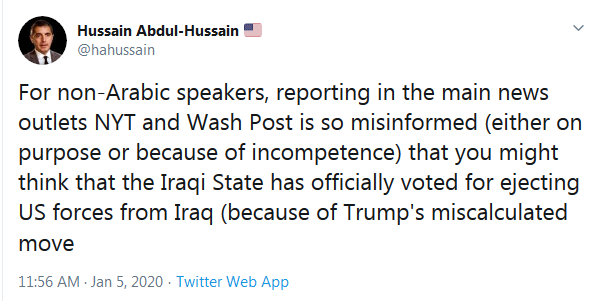 Continued from Abdul-Hussain: (emphasis by Wrongo)
…to kill Soleimani). What happened is different.

1- Iraqi PM Abdul-Mahdi sent a letter to Parliament in which he argued US troops exist in Iraq, not based on a treaty ratified by Parliament, but on 2 letters from past cabinets to the UN. Hence, Parliament has no role in ejection.

2- Iraqi PM's trying to trade disarming Shia militias for limiting scope of US troops. He wrote: "Whoever wants to become a political power, has to surrender arms, join armed forces, and forgo any political allegiance (i.e. to Iran) other than to military and commander-in-chief."
(He's talking about the militias that attacked the US Embassy)
"3- #Iraq parliament barely had a quorum for session on ejecting US troops. Sunni and Kurdish blocs boycotted the session (thus taking America's side over Iran), and thus quorum was 170 of 328 (half + 4)…

4-The text Iraqi Parliament voted on was not a legislation, but a non-binding resolution."
/snip/ (brackets by Wrongo)
"6- In his letter to Parliament, [PM] Abdul-Mahdi clearly states that Iraqi interest is to maintain neutrality between America and Iran, and that if Iraq antagonizes America, it risks losing its international status (and implicitly oil revenue, just like Iran).

7- NYT is, by far, much more pro-Iran than Wash Post. The post reported that "tens of thousands" mourned Soleimani in Ahwaz. NYT made the number of mourners "hundreds of thousands."
Abdul-Hussain concludes:
"The most probable outcome of #Soleimani's killing is more of the same: Low-intensity Iranian warfare against America, Iran never engaging in direct war, but maintaining her proxy war, fighting America to the last Arab. But with Soleimani out, Iranian proxy war will be much weaker."
Wake up America! We should be asking: "What's our end game with Iran and Iraq?" That's the question that Trump should have asked before giving the green light to kill Soleimani. Getting that answer should be a non-partisan request of the Trump administration.
The game remains the same. Republicans say here's another very bad man who had to go. Democrats are saying he was a very bad man, but have you people thought through the consequences of taking him out?
The question of why, in the minds of Trump and his generals, Soleimani had to die this week is what needs to be explained to the American public.