The Daily Escape: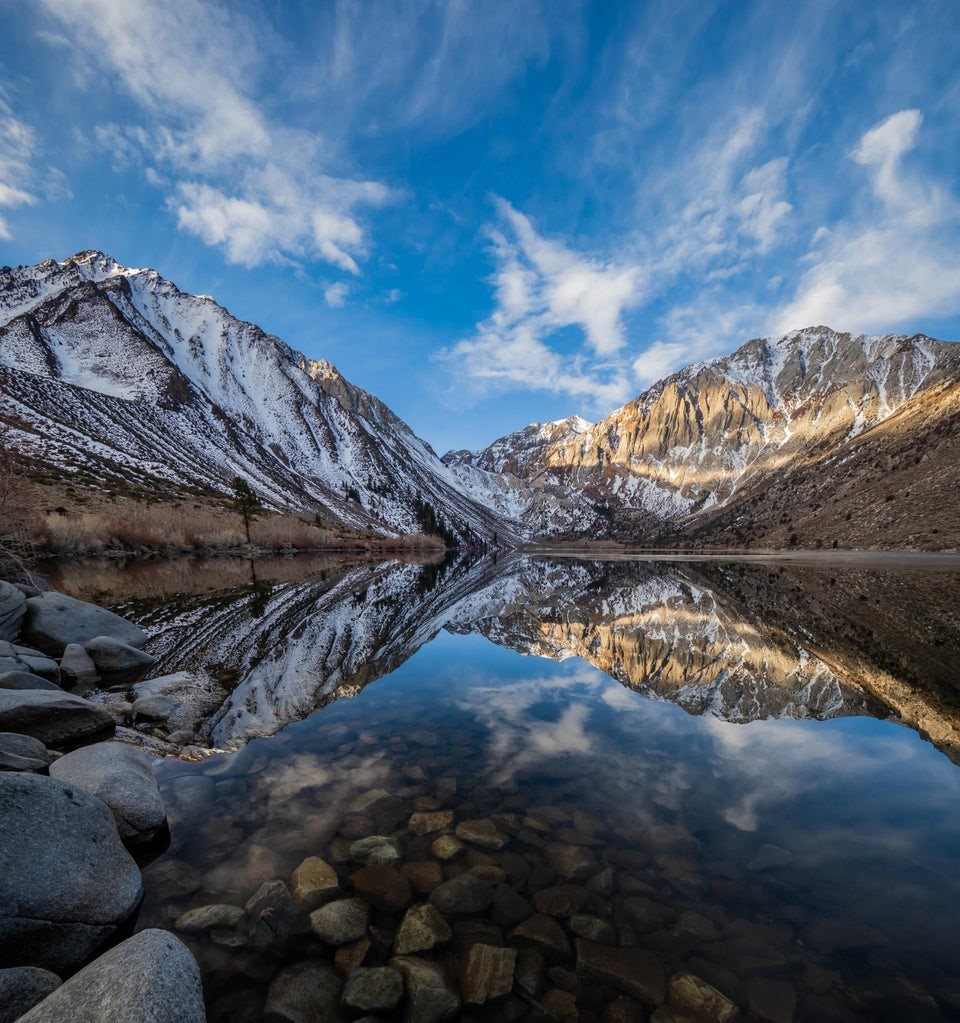 Convict Lake, Eastern Sierras, CA – photo by wild_NDN. It got its name after a group of escaped convicts ambushed the posse at the lake in 1871.
There will be a few winners in the race to source products for the Coronavirus fight. One winner is Puritan Medical Products Co. of Guilford, ME. If you've been tested for Covid-19, it's quite likely that the swab used to collect a sample from inside your nose was made by Puritan.
Puritan is one of two companies that produce the world's supply of the swabs used for coronavirus testing. (The other, Copan Diagnostics Inc., is in Italy). From Bloomberg:
"If swabs are necessary for testing, and if testing is crucial to slowing the virus's spread, then it wouldn't be an overstatement to say that the world's future depends, at least in part, on Puritan."
Unless the method for conducting the COVID-19 tests changes, Puritan's ability to make more swabs will remain the long pole in the tent for figuring out which Americans have the virus. Puritan sells 65 different kinds of swabs. It has more than $45 million yearly in sales revenue.
On March 12, Puritan started getting calls from the US government. Bloomberg quotes Timothy Templet, executive vice president:
"We are ramping up to produce and wrap a million swabs a week that we need to put into the supply chain across the US…"
Please think about that. The Trump administration first contacted the swabs guy on March 12th, two and a half months after we should have known we needed as many as we could get, assuming America was interested in testing for the Coronavirus.
Early tests used two swabs—one for the nose, and another for the back of the throat, but the swab shortage forced changes to CDC guidelines, and now, only one is required. Puritan has two swabs patented for this purpose, and they're making and shipping both, but scaling up production isn't simple. Workers are in short supply, with more aging out of the workforce than entering in rural Maine. More from Templet:
"The whole labor shortage has created difficulties to have enough machines and build equipment…I could use 60 people tomorrow."
Second, let's talk the shortage of hospital safety gear, including disposable face masks, eye protection, gloves and gowns. Farhad Manjoo had an Op-Ed in Thursday's NYT, "How the World's Richest Country Ran Out of a 75-Cent Face Mask", that details another sourcing problem:
"The answer to why we're running out of protective gear involves a very American set of capitalist pathologies — the rise and inevitable lure of low-cost overseas manufacturing, and a strategic failure, at the national level and in the health care industry, to consider seriously the cascading vulnerabilities that flowed from the incentives to reduce costs."
Twenty years ago, most hospital protective gear was made domestically. But like the apparel and consumer products business, face mask manufacturing has since shifted largely overseas. Today, China produces 80 % of masks worldwide. More from Manjoo:
"In January, the brittle supply chain began to crack under pressure. To deal with its own outbreak, China began to restrict exports of protective equipment. Then other countries did as well — Taiwan, Germany, France and India took steps to stop exports of medical equipment. That left American hospitals to seek more and more masks from fewer and fewer producers."
In 2006, Congress funded adding hospital protective gear to a national strategic stockpile. At one point, it contained 52 million surgical face masks and 104 million N95 respirator masks. But in 2009, about 100 million masks in the stockpile were deployed to fight the H1N1 flu pandemic, and the government never bothered to replace them. Today, we have about 40 million masks in the stockpile — around 1% of the projected need for the Coronavirus fight.
Fighting the coronavirus is forecasted to require 3.5 billion face masks, according to DHHS. Mask producers say it will take at least few months to significantly expand production. Here's a chart of the shortfall: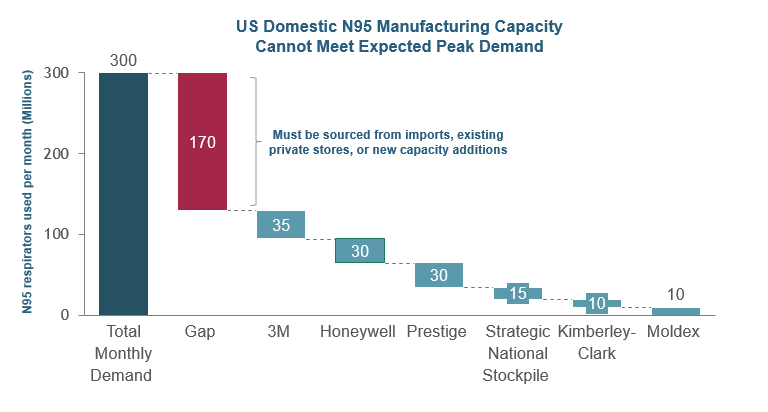 3M says that they are ramping up towards 100 million masks/month.
But, until that happens, the forecast is that we're going to be short 170 million masks per month. Most of that must be sourced from China at a time when there is huge global demand, and Trump is fighting with the Chinese.
The real issue is that our system is built to optimize efficiency, not resiliency. But we've just learned the hard way that without resiliency, we could lose many more Americans.
This is where our priorities are misplaced. We have plenty of redundancy built into our military hardware, and our bloated defense budget assures it will stay that way. But pandemics are also a significant (and growing) threat to our national security.
How about rebuilding the "strategic reserve" of protective gear with some defense dollars? To add 300 million masks at $0.75 each would cost $225 million.