The Daily Escape: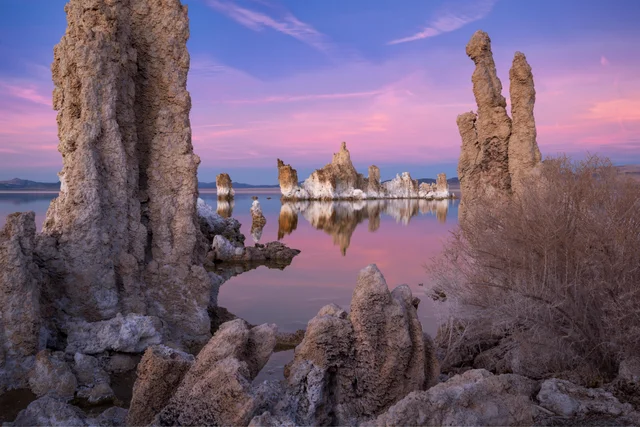 Mono Lake, CA, just after sunset – 2020 photo by hodldeeznutz. Those columns are called tufa, and are made of limestone.
Trump has finally made America number 1! We're again showing the world our exceptionalism by having more COVID-19 cases than any other country in the world.
The House has also passed the stimulus bill, and Trump has signed it, so we will also spend the greatest amount of money on the pandemic, with the smallest fraction of it going to the people who really need it.
Or on the medical equipment that we need the most.
Don't let anyone tell you that the $2 trillion does a whole lot more than provide relief to very rich people and corporations. This from the NYT:
"Senate Republicans inserted an easy-to-overlook provision on page 203 of the 880-page bill that would permit wealthy investors to use losses generated by real estate to minimize their taxes on profits from things like investments in the stock market. The estimated cost of the change over 10 years is $170 billion."
The NYT explains that under the existing tax code, when real estate investors generate losses from depreciation, they can use some of those losses to offset other taxes.
This is a big tax break because depreciation is a paper loss, resulting in cash flowing to the investor while tax deductions also flow to the investor.
But the use of those losses was limited by the 2017 tax cut. The paper losses could be used only to shelter the first $500,000 of a married couple's nonbusiness income. Any leftover losses had to be carried forward and used in future years.
The new stimulus bill lifts the $500,000 restriction for three years, this year, and two retroactive years, a boon for couples with more than $500,000 in annual capital gains or income from sources other than their business.
The IRS says the group that benefits comprises the top 1% of taxpayers. Final words to the NYT:
"A draft congressional analysis this week found that the change is the second-biggest tax giveaway in the $2 trillion stimulus package."
As we approach a new week, doesn't it seem like fear is setting in? One thing that might have helped would be an empathetic leader in the White House, but you fight the pandemic war with the bozo you have.
In the Thursday evening Coronavirus briefing he acted like a mafia boss, saying that one governor:
"Used to be a big wise guy but not so much anymore…we saw to it he's not so much anymore."
He's referring to New York's Andrew Cuomo asking for more ventilators. This is GoodFellas meets House of Cards.
As long as Trump controls the distribution of federal resources, he will use it to bully and threaten states for his own political benefit. And think about this: Trump is willing to hand out $500 billion to corporations to save executives, but isn't willing to spend $1 billion on more ventilators to save sick Americans?
This is what the Trump administration has become: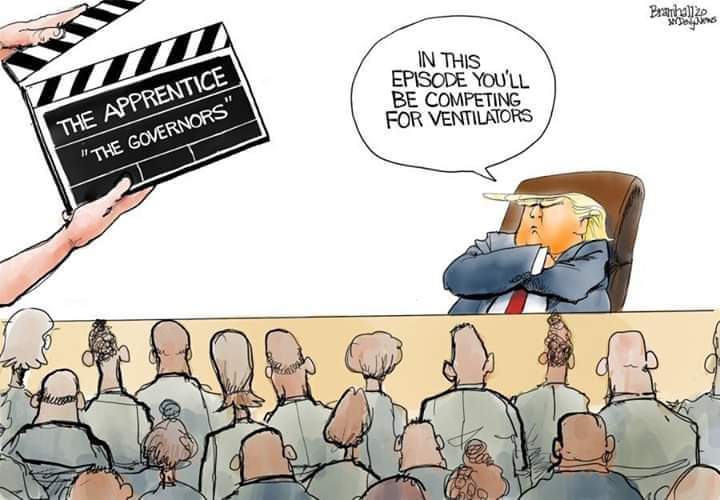 Trump is NEVER going to do what is necessary to bring this pandemic under control. Success will only be achieved through cooperative action by the States. And, by the rest of us.
Reality is sinking in, we're gonna be in our houses for a long time. 2020 is becoming the people vs. Donald Trump.
But, there are uplifting moments if you look carefully. Here's a small effort at a Saturday Soother, aided by the students of Berklee College of Music in Boston MA. After the school closed down and the kids left for home, they created a virtual performance of Bert Bacharach's "What The World Needs Now":
Despite Trump, the rest of us are in this together. Protect yourself and your loved ones, this will eventually end, and you want to be here.
Those who read the Wrongologist in email can view the video here.