The Daily Escape: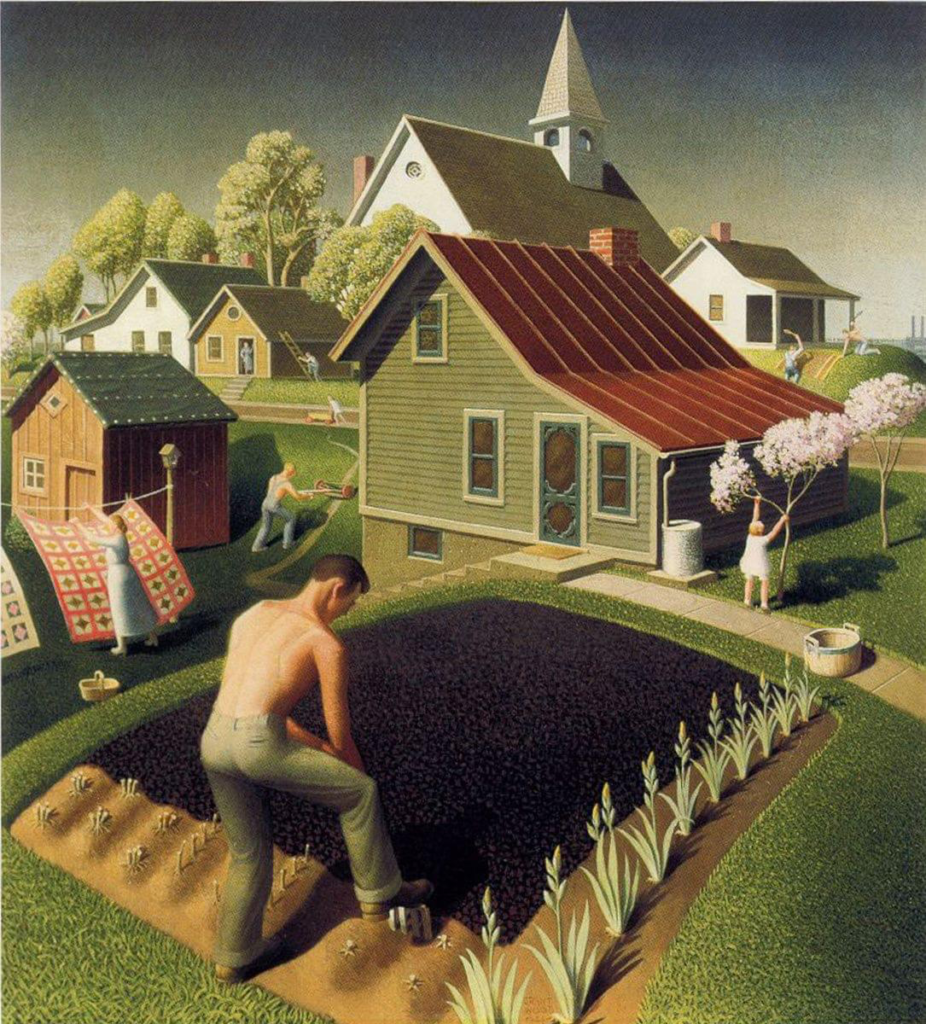 Spring in Town – Grant Wood, 1941
Welcome to Saturday, fellow disease vectors! Here's a quote often mis-attributed to Winston Churchill: "If you're going through Hell, just keep going". Those are words to live by in pandemic America.
You remember Joe Biden, right?
His campaign was premised on Trump's complete unsuitability for the presidency, and on Biden's particular experience and fitness for it. Biden wasn't running on the issues, he was hammering on Trump. Before the pandemic, according to Joe Biden, Trump was:
"A threat to this nation unlike any I had ever seen in my lifetime."
But lately, Biden could be a picture on a milk carton. He's disappeared. Rather than holding a news conference in public every day, demanding to know why the administration isn't providing enough tests and PPE to the states, Biden's trying to organize a phone call with Trump. To share lessons learned from Obama-era pandemic responses. That will certainly change everything.
Does Biden have a strategy to win in November? The ABC/WaPo poll found that only 24% of Biden's supporters were 'very enthusiastic' about him, compared with 53% of Trump's. While ABC News reminded us that in 2016, "Hillary Clinton's 'very enthusiastic' score was 32% in September."
These numbers are from the poll that has Biden beating Trump by only 2% points. Now, this poll could be an outlier, since the Real Clear Politics Polling Average has Biden at 50.6% to Trump at 44%.
Regardless, Biden needs to get off his ass, get out in public, and act like the leader of the opposition.
And speaking of leadership (again), Raúl Ilargi Meijer has a great column about leadership in the pandemic era. He differentiates between the visionary giants like Gandhi and Martin Luther King, Jr.  and our current crop who he calls "Little Managers":
"They all failed to a horrific extent at their #1 task when it comes to Disasters, Pandemics, whatever their respective governments file these events under: Prevention. But now we're in a whole new world. Now these failed leaders move into a situation they actually MAY be able to handle. That is, the -crisis- management that inevitably follows AFTER the failure at their #1 task of Prevention."
Ilargi says that they might be able to succeed at crisis management because they were trained to be little managers. He describes them: (emphasis by Wrongo)
"Core characteristic: these people don't act, they re-act. Prevention is a job they're absolutely not qualified for… Trump, Macron, BoJo, Merkel, Rutte, Xi, Abe, Conte, you name them, they're all little managers…they have no ideas or visions, at least not original ones. People with original ideas don't become politicians…"
Worse, politics isn't policy. More:
"For now, the only thing to do is hope the little managers are better at step 2, Crisis Management, than they were at step 1, Prevention. Because there are no ready alternatives. When they say stay home, that's the best thing to do right now."
And finally:
"Can we blame our own respective…little managers? To an extent, sure. They didn't do what they promised to when they swore their respective oaths. But maybe just maybe we should blame ourselves more, for picking little managers to lead our countries in the first place. We should have known that they were never going to be more than 2nd rate "leaders" who were never going to deliver more than 2nd rate societies."
Hard to improve on that.
We're all going through hell with no choice but to keep going. So, let's take a breath, and try to spend our self-isolating time concentrating on something other than COVID-19. Here are "Two English Idylls" by the little-known George Butterworth, who was part of the English pastoral idiom.
These are Butterworth's earliest surviving orchestral pieces, with No. 1 dating from 1910-1911, while No. 2 is from 1911. Butterworth and Ralph Vaughan Williams were close friends, and you may hear similarities in their music. Butterworth was killed in 1916 in WWI during the Battle of the Somme, he was 31.
Here it's performed by the Academy of St. Martin-in-the-Fields, under Sir Neville Marriner, in 1975. The accompanying photography of the English countryside is transporting and wonderful, so Wrongo urges you to take a few minutes to watch:
Those who read the Wrongologist in email can view the video here.