The Daily Escape: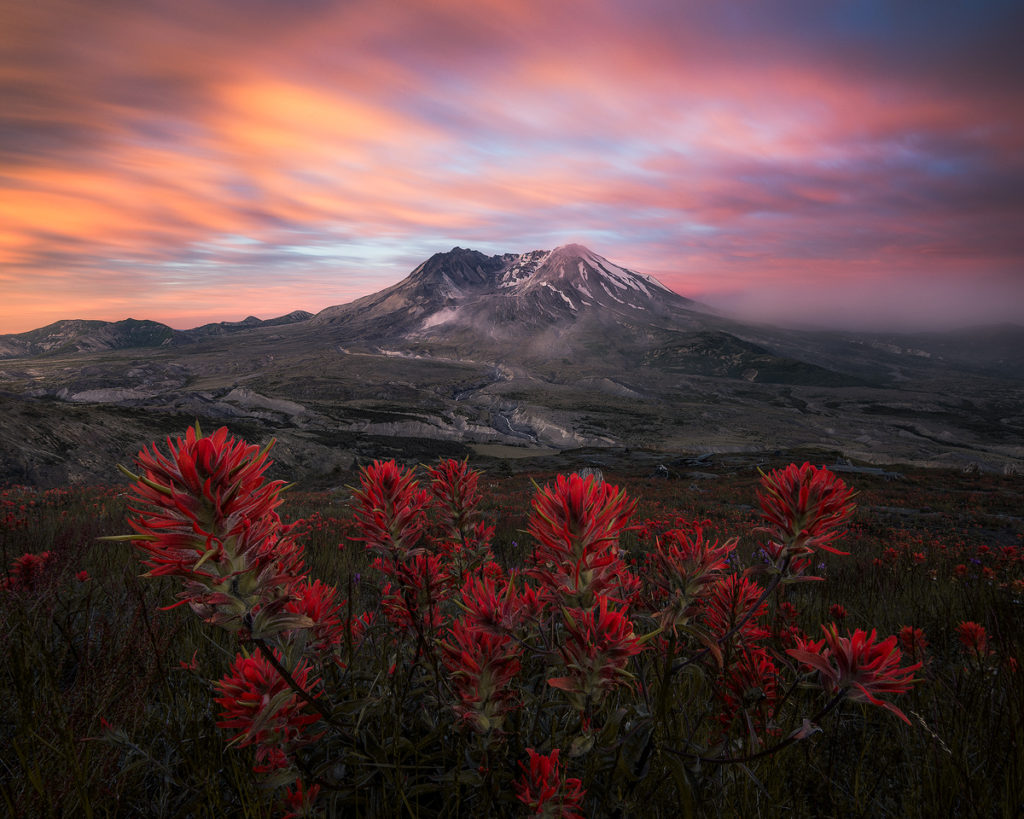 Mount St. Helen's, exactly 40 years to the day after the explosion – May 18, 2020 photo by debuggerfly
Wrongo and a small online group have been trading ideas on how to best support candidates in the 2020 election. We decided that our limited financial resources can be used most effectively by directing them to candidates running for the House and Senate in states and districts that can potentially be flipped to the Democrats from the Republicans.
People suggest possible candidates that are then researched. But the decision to support a candidate is left entirely to the individual, no money is pooled.
One of those candidates is Mark Kelly, running for Senate in Arizona. When he announced, Kelly was rated a "toss-up" in his race against incumbent Republican, Martha McSally.
McSally is no slouch. She served in the United States Air Force from 1988 to 2010 and was the first female commander of a USAF fighter squadron during the Iraq war. She was later deployed to Afghanistan. So, they have some career similarities. Kelly is a former US Navy captain who served in the Gulf War. He is also a former astronaut who commanded several space shuttle missions.
Their differences lie in politics and ideology. McSally is tightly tied to Trump, but she's been seeing her standing in the polls steadily drop in the past few months. From Arizona Republic columnist Laurie Roberts:
"Arizona Sen. Martha McSally is sliding in the polls, dropping four percentage points in a month. McSally now trails Democrat Mark Kelly by 13 points, according to the latest tracking poll by OH Predictive Insights. While the April poll of 600 likely voters favored Kelly 51% to McSally's 42%, in May it's now 51%-38%."
And McSally is doing worse than that: First, independents are breaking more than 2-1 for Kelly. Second, Maricopa County is the GOP's largest base of support in Arizona, and McSally is now losing Maricopa County by 18 points.
Mitch McConnell's Senate Leadership Fund plans to spend $9.2 million to try to boost McSally in the fall. Meanwhile, the National Republican Senatorial Committee (NRSC) plans to begin a $5.7 million ad campaign in June to help McSally. We'll have to see if all of that is enough.
Politico reports that the NRSC has $30.4 million in cash on hand, compared to $19.9 million for the Democratic Senatorial Campaign Committee. So, Democrats leading in swing states are still in grave danger.
McSally's problems may be part of a national theme, Trump's collapse among senior voters. From the LA Times:
"Trump's significant deficit among seniors shows up in poll after poll, nationwide and in key states, including surveys done by nonpartisan groups and by pollsters in both parties,"
In 2016, Trump won voters 65 and older nationwide by 53% to 44%. Today, that's reversed. Instead of a nine-point lead among seniors, Trump now has a similar deficit in many polls.
The LA Times points out that's critical, because seniors made up slightly more than a quarter of the electorate nationwide in 2016. Importantly, their support was key to Trump's victory in each of the major battleground states.
Look at Trump's must-win state of Florida. In 2016, he won voters over the age of 65 in the Sunshine State by 17 points. Today, he trails among them by 10 points, according to a recent Quinnipiac University poll. Here's a hot Twitter take: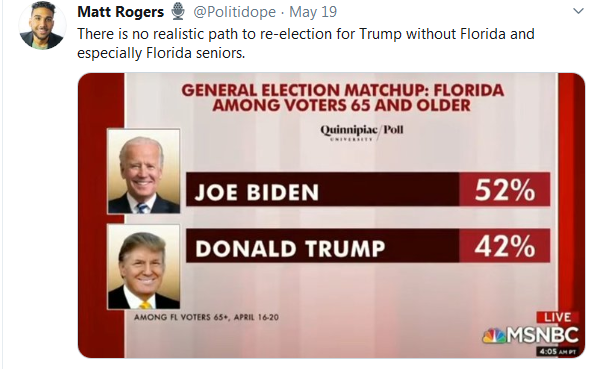 This represents a 27-point swing in senior support in less than four years among the most engaged voting bloc in the country. Nationally, Trump won senior voters by nine points in 2016, according to the Pew Research Institute's post-election study of voters. Today, he consistently trails among seniors by large margins in most national polls.
Eric Boehlert points out:
"Democrats have lost seniors in every presidential race since 2004 by at least 5 percentage points. Al Gore in 2000 was the last Democrat to carry senior voters."
Is this a campaign-defining voter migration? There is plenty of time between now and November for that Biden bulge to erode.
OTOH, people turning 65 this year were born in 1955. They remember the anti-war protests and watched Watergate happen. Those aged 66 voted for the first time in 1972, when Nixon defeated McGovern, and we were clearly losing in Vietnam. That cohort has also seen many past presidents deal with crisis. They probably see Trump as a failure, particularly with the pandemic.
Trump's policy of "let the virus kill grandma" and his desire to cut health care benefits may not convince seniors to vote for him again.