The Daily Escape:
Spring flower bloom at Keukenhof Garden in Holland. (Hat tip to Ottho H.)
Remember when we had fifteen COVID-19 cases, and they were just going to be gone, like a miracle?
If you ask Trump, that's where we are, plus a few orders of magnitude. All of the recent happy talk about reaching or being past the peak have omitted the detail that so far, "flattening the curve" isn't substantially reducing the number of cases, or deaths.
The theory was that once we "flattened the curve", we could ease up on social isolation, mask-wearing and get back to work. When we think about the downside of the curve, we think bell curves, with a sharp rise and fall from a high peak. As Wrongo said on April 20, that was unlikely to be the outcome, because it didn't happen like that in countries that started fighting the virus long before us. And that's how it seems to be working out. Here is where we are: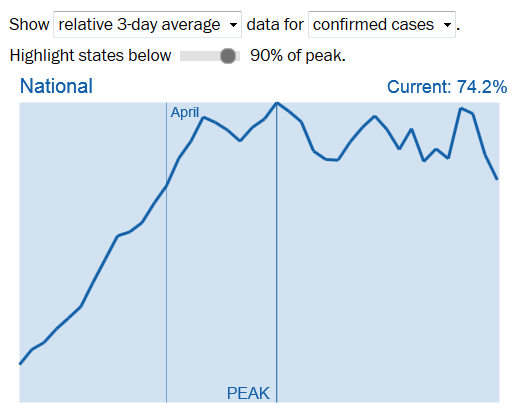 Source: Washington Post
The chart tracks a 3-day average of cases, since that smooths out some of the big day-to-day variances. As of April 29, it seemed clear that we have reached a peak, but we're not showing any real signs of a rapid decline. This means the COVID-19 curve could remain elevated for a long time.
And we should remember that 878,839 cases are still active.
Politicians are obsessed with "the peak." Are we at it? Are we past it? When will it come? Has it come? Now they've turned to communicating their plans for reopening the economy. That makes sense. Re-opening is becoming urgent, with more than 30 million Americans out of work, but it's dismissive for politicians to say we're past the worst of it "medically" while more people go to the ICU every day.
Massachusetts governor Charlie Baker (R), sees the plateau, and wonders when the curve will start to decline:
"Baker focused on hospitalizations and ICU admissions, saying, we've basically been flat for 12 days. We're flat at a high level. But 12 days, 13 days counting today — you're not going to find a lot of other places that just sit like this for 13 days."
Former FDA Commissioner Scott Gottlieb MD, an advisor to Baker, tweeted: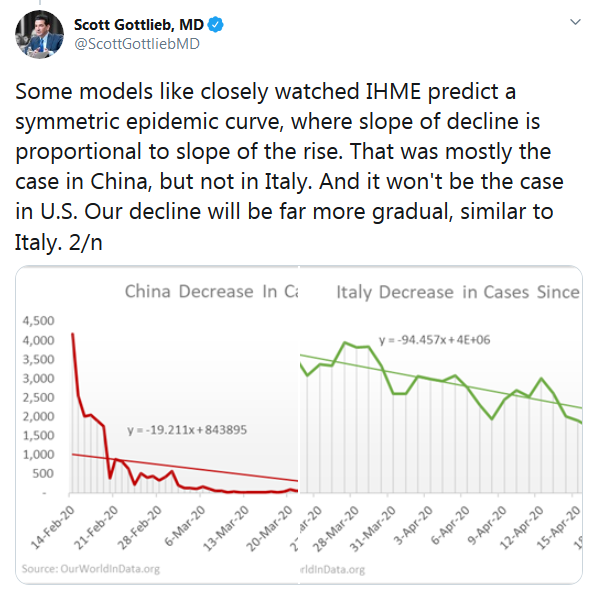 IHME (mentioned in the tweet) is a closely watched model from the University of Washington Institute for Health Metrics and Evaluation.
What we do over the next few weeks will determine whether we get this right, or whether COVID remains a large ongoing threat. We need to understand the potential risks that come with a decision to reopen, and make plans to mitigate these risks as best we can. Some states, like Connecticut, are planning carefully.
If we look state by state, in about half of the country, the numbers of cases are still rising. In about another third of the country, there is a leveling off. Only in a minority of states are the numbers actually coming down on a daily basis. New York, Washington, Louisiana and Idaho have had reductions of more than 50% from their peaks in new infections.
According to STAT, there are several possible outcomes: Recurring small outbreaks, a monster wave of cases, or a persistent crisis. And no one knows which outcome is most likely. We should expect new infections to start rising again in states without much testing, but with large populations that opened early like Texas, Florida and Georgia.
We should also realize that in some states, cooking the books about new cases and deaths will happen. Newsweek reported data compiled by Florida medical examiners was no longer being reported by the state government. The official state data has not been updated in over a week.
Acting like we're flattening the curve when we really don't know if we are, is likely to create a San Andreas-sized political earthquake if cases spike again.
But let's try to get past all this, because it's time for another Saturday Soother, when we stop checking Twitter, and think about spring.
Here on the fields of Wrong, the pear, plum and cherry trees have flowered, while the crab apples are soon to bloom. We have bluebirds nesting in both bluebird houses. Our weather remains cold and wet, so stay indoors and brew up a hot mug of Bengal Spice tea.
Now grab a socially distant chair and have a few minutes of fun with a song parody by the Opera Guy, Matthew Ciuffitelli. Here's his parody of "Phantom of the Opera", called "Phantom of the Quarantine". Wrongo promises you won't be disappointed:
Those who read the Wrongologist in email can view the video here.