The Daily Escape: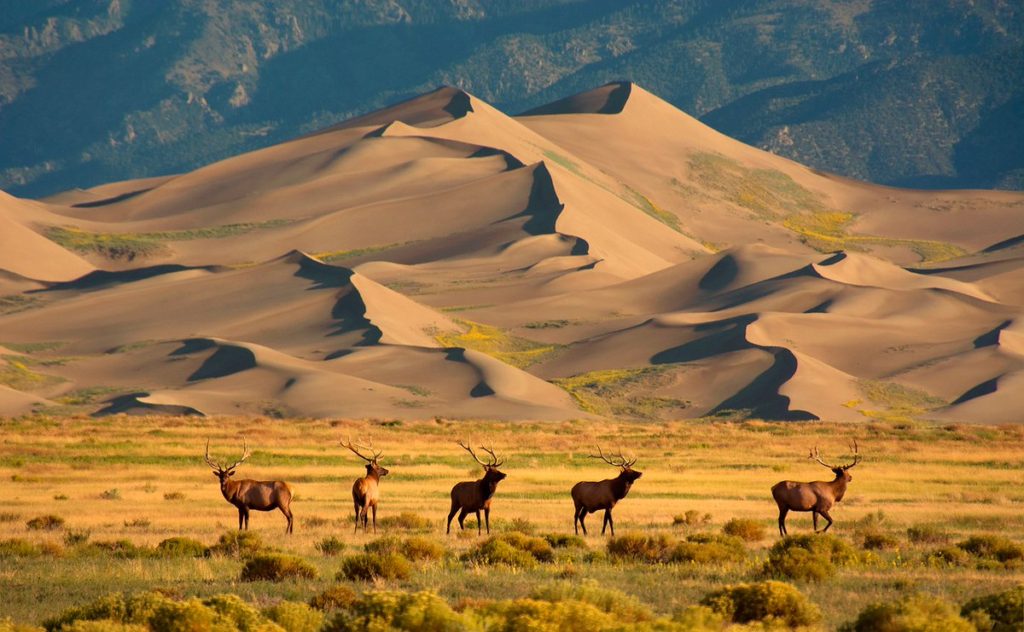 Sand Dunes NP, Colorado – NPS photo by Patrick Myers. The animals are elk.
Happy Saturday, fellow disease vectors! And welcome to Memorial Day Weekend.
Trump isn't alone in peddling conspiracy theories. The WaPo reports that conspiracy theories and political smear campaigns are as old as American politics. From the WaPo:
"As far back as the campaign of 1800 — the first contested presidential race in US history — pamphlets circulated that accused John Adams of possessing "a hideous hermaphroditical character," which was a suggestion that he had the sex organs of both a man and a woman."
WaPo lists some others:
In 1828, a newspaper reported that Andrew Jackson's mother was "a common prostitute" brought to this country by British soldiers, who married a mulatto man with whom she had several children. Actually, Elizabeth and Andrew Jackson Sr. married in Ireland, and then came to America to escape religious persecution.
In 2004, a right-wing group, the Swift Boat Veterans for Truth made up lies about Democratic nominee John F. Kerry's military service in Vietnam. Kerry had piloted a swift boat, and the group's tarnishing of Kerry's war service came to be known as "swiftboating". A shorthand for an outrageous kind of smear.
Bill Clinton's presidency brought many crazy stories, including claims that Bill and Hillary Clinton had been involved in drug-running and murder in Arkansas. Or, accusing them of murdering Vince Foster, an aide who committed suicide. Or, the convoluted theme of the "Clinton Body Count" conspiracy theory, promulgated by Newsmax publisher Christopher Ruddy among others, which says the Clintons are responsible for as many as 50 deaths.
While these tactics aren't new, social media amplifies and spreads disinformation more efficiently than ever before. In 2020, the real force behind it is Trump, who has both a knack for branding along with zero capacity for shame.
Trump's constant hammering on birthergate, accusing Obama of being foreign-born, built Trump a big following among people with "white grievance" by trafficking in lies about Obama's birthplace.
With the 2020 presidential campaign about to get active, Trump has now come up with Obamagate! Something he calls "the biggest political crime in American history, by far!" It's a hazy set of accusations that Trump and the GOP are trying to plant in the public consciousness.
The gist is this: After Trump was elected in 2016, senior Obama administration officials, including Obama and Joe Biden, tried to entrap his incoming National Security Adviser, Gen. Michael Flynn, in the then-emerging scandal about Russian election interference. There will be Benghazi-style Obamagate hearings by the GOP-controlled Senate. It must be true, since the term contains the word "gate".
But can Obama be guilty of something he did as POTUS, when Trump claims that POTUS has 'absolute immunity' for everything?
He clearly hasn't thought that one through.
It's time for our Saturday Soother, and we need to move past these petty conspiracies and talk about a real conspiracy. The trees on the fields of Wrong are attempting to have sex. All. The. Time.
That means tree pollen is covering everything, including those of us of the non-tree persuasion.
But much yard work still needs to be completed, so this beautiful weekend in Connecticut must include a sinus spray. Yard work is a form of Saturday Soother, it lets you escape from all of the problems and issues of the day, and focus on the great weed conspiracy that our main stream media refuses to cover.
But before grabbing your work gloves, take a moment in a comfortable and socially distant space to listen to "The President's Own" US Marine Band play Gustav Holst's "Chaconne" from his Suite No. 1 in E-flat, Opus 28, No. 1. Here it is played by 34 US Marine Band Musicians, all social distancing:
Holst apparently wrote it as the "1st Suite for Military Band Op. 28A" in 1909, but there is no record of a performance until 1920. Holst was one of England's most prominent twentieth-century composers. He composed hundreds of works, the most famous of which was his orchestral suite, "The Planets" (1922).
Those who read the Wrongologist in email can view the video here.