The Daily Escape: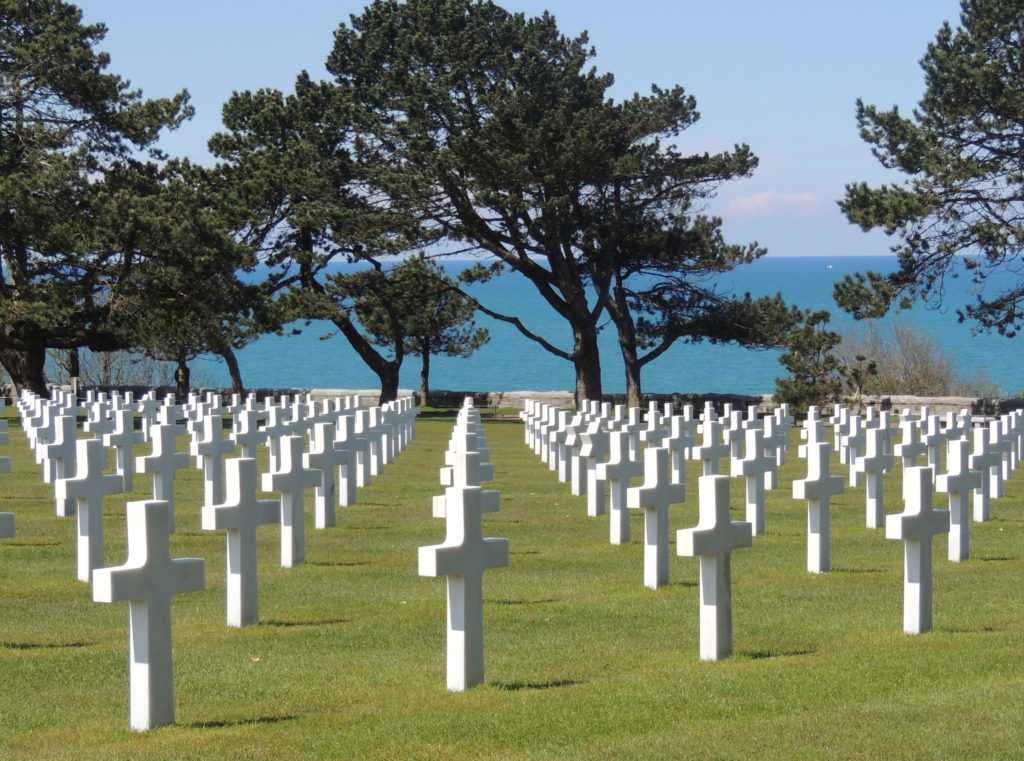 Normandy – 2016 photo by Wrongo
Today, let's tie a few things together. D-Day was 76 years ago. Less than three months later, by the end of August, the allies had entered Paris, and the rout was on. Germany would surrender in May of 1945. That was the original Antifa war.
What's going on today, with Trump and Barr trying to gin up a domestic Antifa enemy is bullshit.
First, a bad experience for a multi-racial family of four in Washington State that was accused of being members of Antifa. They were followed and prevented from leaving their campsite when the bad guys cut down trees to block the roadway out. From the article: (emphasis by Wrongo)
"The family had shopped for camping supplies at Forks Outfitters and were confronted by seven or eight carloads of people in the grocery store parking lot….The people in the parking lot repeatedly asked them if they were Antifa protesters. The family told deputies that at least four vehicles followed them as they drove northbound out of Forks. They said that two of the vehicles had people in them carrying what appeared to be semi-automatic rifles."
Not dangerous, and no connection to Barr and Trump, just a coincidence, right?
Next, HuffPo reports that a shipment of hundreds of cloth masks that read "Stop killing Black people" and "Defund police" that an Oakland, CA Black Lives Matter-affiliated organization was sending to cities around the country was seized by law enforcement. The group's objective was to protect demonstrators against the spread of COVID-19:
"The Movement for Black Lives (M4BL) spent tens of thousands of dollars on the masks they had planned to send all over the country. The first four boxes, each containing 500 masks, were mailed from Oakland, California, and were destined for Washington, St. Louis, New York City and Minneapolis, where on May 25 a white police officer killed George Floyd, a 46-year-old handcuffed Black man, setting off a wave of protests across the country."
The items never left the state. The US Postal Service tracking numbers indicate they were "Seized by Law Enforcement". Again, what is behind Barr's and Trump's thinking here? The government has been urging independent groups to make masks to help protect against COVID-19. The difference here is that the government objects to the message on these masks?
Finally, Trump is now living behind a tall and imposing fence wall that was hastily erected around the White House: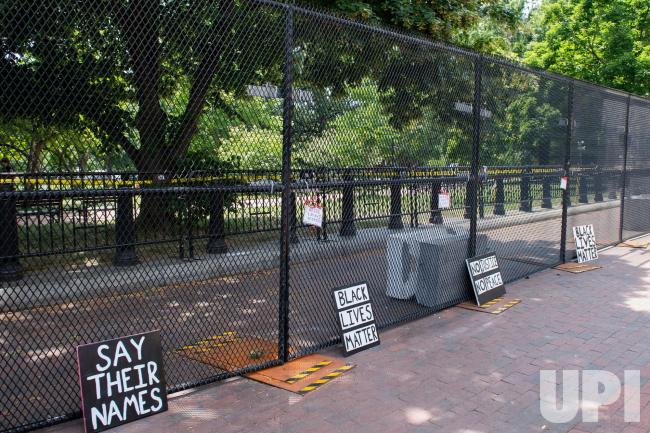 The fencing is intended to provide security for the White House. Trump may have thought that the show of force in Lafayette Square made him seem more powerful, but the more he closes in—physically and figuratively—the more isolated and small he seems.
Don't you wonder how carefully the White House has thought out their strategy?
Do they have an exit strategy for how their daily undermining of people's Constitutional rights will play out?
Do they intend to have troops on our streets indefinitely?
Do they plan to make protesting so dangerous that there will be ever increasing violent incidents that, in the administration's eyes, justify the continuing use of force?
On this D-Day weekend, things aren't looking good for the Home of the Brave and the Land of the Free.
It is hard to write this stuff, and it's certainly hard to read about all the new insults to democracy that are now occurring daily by this president.
So, let's take a break from the news, and find a little bit of time to forget the ominous place where all this seems to be heading. Time for a Saturday Soother.
First, we brew up a cup of Mocha Java ($14.50/12oz.) from Fort Bragg, CA's Thanksgiving Coffee. They call it Mocha Java, but this version replaces the original Java with a wet-hulled Sumatra, and replaces the Yemen Mocha with a similar coffee from Ethiopia. You be the judge.
Today, partially to mourn George Floyd and all the others who died before, including those who died on D-Day, let's listen to Samuel Barber's "Adagio for Strings", played in its original version by the Dover Quartet.
This is the second time Wrongo has chosen this recording, primarily for the deep sadness in the music. Usually played by a string orchestra, here it feels raw and vulnerable, and much more intimate and powerful than with an orchestra:
Those who read the Wrongologist in email can view the video here.