The Daily Escape: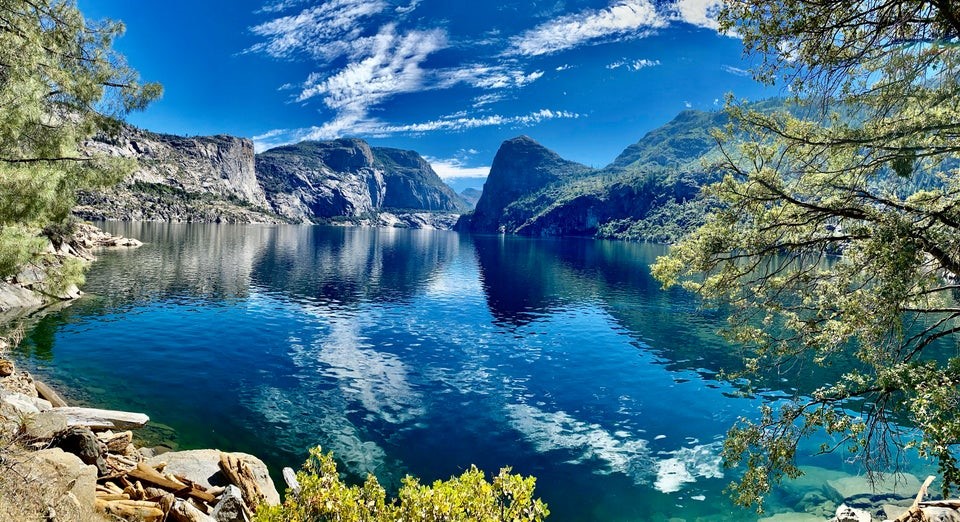 Hetch Hetchy, Yosemite, CA – 2020 photo by sfo2phx. This reservoir was created by damming the Tuolumne River in the Hetch Hetchy valley in 1923. The project remains controversial, since the valley was thought to be as beautiful as Yosemite.
Where is America going? It's clear that wherever our economy is going mostly depends on where our Covid-19 pandemic goes.
Congress passed the CARES act to provide us with a financial bridge until August, when the Coronavirus was expected to be under control, and life would be able to return to something like normal. But the pandemic is now worse than we imagined in March. From the WaPo:
"Sunday marked the 41st straight day that the seven-day average for new daily coronavirus infections in the United States trended upward. Six months after the novel coronavirus reached America, more than 3.7 million cases have been detected, and at least 137,000 people have died.

Kentucky, Louisiana, Oregon and South Carolina all set new single-day records on Sunday….Idaho, Nebraska, Iowa and five other states have seen their seven-day average for daily new fatalities rise by more than 40% in the past week. More than 100 Florida hospitals have run out of ICU beds for adults."
We've spent $ trillions, but we're no better off than when the pandemic started. And we're got a lot to think about as these programs start to end. Bloomberg prepared this timeline of what financial benefits are ending, and the likely impact on America: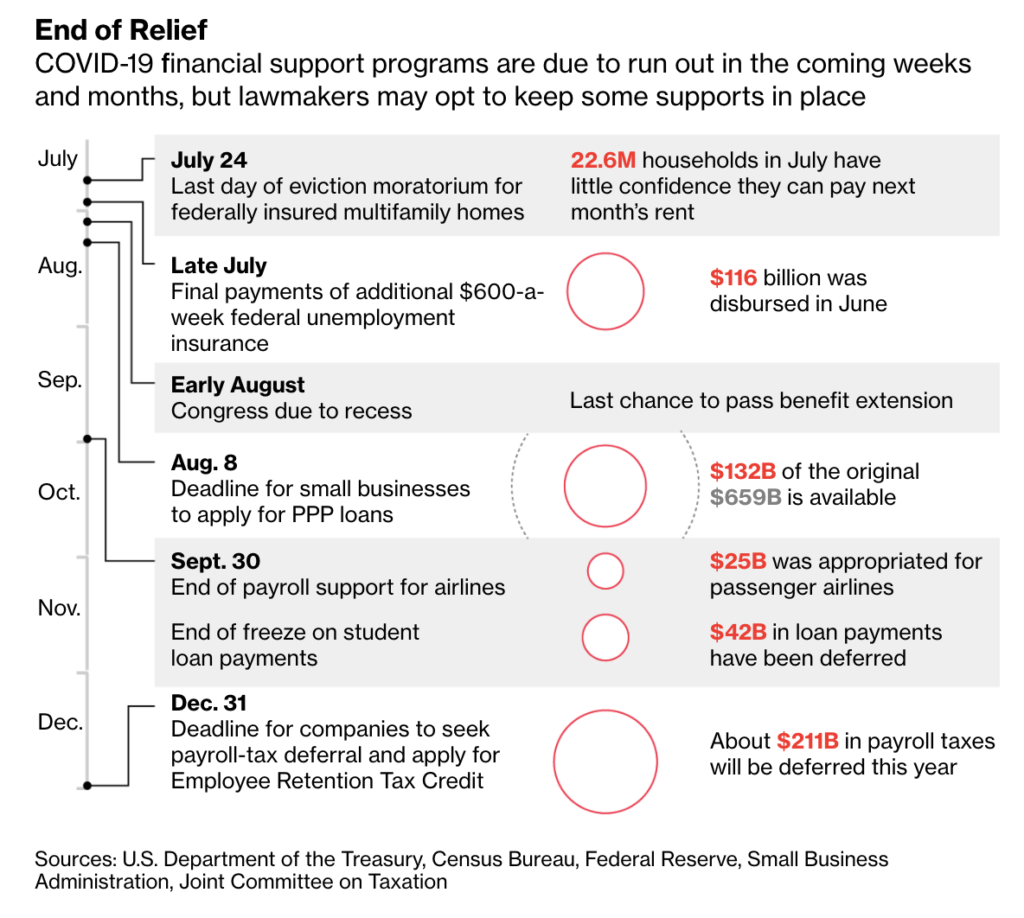 These looming cutoff dates come amid signs the labor-market recovery has stalled. While the Senate is willing to send new financial bridging legislation to Trump, Republicans and Democrats disagree on number of issues, and Trump has his own demands. The WaPo reports: (emphasis and brackets by Wrongo)
"Senate Republicans were seeking to allocate $25 billion for states to conduct testing and contact tracing, but certain administration officials want to zero out the testing and tracing money entirely…. [the administration] is also trying to block billions of dollars that GOP senators want to allocate for the Centers for Disease Control and Prevention, and billions more for the Pentagon and State Department to address the pandemic at home and abroad…"
Trump wants the states to own the responsibility for testing. The Coronavirus spending bill Congress approved in April included $25 billion to increase testing and also required HHS to release a strategic testing plan. The agency did so in May, but the plan simply asserted the administration's insistence that states, not the federal government, should take the lead on testing.
Another sticking point is that Trump wants the legislation to include another payroll tax cut. The payroll tax is used to fund Social Security and Medicare, so cutting it is a stealth way to cut Social Security in a time of crisis. Trump is also trying to fund a new FBI building.
In May, the House approved a $3.5 trillion relief bill. Pelosi's bill funnels $100 billion to help schools to safely reopen and calls for $1 trillion to be sent to cash-strapped states to pay essential workers and prevent layoffs. The impact of shortfalls in sales, income, hotel, and gas taxes are already biting.
The White House has said the final package shouldn't exceed $1 trillion, showing how far apart the Parties are.
Axios has it right: (brackets by Wrongo)
We blew it on testing…America hasn't built the infrastructure necessary to process [tests] and trace the results….
We blew it on schools. Congress allocated $150 billion for state and local governments as part of the CARES Act. [But] there was no money earmarked for schools to buy new safety equipment, or to hire additional teachers for [adding many] smaller classes.
We blew public health….Had we all been directed to wear them [face masks] in March — and done so…you might not be reading this post.
We blew goodwill. Millions of Americans sheltered in place, pausing their social lives for the common good. But many millions of other Americans didn't. Some were essential workers….Some just didn't care, or didn't believe the threat.
All of this was complicated by mixed messages from federal and state leaders. Top of that list was President Trump, who claimed to adopt a wartime footing without clearly asking Americans to make sacrifices necessary to defeat the enemy.
That was the same mistake that GW Bush made with America after 9/11.
Michelle Goldberg in the NYT said this:
"Lawrence O. Gostin, professor of global health law at Georgetown, told me he doesn't expect American life to feel truly normal before summer 2022. Two years of our lives, stolen by Donald Trump."
We've lost more than two years. We may have lost the enonomy.