The Daily Escape: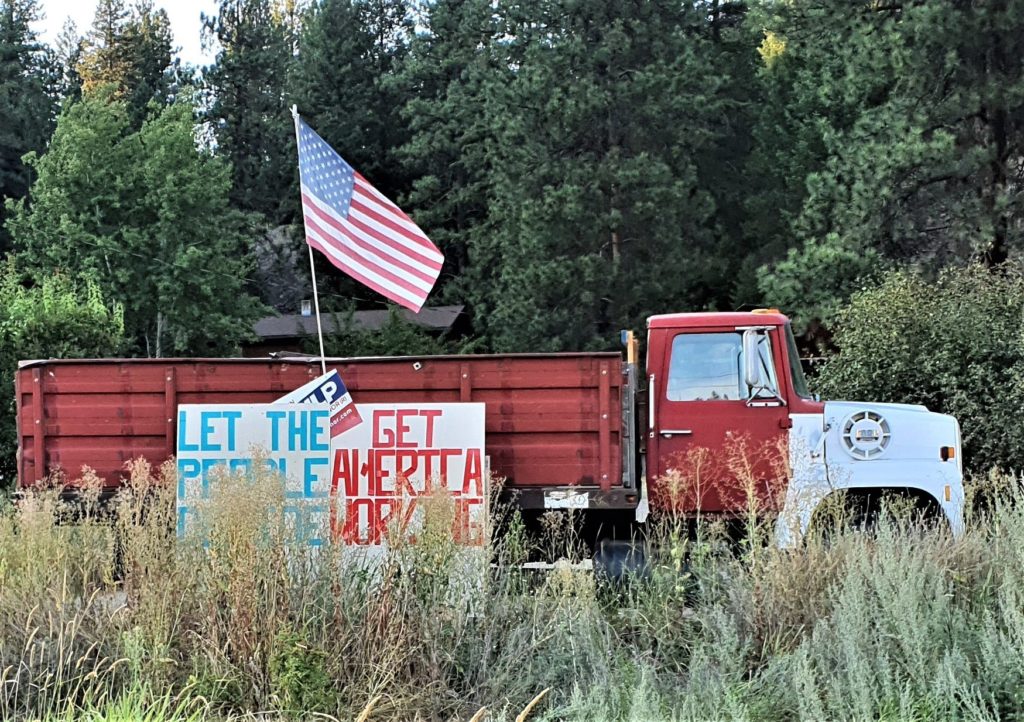 "Let the people decide" and "Get America Working" sign, Republic, WA – August 2020 photo by Ottho Heldring
(Our problem with comments continues. Several other blogs have reported a similar issue with the most recent WordPress update.)
Happy Monday! 2020 has been one terrible thing after another. Now, we have an asteroid. CNN reports:
"The celestial object…is projected to come close to Earth on November 2, according to the Center for Near Earth Objects Studies at NASA's Jet Propulsion Laboratory…..The agency has determined the asteroid probably…won't have a deep impact, let alone bring Armageddon."
Even though NASA estimates that the chance of it hitting earth on the day before the election is just 0.41%, since this is 2020, you can count on it wiping out at least one post office in a swing state.
On Friday, Rep. Carolyn Maloney (D-NY) Chair of the House Committee on Oversight and Reform, released internal Postal Service documents, that warned Postmaster General Louis DeJoy about increasing nationwide delays over the last two months as a result of his operational and organizational changes.
The new documents were part of an internal presentation to DeJoy on August 12, 2020. They provide an assessment of performance trends over the past few months. Here is a chart from the presentation: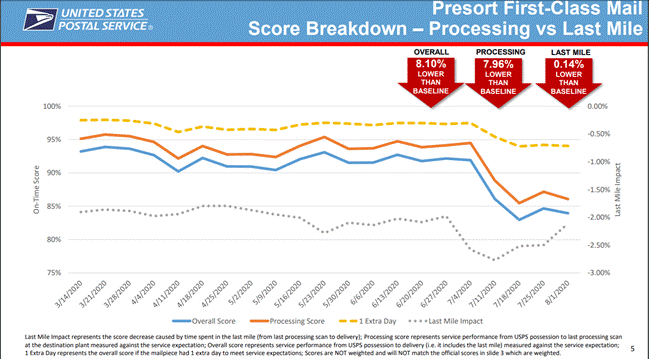 This shows the significant drop in performance since the beginning of July, specifically in First-Class Mail. DeJoy said at a hearing in the Senate on Friday that:
"We all feel bad about what the dip in the level of service has been."
Earlier, the top Republican on the Oversight Committee, Rep. James Comer (R-KY) and House Republican leader Kevin McCarthy (R-CA) sent a letter to Maloney and Speaker Nancy Pelosi arguing that nationwide reports of delays are nothing but "conspiracy theories" being "manufactured" by Democrats to "undermine President Trump" and support "an unnecessary bailout plan."
In other postal news, the Republicans have a legal full court press on to prevent vote-by-mail in swing states. They sued the Commonwealth of Pennsylvania and each of the state's county election boards to prevent election administrators from providing secure drop boxes for mail-in ballot returns.
Well, The Intercept reports Republicans had an epic fail last week. The Trump campaign had been ordered by a Pennsylvania federal court judge to back up its claims of fraud in the state's vote-by-mail system. But the campaign submitted a 524-page answer that contained zero cases of fraud involving mail-in ballots.
It did mention a handful of other types of election fraud, but their answer wasn't responsive to the motion to produce evidence that mail-in ballot fraud was a grave risk to Pennsylvania voters.
It's clear that voter fraud exists, but it doesn't exist in large numbers in mail-in voting. What we do know is that fraud is actually far more prevalent at polling locations. But even that form of voter fraud is extremely rare. It has been clear for years that electronic voting machines are easily hacked, and do not offer an auditable trail back to the actual voter. So fraud in those machines is almost impossible to detect.
In Pennsylvania, the Republicans were trying to make it illegal for the state to set up drop boxes for ballots. If there was a real opportunity for rampant fraud in mail-in voting, Trump and the GOP would be all for it.
Finally, NPR has a report about rejected absentee ballots in the 2020 primaries, saying that at least 550,000 ballots nationally were rejected. From NPR:
"That's far more than the 318,728 ballots rejected in the 2016 general election and has raised alarms about what might happen in November when tens of millions of more voters are expected to cast their ballots by mail, many for the first time."
Most absentee or mail-in ballots are rejected because required signatures are missing or don't match the one on record, or because the ballot arrives too late. Occasionally a voter incorrectly chooses too many candidates, or circles a candidate's name instead of filling in the bubble next to it.
Apparently Black and Hispanic voters were more likely to be voting by mail for the first time, and were twice as likely to have their ballots rejected than white voters who were voting by mail for the first time.
Time to wake up America! Tens of thousands of ballots were rejected in this year's primaries in key battleground states. For example, in 2016 Trump won in Wisconsin by 23,000 votes. In this year's April presidential primary, more than 23,000 absentee ballots were rejected, enough to swing the 2016 outcome if they had been counted.
Forty-eight percent of those who intend to vote for Joe Biden say they will use mail-in ballots, compared with just 23% of Trump supporters.
Voting in America is complicated and sometimes, extremely difficult. Stay alert, and help as many first-time voters as you can.