The Daily Escape: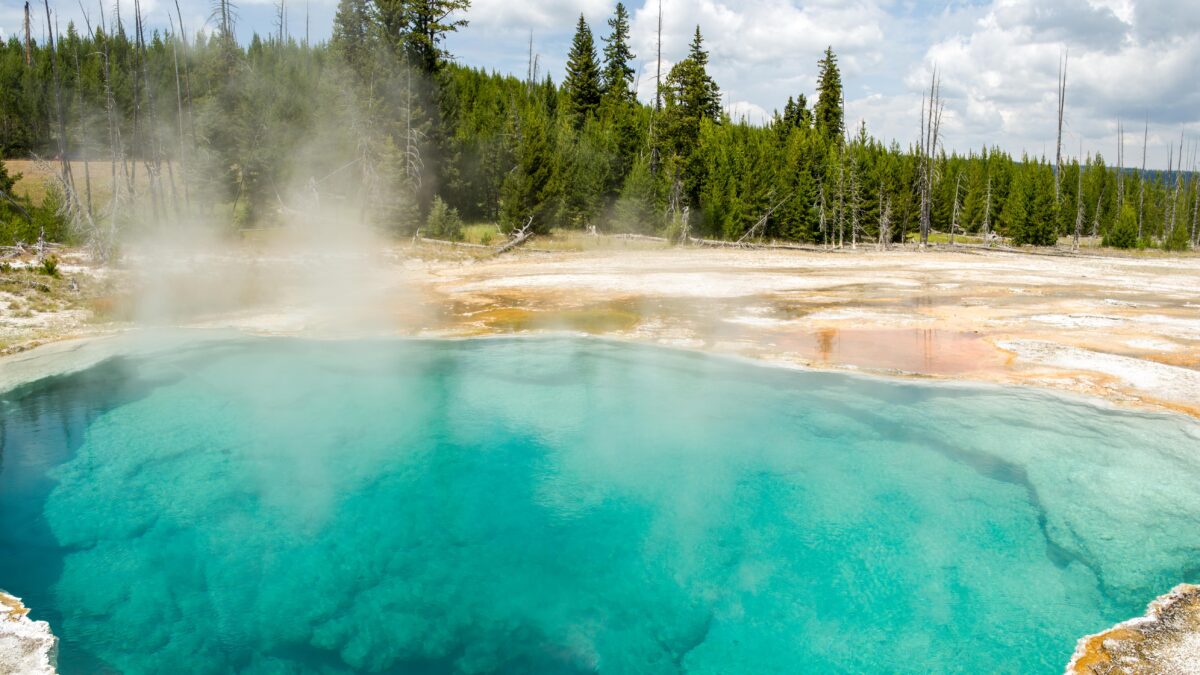 Abyss Pool, West Thumb Geyser, Yellowstone NP – 2020 photo by eTeT
The "New Normal" is here. Tuesday was the first day for school buses on the streets of Wrongtown, CT since March. Until the buses rolled, we could keep lying to ourselves about the pandemic. But now that school has started up for kids in K-12, the new normal is here. We're soaking in it.
It's a patchwork of online and in-person formats. Here in Wrongtown, we're following a hybrid formula of kids physically in class for some days, and participating remotely on the rest. But confusion reigns. One parent asked on the town's Facebook page whether her kid had to log on to the class website on the days when they were at home:
"He is in school on Thursdays and Fridays but do we need to log on every day Monday thru Wednesday considering those are the days he is home? Any advice would be greatly appreciated. Thanks."
Or, this one:
"Hi does anyone know how to sign in to distant learning?"
Ok, the new normal hasn't been completely reduced to practice, and with respect to getting our kids an education, we've still got lots of learning to do.
But other things also dominate our new reality. First, despite the happy talk about the economy, many jobs aren't coming back. Temporary layoffs are now starting to look permanent. From Barron's: (emphasis by Wrongo)
"Before the pandemic, a temporarily unemployed worker had a roughly 60% chance of finding a job in the next month. Lately, that probability has fallen to about 40%, while the chance for a permanently unemployed worker to find a job in a given month is about 20%."
The US workforce is becoming increasingly divided into two groups: Those who are confident in keeping their jobs, and those who are pessimistic that they will ever return to their old jobs. The question for them is how will they cover their expenses as federal jobless benefits decrease or expire.
And we're still more than 11 million jobs down from where we were in February.
Even if there is some GDP and jobs growth in the September report (the last one before the election), it won't be enough to bail out the unemployed. The pandemic disproportionately hit workers in the leisure and hospitality sector (restaurants, hotels and travel); employment in that sector is still down around 25%.
Trump and the Republicans didn't create the problems faced by low-wage Americans, but they made them worse by not dealing promptly with the pandemic, and then, by stressing the economy over the pandemic, which allowed Covid to roar back. And what economic recovery we have is bypassing those who most need to recover!
Finally, our new COVID reality: About 30,000 Americans died of Covid-19 in August.  And the number of new coronavirus cases has plateaued. Between Labor Day fun, and school re-openings, there's a pretty good chance that America's virus situation is about to take another turn for the worse.
Hundreds of colleges that had planned on having their students on campus have reversed their stances and decided on a virtual semester. The NYT reports that colleges have seen 51,000 cases since schools opened.
Kevin Drum reports that from August 2nd to September 2nd, the US recorded 1.4 million new cases of COVID-19. And according to a new study, 19% of those cases (266,000) were caused by the Sturgis Motorcycle Rally in South Dakota.
The riders refused to mask up, just like the college kids. People are tired of wearing masks, and they are tired of being cooped up. Apparently, six months of compliance is all that Americans can do. They want normalcy, but there's a new normal that's already here.
Until we have a safe and effective vaccine, there is no alternative to wearing a mask and staying physically distant whenever possible. We're nearing 200,000 deaths and the flu season is coming. Think for a minute about that possible vaccine:
It needs to be approved, and 600M doses have to be manufactured and distributed.
We need 600M doses because the best guess now is that people will need to get two shots.
And we're not sure how much time is required between shots.
Only when all people mask up, will most companies hire again. Only then will most kids be physically in school. Only then will most people be able to pay their bills with money earned in a paycheck. Or we can wait for the vaccine.
We have just 54 days until the election.
People shouldn't get distracted from surviving the new normal by BS from the Trump campaign about Nancy Pelosi's salon visit, or Biden's supposed cognitive issues.
The new normal is the only issue that matters.
Vote to turn that into a non-toxic normal. And get your friends to vote for a non-toxic person.