The Daily Escape: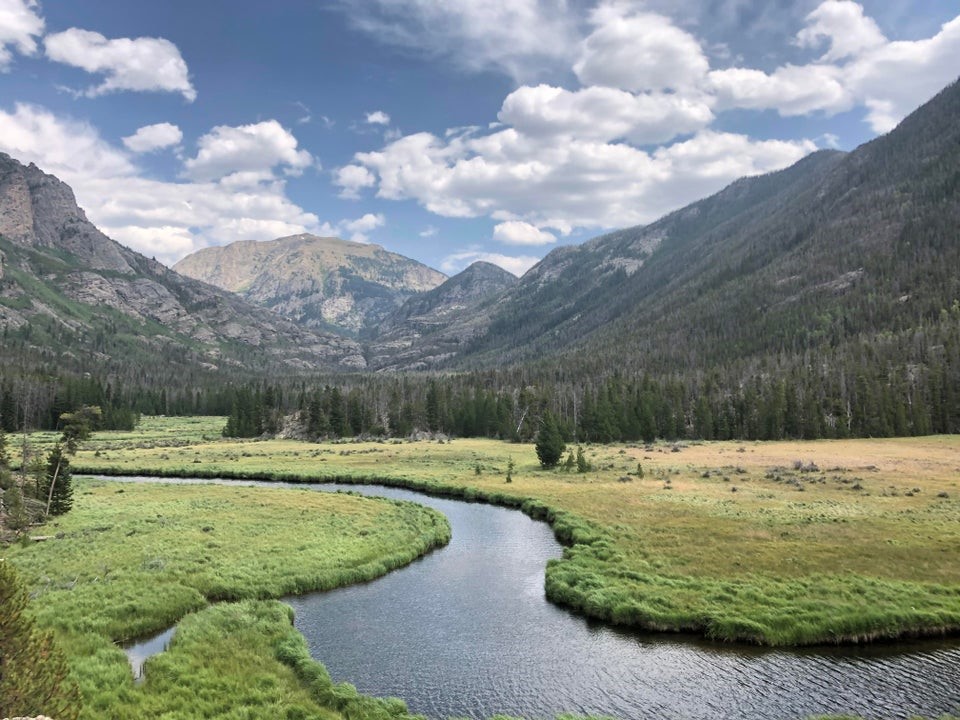 Rocky Mountain NP, CO – August 2020 photo by mister69darkhorse
Let's take a break from talking about politics, and talk about the economy. The NYT reported that the US added 1.4 million jobs in August, and unemployment fell to 8.4%
"Employers continued to bring back furloughed workers last month, but at a far slower pace than in the spring, and millions of Americans remain out of work.'
The August job growth number includes 240,000 temporary Census workers. Most of them will be laid off at the end of the month. Private-sector payrolls, (unaffected by census hires), rose by 1.0 million in August, down from 1.5 million in July. And the results were down sharply from the 4.8 million jobs added in June.
But despite the improvement in the headline unemployment rate, payrolls remain more than 11 million jobs below their pre-pandemic level, and permanent jobs lost increased by 534,000 to 3.1 million. Back in April, nearly 80% of unemployed workers reported being on a temporary layoff or furlough. In August, less than half say what they're experiencing is a temporary job loss.
At the rate of job gains in the past two months, it will take another 8 months to regain all the jobs lost in the first two months of the pandemic
Also, the shift from temporary to permanent job losses is worrying, because it suggests that companies don't foresee a quick rebound. It means many of today's jobless workers will have to start their job searches from scratch. Worse, Wolf Richter reports that:
"Continued unemployment claims jumped by 2.2 million to 29.2 million, worst since Aug 1, as claims by gig workers under federal PUA program soar."
The PUA program means the Pandemic Unemployment Assistance program. Wolf says that those 29.2 million lucky duckies now equal 18.3% of the civilian labor force.
Most of the media are saying that this report is relatively helpful to Trump. Those who see it that way should explain to the rest of us how it's helpful to have 18% of the workforce on the sidelines. There will only be one more jobs report before the election, and unless there is a jobs miracle next month, Trump is going to face Election Day with an extremely poor jobs record.
For some context on Trump's economic performance, the IRS now predicts that the US economy will have almost 40 million fewer jobs in 2021 than they predicted before the pandemic.
We're maybe a month away from people understanding that despite Trump's cheerleading, the economy isn't going to "bounce right back" to near-full activity. In fact the current jobs depression will most likely continue for a long time, regardless of COVID, until there is widespread acceptance that we have a vaccine that is safe and effective.
Once again, there are just 58 days to go until Election Day. Biden needs to stay on offense, and attacking Trump on his poor economy is as good as attacking him on his COVID response. Sometime in the next two weeks, Coronavirus deaths will top 200,000. Yet there are still 17 states in which residents are not required to wear masks outside their homes. And all but one (Hawaii) have Republican governors.
No masks means a continuing weak jobs market. Even the Fed Chair Powell told NPR on Friday:
"There's actually enormous economic gains to be had nationwide from people wearing masks and keeping their distance…"
But hey, this wouldn't be happening if Donald Trump was president, right?
One final thought before we leave the politics bubble: Kamala Harris is older now than LBJ was on the day he signed the 1964 Civil Rights Act into law.
On to our long Labor Day weekend, when we can unplug and finish a couple of projects that we swore we'd get to while working from home. Forget them. Let's get the holiday going with our Saturday Soother!
Start by brewing up a vente cup of Ethiopia Dame Dabaye ($16/12oz.) with its flavors of orchid, red plum, and lemon verbena. It's brewed by Spokane, Washington's Indaba Coffee, whose mission is "radical hospitality." Not sure that's something Wrongo wants to see.
Settle back at a proper physical distance, and listen to "September Song", with music by Kurt Weill, and lyrics by Maxwell Anderson. It was introduced in the 1938 Broadway musical "Knickerbocker Holiday". Here it is sung by Sarah Vaughn, backed by an all-star group including Clifford Brown on trumpet and Herbie Mann on flute. It was recorded on December 18, 1954, and you'll enjoy Clifford Brown's long trumpet solo:
Although the song was written as the lament of an old man on the passing of his youth, many women have recorded it, including Ella Fitzgerald, Eartha Kitt, Jo Stafford, Patti Page, Lena Horne and Eydie Gormé.