The Daily Escape: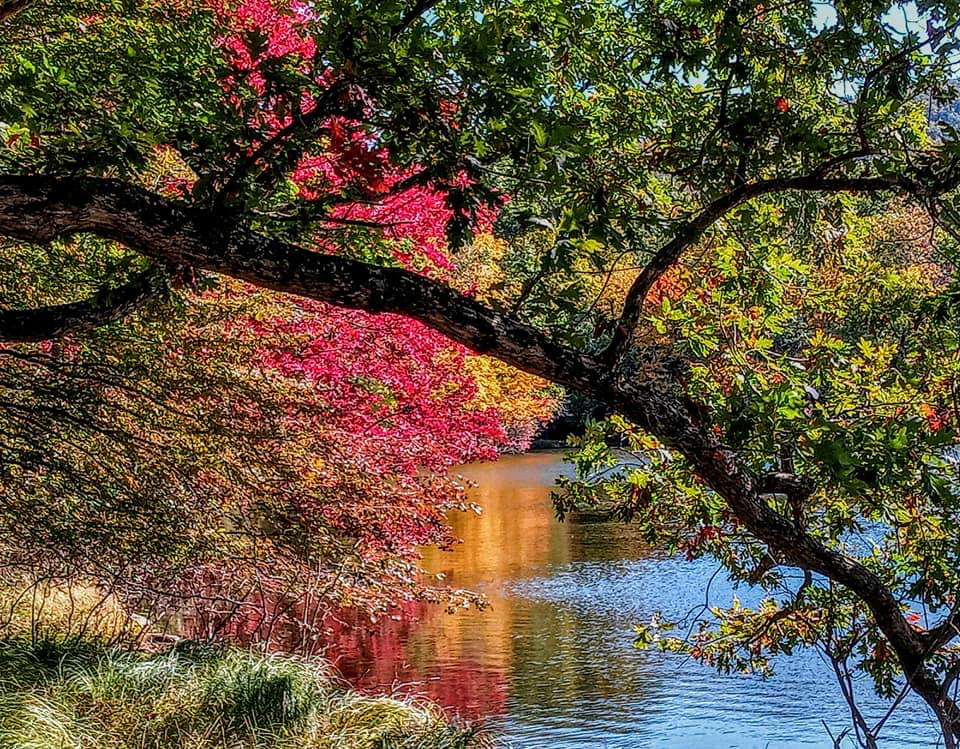 Camelback Lake, PA – photo by Craig Conklin
Yesterday, Wrongo said Covid is the biggest issue of the 2020 election. Today let's talk about the death cult that Republicans seem to be when it comes to Covid. They won't mask up, and they are unwilling to observe social distance in public. Some won't even self-isolate when they are infected.
If you think this is an exaggeration by Wrongo for political purposes, you would be incorrect.
America is experiencing the long-predicted fall surge in Covid cases, and the surge is concentrated in states that are either Republican-run or are Republican by sentiment. Dan Goodspeed is a blogger who has made an interactive chart that shows the growth in Covid cases since June 1. He chose June 1 because it was about then that countries worldwide had the opportunity to beat back the number of cases with proven preventative measures.
Goodspeed also contrasted the case data with states' political affiliations, using the Cook Partisan Voting Index. The results suggest that there is a strong correlation between a state's political leanings and its ability to slow the spread of COVID: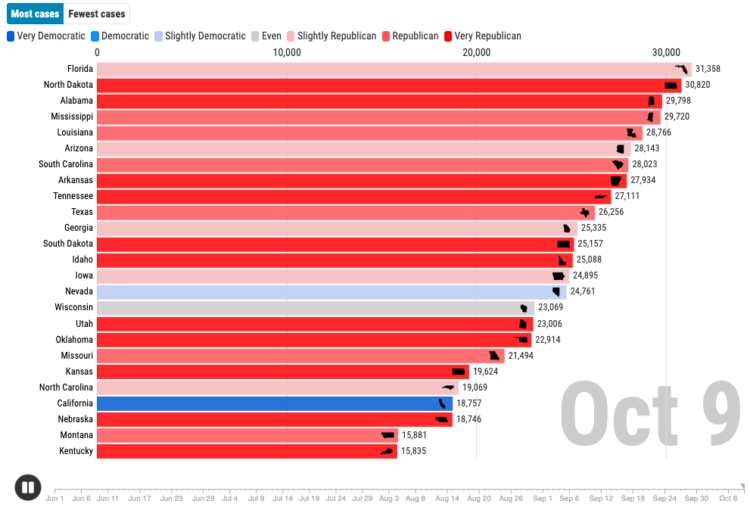 Of the top 25 states that had increasing Covid cases since June, 23 of them are Republican. Remember, that the data show cases per million of population, making direct comparisons possible.
If you view this graph at Goodspeed's site, the bars quickly progress in total cases from June until October. That progression clearly shows what can happen when one Party politicizes a public health emergency. Or when its citizens cherry-pick what facts they'll believe based on their politics and ideology.
It turns out that red states have done a particularly poor job of dealing with the pandemic, most likely because their citizens have been the most resistant to taking basic precautions, such as wearing face masks, physically distancing and self-isolating.
Yes, it seems that the preventative measures prescribed by infectious disease professionals actually DO work.
If Americans had uniformly accepted that these simple rules at the outset of the pandemic were a smart way to protect public health, the country's outcome would be different. Instead, more than 214,000 Americans have already died. And the outlook is worsening. Thirty-two states have more new cases this week than last week, according to Johns Hopkins data. Covid is nowhere under control.
Trump stood on a White House balcony Saturday, claiming the coronavirus is "disappearing" while hundreds of people watched from below. Although 2,000 invitations had been sent out, the crowd on Saturday was only a few hundred. The White House said that Trump would speak for 30 minutes, but he spoke for just 18 minutes, instead of the usual 90 minutes or more. Many in the crowd were maskless.
It's clear that contracting Covid has taught him nothing, and he will continue to endanger Americans until Election Day. He's planning at least three campaign rallies next week in Florida, Pennsylvania and Iowa. CNN reports that he said:
"We are starting very, very big with our rallies and with our everything"
Since January, Trump has questioned the science. In some cases he's undermined the scientific authorities who have tried to get the true information out about what we know, and what we should be doing about it.
Trump isn't going to change. That puts the onus on those around him to do the right thing, and stop enabling his antics. First on the list right now must be his personal physician, Dr. Conley, who has said that Trump poses no threat to others. If that is true, where's the evidence of Trump's string of negative Covid tests?
Conley in particular has surrendered his credibility in order to enable Trump's recklessness. Ultimately, he will become another administration official on the growing list of Trump enablers who can't justify their colossal misjudgment.
Time to wake up, America! Republicans have become a death cult. Republicans refuse to believe that Covid is dangerous, they refuse to trust the scientists, and they seem willing to get sick for Trump's sake. Beware what they might do if Trump returns to power for another four years.
If you are one of the few remaining undecided voters, the fact that 23 of the 25 states with the most new cases since June are Republican ought to tell you all you need to know about how Trump will protect America.
Trump's insisting that his followers vote in person 3 weeks from now. And most of them will happily do it.
If you live in a red state, maybe you should think twice about that.