The Daily Escape: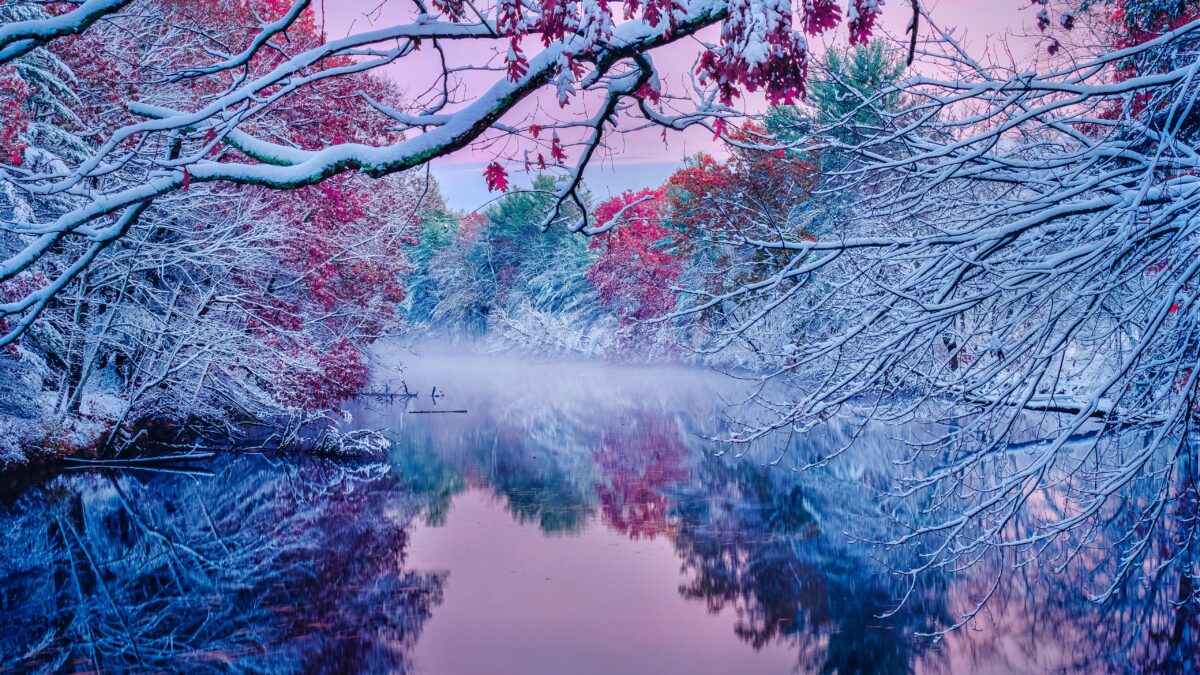 Change of seasons, Groton MA – November 2020 photo by scojo415
As Wrongo writes this, there isn't a winner in the 2020 presidential election. Of the 538 electoral votes, the candidates have been awarded 478 of them, with 60 still up for grabs in five states. Currently it's Biden with 264 and Trump with 214 electoral votes.
A high turnout election was supposed to favor Democrats, according to the pundits. But we just had the highest voter turnout in a century, with Trump receiving even more votes than last time. And the race is closer than it's been in a very long time.
There was a point on election night 2020 that Wrongo had the same bad feeling that he had on the Clinton vs. Trump election night in 2016. An awful feeling that everything he thought he knew about the election was wrong. How could so many people who have had 4 years' experience with Trump and with all of the damage and dysfunction he brought, say "Sure, I totally want that guy to be my president again"?
As of now, Biden seems to have the better chance to win, but it would be the narrowest of victories. He has 264 electoral votes and is leading in Nevada, worth 6 electoral votes. This means the election could come down to Biden flipping Nevada, or Trump holding it. Nevada says there will be no update until Thursday, 10am PST. If Biden holds on to his slim lead, that would give him exactly 270 electoral votes, with no margin for error.
There's plenty of danger ahead. If Biden has 270 votes, just one faithless Biden elector would mean a 269-269 tie, throwing the election to the House. That would mean a Trump victory, since each state delegation gets one vote each, so the fact that the Democrats once again have more votes, runs up against the Wisdom of the Framers.
Trump is in federal court trying to get Michigan to stop counting votes. He's also asked the US Supreme Court to intervene in the Pennsylvania vote count, saying exactly what the campaign lost with earlier at the Supreme Court. BTW, ballot-counting in Philadelphia is being livestreamed.
It may be weeks before we know the final results, something that happens routinely in our built-by-hand electoral system. But it seems to be turning into a legal war.
When all the votes are counted, more than 70 million Americans will have voted for Trump. Even if Biden wins, America didn't repudiate Trumpism. Republicans will keep control of the Senate. And while the Democrats will still control the House, they've lost seats.
A long election night was signaled early with Biden's horrific performance in Florida's Miami-Dade County, where Biden apparently won by seven percentage points. In 2016, Hillary won it by nearly 30, so the scrounging by Biden for red state electoral votes began early.
It's worth noting that while Florida went for Trump, they also voted overwhelmingly (61%-39%) for a $15/hour minimum wage. Florida's "Amendment 2" raises the state's minimum wage to $15 by 2026.
This shows how politics is shifting in America: The $15 minimum wage is a key part of the Democratic Party's platform. But, it didn't help Biden in Florida, where he ran well behind the Amendment with about 48% of the vote. There's growing evidence that people who hate the cultural left actually like the policies of the economic left.
Democrats believed that donating huge sums of money was a proxy for grass-roots organizing. Most swing state Democratic candidates vastly outraised their Republican opponents, but there's little to show for it now that the votes are in.
In 2020 Democrats ran to the center, after a primary season trying to run to the left. And it looks like they'll win the White House, while visibly struggling in both Houses of Congress. How should we grade their results, or the results of the Republicans, if their incumbent president loses?
What should the election post-mortems for each Party say are their strengths and weaknesses, looking towards the 2022 mid-terms and the 2024 presidential election?
What will the Parties say about how the political polling could be so wrong for a second straight time? Will Democrats finally learn not to rely on it?
In closing, change is coming. It's not as fast as we'd like, but much of that's on us.
Wrongo is reminded of the Rolling Stones song, "You Can't Always Get What You Want" from their 1969 album "Let It Bleed". Back in the 1960s the song referenced love, politics, and drugs. In 2020, it resonates about how our expectations often exceed what we deserve.
Chorus: "You can't always get what you want, but if you try sometimes, you might find, you get what you need."
Just like puppies. They want treats all the time, but it's kibble that helps them grow, and stay healthy.