The Daily Escape: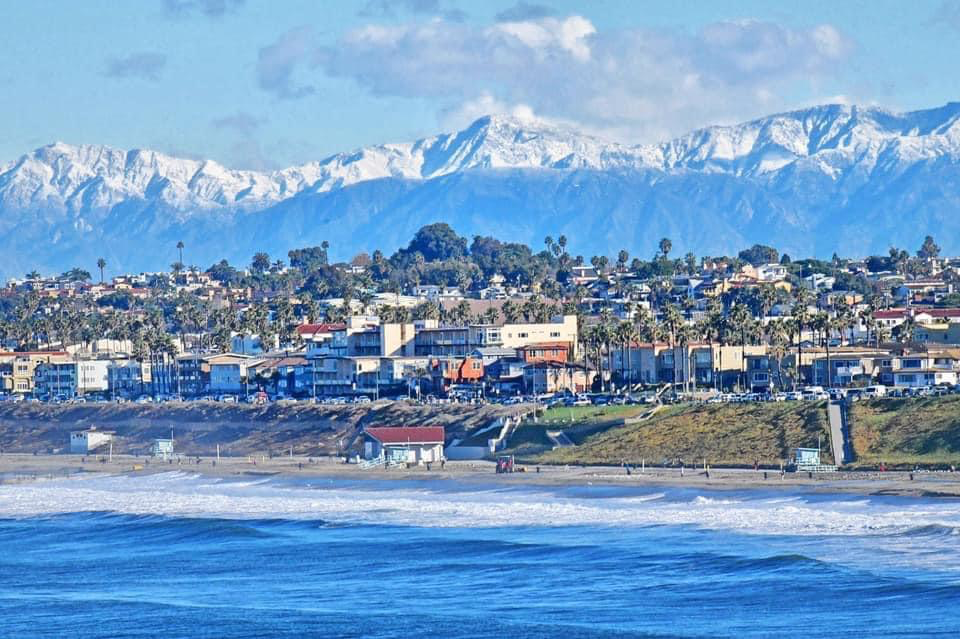 View of Torrance, CA from Palos Verdes, CA – January 2021 photo by Gary W. Stuart. A perfect reason to live in Palos Verdes, where Wrongo and Ms. Right lived for 10 years: Views of ocean and mountains on a rare crystal clear LA winter day. The San Gabriel Mountains in the background are ~35 miles away.
We've had a few bitter cold days on the snow-covered fields of Wrong. Friday morning, it was 6° with a 20+mph wind, making it a tough walk for the dog.
The emotional temperature is also icy in DC.  There is a growing rupture between Republicans who insist that the deadly Capitol riot was not the work of Trump supporters, and who insist on carrying concealed weapons onto the floor of the House, and Democrats who say they are afraid they'll be harmed by those very same Republicans.
Since Republicans refuse to hold their colleagues accountable, some House Democrats have started refusing to work with some of their GOP counterparts, specifically those who favored the election sedition and who refuse to wear masks.
Rep. Cori Bush (D-MO) is moving her office away from the office of Rep. Marjorie Taylor Greene (R-GA). Greene and her staff are berating and harassing the Congresswoman and her staff because they wear masks. Bush said:
"I'm moving my office away from hers for my team's safety,"
Three weeks after the attack on the Capitol, and two weeks after the disgraced president was impeached for the second time, the GOP is wallowing in a debate over impeachment, trutherism, and… Jewish space lasers?
Yes to the Jewish space lasers: Rep. Marjorie Taylor Greene is also a gun-toting' QAnon disciple elected by the same Georgians who elected Biden. She says that California's Camp Fire was started by a laser beam fired from space by "Rothschild Inc."
Sen. Brian Schatz (D-HI), sums up THE issue of 2021: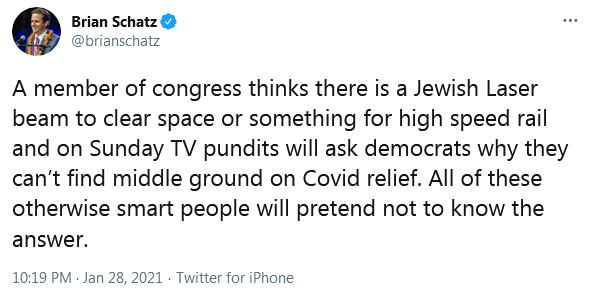 There were plenty of jokes made about the space lasers, but one thing that isn't a joke is the palpable fear by Democrats who have to deal with this lunacy every day. We learned that the new acting head of the Capitol Police wants a wall around the Capitol:
"Vast improvements to the physical security infrastructure must be made to include permanent fencing"
The acting head of the Capitol Police has no faith that we can satisfactorily explain to Republican-Americans that Biden was fairly elected. That his victory was reasonably large. That Trump and most of his enablers lied continually about the outcome of the election.
She thinks the only option is to put fences and razor wire around the Capitol to discourage people whose minds have been poisoned, from attacking it again. And our government may well follow her recommendation. We can't harden a free society. Whatever you fence off will be "safe" while other places are open to attack. As Jonathan Last says,
"The fences and razor wire at the Capitol are the physical manifestation of the Republican lie. Every time you see them, remember Kevin McCarthy and Ted Cruz and Josh Hawley and Jim Jordan and Matt Gaetz and…the hundreds of elected Republicans across the country who created this lie."
The tragedy of Trump is that words and deeds, no matter how reckless or disconnected from the truth, carry no political consequences.
Organizer Bree Newsome translated Republicans' current attitude:
"Sorry we tried to assassinate you & overthrow the election. We didn't expect it to fail & create this awkwardness between us. Let's move forward & get back to normal with us blocking any legislation you introduce while we continue to feed a racist terrorist movement. Love, GOP"
We live in disturbing times, but we must find ways to let go of the anger and fear, at least for a few moments on a Saturday. Outdoor activities are not recommended when the wind chill is below zero, so pick up that long read that you've been putting off, settle into a comfy chair and get going!
To help get you started, brew up a vente cup of Dafis Abafita Natural Ethiopia ($21.50/12 oz.) from Topeka Kansas' PT Coffee Roasting Co. The roaster says you can taste mulberry, cocoa nib, tangerine zest, and agave syrup in the cup. Sounds like that cup is doing a lot of work!
Now put on your Bluetooth headphones and listen to "Born in the Right Country" by the group River Whyless, from the mean streets of Asheville, NC. This song is a powerful and elegantly drawn statement about racism in America. It's a must-watch:
Sample lyric:
I'll tell you baby a secret
Manufactured truth is easy to sell
When you own the factory
And you own the hearts of the clientele