The Daily Escape: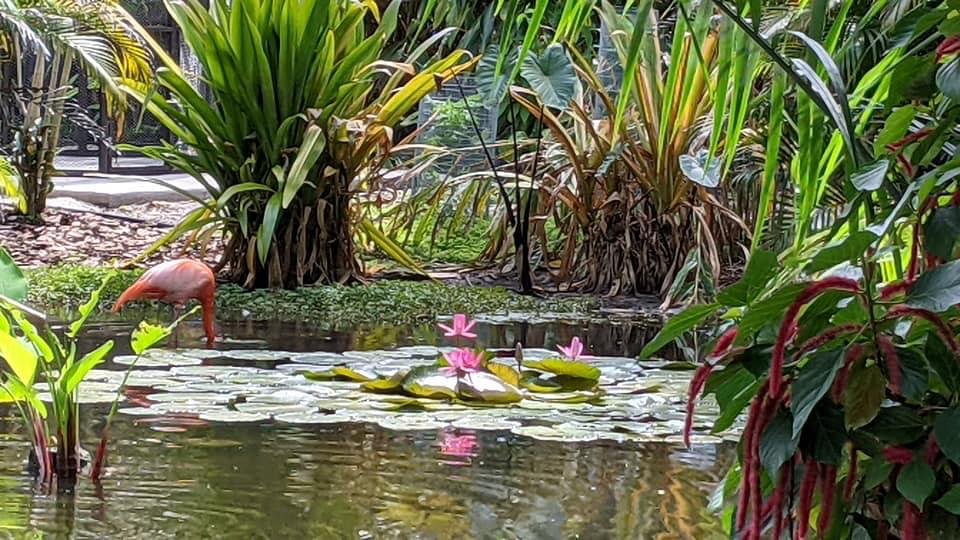 The Wonder Gardens, Bonita Springs, FL – April 2021 photo by Merrill Dodd
Alex Pareene in the New Republic writes about how Republicans have endorsed a terrorist tactic against protesters. He means new legislation in several states that shield drivers from civil liability if they injure or kill protesters. Florida is an example:
"Earlier this week, Florida Republicans enacted a law they claimed would prevent riots in the state. Its real purpose, of course, was to discourage protesting and punish demonstrators. One of the bill's provisions has received a fair amount of national attention, as it seems to give Floridians permission to attack protesters with their cars."
The law increases penalties for protesters who block roadways or deface public monuments. It creates a new crime, "mob intimidation." That clause makes it illegal for a group of two or more people to use force or to threaten force. But what constitutes a threat of force? And the law requires that anyone arrested at a protest be denied bail until their first court appearance, making for overnight jail stays.
It also makes local city and town officials in Florida liable for lawsuits from injured parties if they are found to have not done enough to respond to control violent protests. And it reacts to the mythical "defund the police" movement by allowing an appeal to the governor of any decision by local officials to reduce law enforcement funding.
Pareene asks: (brackets by Wrongo)
"What problem does it [the new law] solve? As the Florida American Civil Liberties Union pointed out, very few recent protests in the state involved violence or even vandalism, and police and prosecutors were already well equipped…to handle whatever rioting might occur. If demonstrators blocking roads and snarling up traffic were a serious problem in Florida in need of a legislative remedy, surely thoughtful legislators could come up with a more effective or ethical response…."
Five states besides Florida have introduced similar bills this year, granting some form of immunity to people running into demonstrators. Iowa's measure was passed by the state's House and awaits Senate approval. Oklahoma Governor Kevin Stitt just signed another version into law in his state. Oklahoma's shields attacking drivers from criminal but not civil liability.
More from Pareene:
"A few years ago, most people would have seen "politically motivated vehicle attacks" as a terrorist tactic pioneered by ISIS. Now American police regularly carry out these kinds of attacks, and Republican policymakers have officially endorsed the practice."
Ari Weil, a researcher at the Chicago Project on Security and Threats, counted six states that considered laws shielding drivers who attack protesters in 2017, but most of those bills went nowhere. But the car attacks kept coming: In 2020, Weil tracked 72 incidents of cars driving into protesters across 52 different cities in a period of just over a month.
And police are more likely than individuals to use vehicles as weapons. Cops in New York and Detroit have hit demonstrators with cars. In Boston last year, Police Sergeant Clifton McHale was recorded on a police body camera bragging about hitting demonstrators with a police cruiser. If you think this is an exaggeration, consider this image that Wrongo saw on Facebook by a Santa Fe, AZ Police Sgt. (via Digby):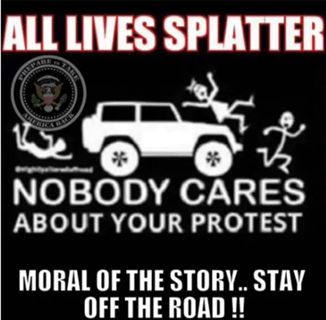 Civil rights and social justice groups say these laws are an unconstitutional attack on free speech. Micah Kubic, executive director of the American Civil Liberties Union of Florida, said:
"To be clear, the goal of this law is to silence dissent and create fear among Floridians who want to take to the streets to march for justice."
One question is: Who gets to define and/or decide what a riot is, or what's a violent protest? It's most likely the local police; so as always, they now get to wield violence against protesters, up to and including driving into a crowd.
Even if a person accidentally stepped on the gas during a protest, if they kill or hurt someone in their car, there is no reason to create a legal shield for them. The incident must be adjudicated in court. That's how we do this.
Carving out a legal exception to allow the potential killing of someone because they happen to be protesters is mind-boggling. Our democracy is under attack by a large portion of a major political party which seeks to transform the relationship between the government and the governed.
Time to wake up America! These laws will endanger the lives of people who are exercising their right of free speech by demonstrating. To help you wake up, listen to Tom Jones covering a Todd Snider song, "Talking Reality Television Blues". The song shows the snowballing damage that television has inflicted on our psyche:
An 80+ year-old star covers a song by a dope smoking old hippy, making it sound like something NPR would feature.