The Daily Escape: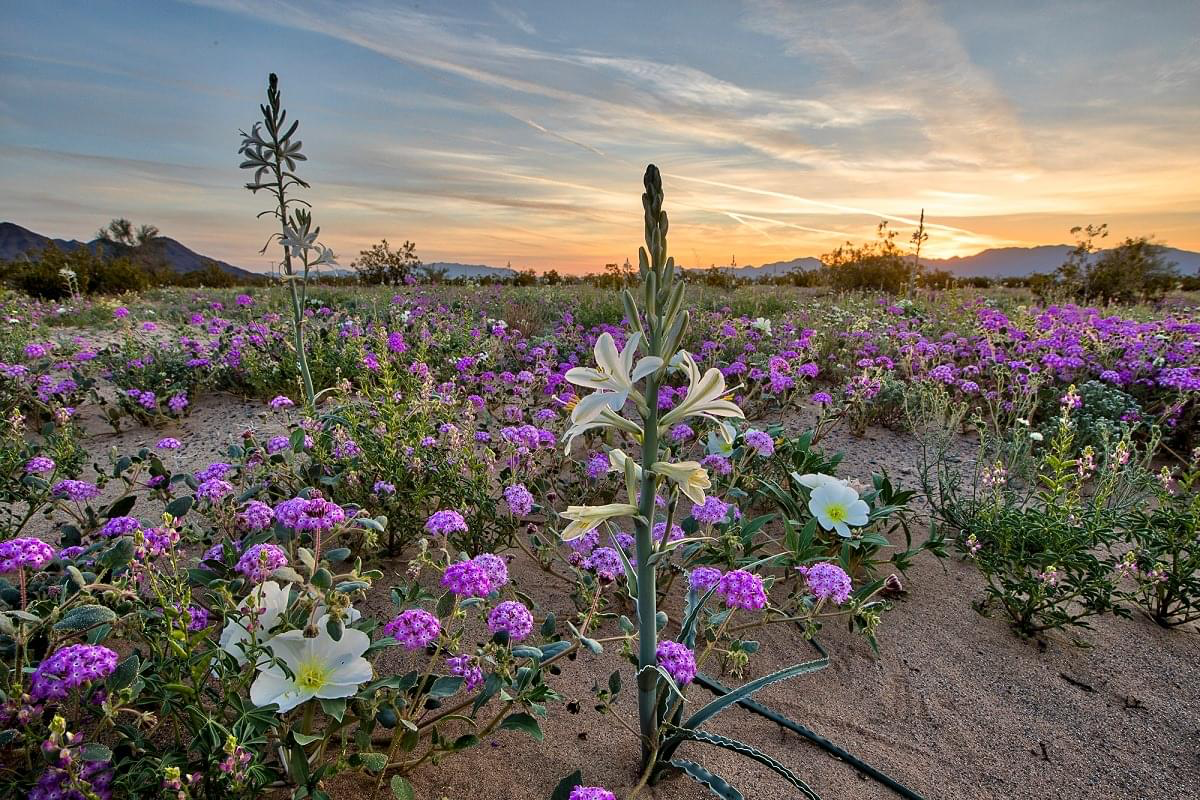 Desert Lilies, Desert Lily Preserve, Desert Center, CA – photo by Bob Wick for BLM
The film "Nomadland" won best film, best director, and best actress at this year's Oscars. Wrongo and Ms. Right kept our tradition, and didn't watch the Oscars, but we have seen the film twice.
If you haven't seen it , the film is worth your time. It offers a sympathetic view of what's happening to the American working class in what's becoming a de-industrialized America. It shows the hollowing out of middle America, and the growing regional inequality that stems from the US economy being concentrated in fewer and fewer corporate hands, and often, in fewer places.
Our changing economy has left wide swaths of rural America in decay. The movie's story centers on Fern, an older widow. She worked in the US Gypsum plant in Empire, Nevada until the Great Recession reduced demand for drywall, and thus the mine and the plant were closed.
Once the factory went, so did the town. It became so de-populated that it even lost its zip code. Now, Fern, (played by Frances McDormand), sleeps in an old, converted van and works a seasonal job with one of the few employers left in the area: An Amazon shipping center.
But the film isn't about Amazon. It's about coping with downward mobility. Fern travels the southwest mountains, working a variety of gig jobs: In addition to Amazon, she's kitchen help in a Wall Drug. She works at a beet processing plant throwing cases of beets into a hopper. She helps run a small RV park.
The film avoids clichés about the formerly middle-class, mostly White Americans it depicts. None of them blame Black people or immigrants or the left-wing media for their problems. They simply no longer play by the norms of an economy that ruined their lives.
Ironically, these characters don't follow the usual White working-class stereotypes. Unlike Trump voters interviewed by the media in diners across America, they don't turn to racism or blind acceptance of patriotism because of their economic uncertainty. Fern and the rest of the characters in "Nomadland" demonstrate dignity, decency, and stoicism in the face of the structural forces grinding them down. They teach each other how to survive while living off grid. They help each other when the chips are down.
Eric Cortellessa at Washington Monthly offers great insight:
"Unlike JD Vance's flawed Hillbilly Elegy…this film does not blame the victims for their own downward mobility. It doesn't point to bad habits (drugs and laziness), bad morals (racism and Trumpism), or bad attitudes (toxic masculinity and perverted Christianity). Instead, it shows humble men and women who don't scapegoat others and who manage to preserve their dignity and, to a large extent, their own personal freedom in the face of systemic forces that are exploiting them."
Let's point out that since 1985, the average Wall Street bonus has increased 1,217%, from $13,970 to $184,000 in 2020. If the minimum wage had increased at that rate, it would be $44.12, instead of $7.25. And $7.25 equates to $15,080/year, nowhere near enough to make a payment on the US median home that's priced at $301,000. It's not even enough for a tiny dump of a house, like the one Fern left in Empire NV, which probably cost one-third of the median price.
Jessica Bruder, the author of "Nomadland: Surviving America in the Twenty-First Century," that the movie is based on, wrote over the weekend about her exploration of this growing subculture. Bruder says a scene depicting Fern spending a night in her van when she hears "the knock" is chillingly accurate:
"No overnight parking! You can't sleep here."
The knock, Bruder explains, "is a visceral, even existential, threat," one that nomads try to evade by hiding in plain sight: "Make yourself invisible. Internalize the idea that you're unwelcome."
Some places forbid overnight parking. Others outlaw living in a vehicle. Penalties can pile up fast. Unpaid, they can lead to the cruelest punishment of all: Your home gets towed. Failing to pay the impoundment fee means losing your home. Bruder says that people ask her what they can do for the nomads:
"Letting vehicle dwellers exist in peace would be a fine start. Individuals have the power to help. When you see someone living in a car, van, or RV, don't call the police."
Wrongo was struck by how the nomads helped each other. In our little New England town, people do the same, they try to help. The bystanders at George Floyd's murder tried to help prevent Floyd's death.
The only people who don't seem to care about helping one another are corporate executives and Republican politicians. How did they get like that?
See the film.