The Daily Escape: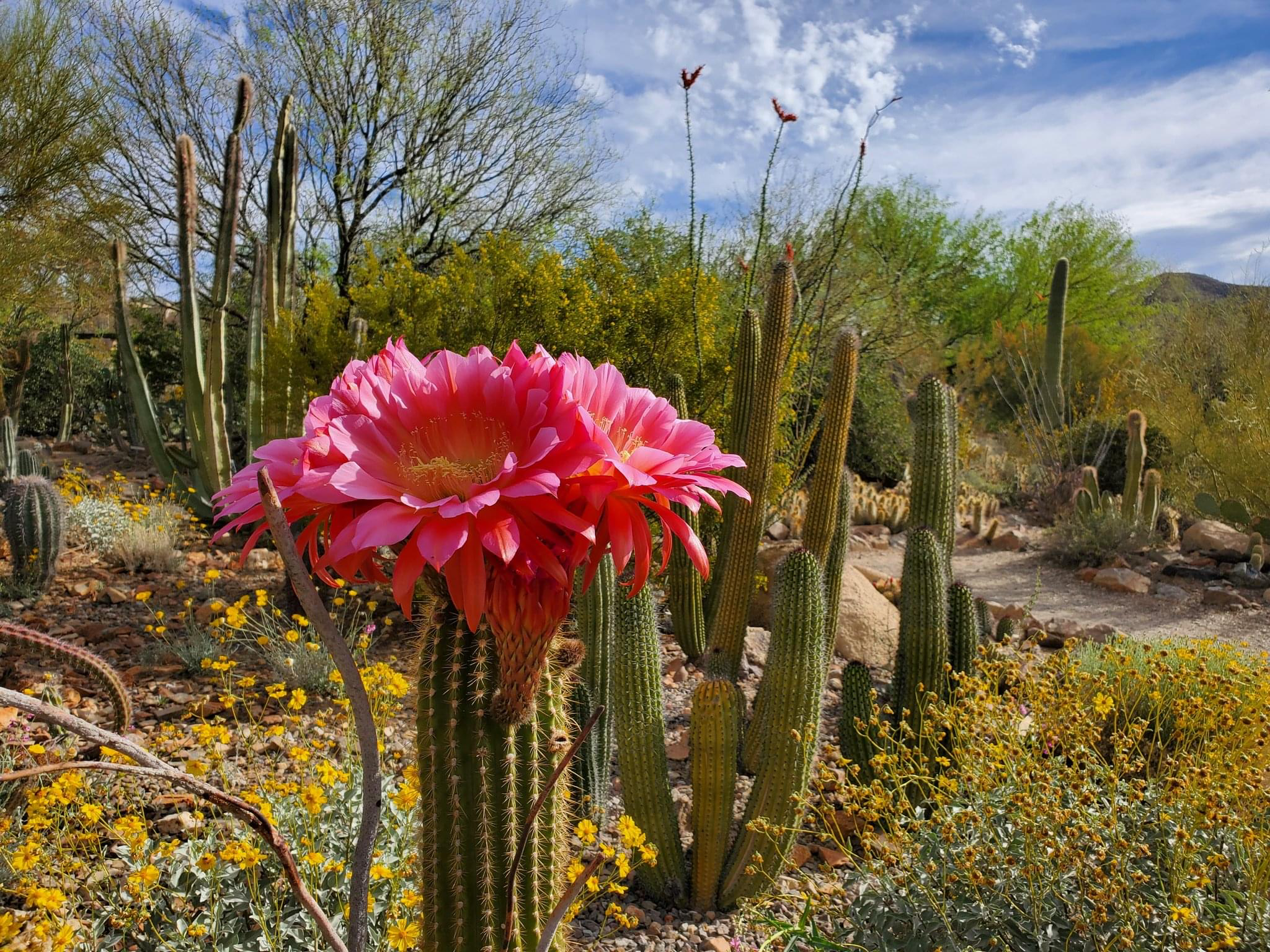 Flying Saucer plants at the Arizona-Sonora Desert Museum, Tucson AZ – April 19, 2021 photo via Visit Tucson
This is a long post by Joe Trippi about Walter "Fritz" Mondale. Mondale died last Monday. You should read to the end.
Trippi is a Democratic political operative who managed the 2004 Howard Dean presidential campaign. Recently, he was a senior advisor to Doug Jones's successful Senate run in 2017.
Trippi cut his political teeth in Ted Kennedy's unsuccessful run for the Democratic presidential nomination in 1979. By 1983, he was 27, and working for Walter Mondale's unsuccessful 1984 presidential run. After Mondale's death this week, Trippi published this twitter thread with a picture of a boxing glove, and a personal story about the kind of man Mondale was. First, the boxing glove: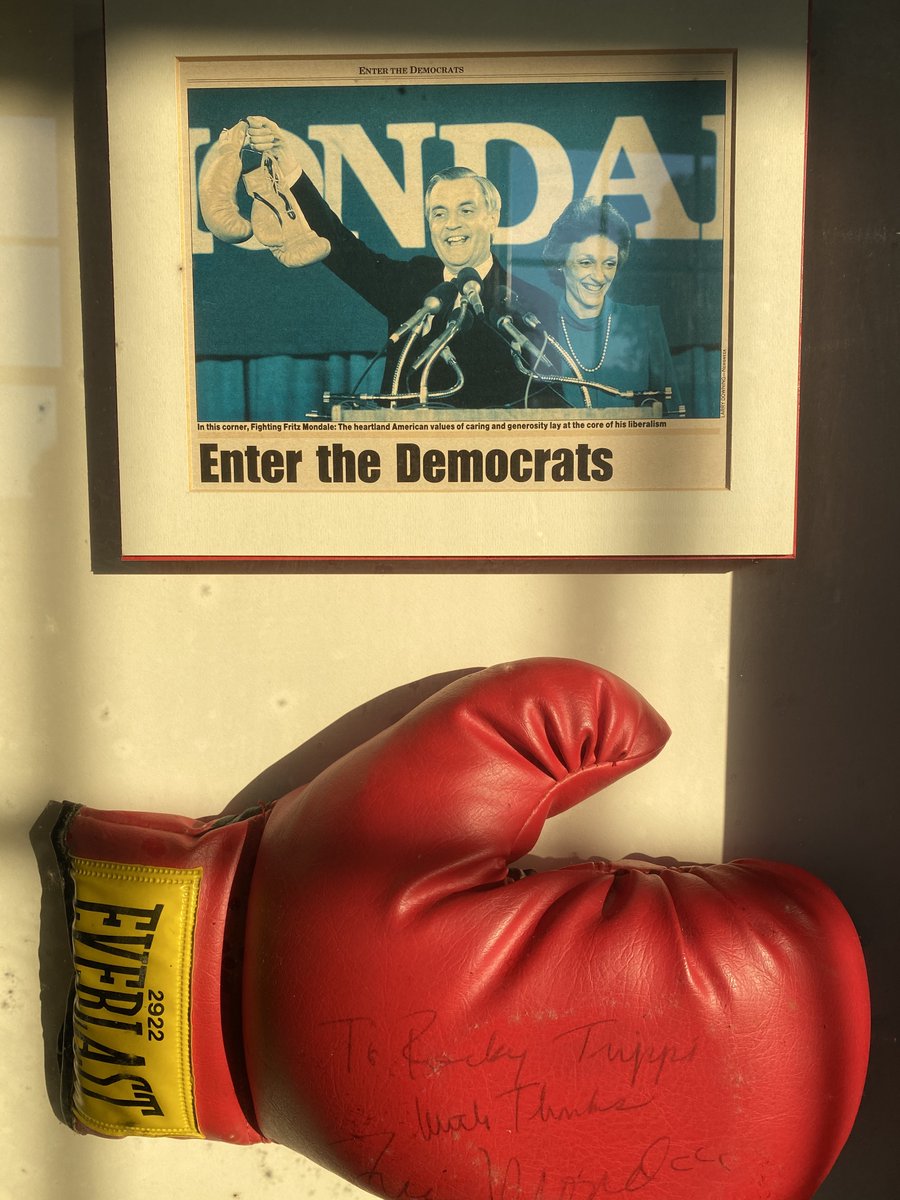 "1/ The story of these gloves will tell you the kind of man Fritz Mondale was and why he meant so much to me. Please take the time to read this thread – and wait for it. It's worth it.

2/ In December 1983, I was in my 20's and running Iowa for Fritz.
At the end of every campaign swing through Iowa – Fritz would almost always end the trip the same way….

3/ After loading the campaign plane…with traveling staff and a huge press corps that were assigned to a front-running campaign back then….

4/ Fritz would come down the steps of the plane and take me on a stroll around the tarmac 2 or 3 times before rebounding the plane to…some other state. The conversation always ended the same way…

5/ Fritz explaining that he could not lose Iowa and that he was counting on "The Hogs" (the name Mondale Iowa campaign staff proudly called ourselves) to do everything we could to make sure he won a must win state. "Don't let up. Keep fighting" and back on the plane he went…

6/ But we also talked about all kinds of things before we got to the "no pressure, just don't blow it" part. One day as we walked around the plane – we got to talking about my family. Fritz asked a dreaded question about my father….

7/ I explained to Fritz that my father had stopped talking to me 5 years earlier, when I left college to join the Kennedy campaign in 1979. My dad was old school Italian — I was supposed to take over his flower shop — not go to college, or run off to become a political hack…

8/ Fritz asked a few more questions and then joked with me that my dad was wrong about a lot of things but maybe I should have listened to him about going to work for Kennedy. I was one of only a handful of Kennedy operatives hired in the Mondale campaign…

9/ I was lucky to have worked for them both. But at the time there was still a lot of bad blood – luckily, Fritz was joking. And I was relieved when he got to the – "win Iowa" part…

10/ About a month Later, we won Iowa with 49% of the vote and with Gary Hart taking a distant 2nd, But that was enough to get Hart the media spotlight and the momentum he needed to win New Hampshire and the Hart rocket was roaring….

11/ After a string of loses to Hart, "fighting Fritz" emerged as the narrative of the campaign. Mondale would walk on to the stage at rally after rally and thrust these gloves in the air and speak from the heart about who he was fighting for…

12/ I remember traveling with him to a meat packing plant & Fritz bellowing 'Show me your hands!" My jaw dropped as plant worker after worker thrust a hand in the air with fingers missing lost on the job. I had no idea, but Fritz did. And that's who he was fighting for…

13/And so the campaign put out the word to the press that Fritz would carry those gloves and carry on the fight til he broke the string of losses to Hart. Time and delegates were running out on us and the delegate rich Pennsylvania primary was looming as critical to our cause…

14/ If I had nightmares about losing Iowa (and I did) they were nowhere near those I had in Pennsylvania. I was sent in as state director of Pennsylvania in March when we were down by 14 points. The Pennsylvania Primary would be held in April – months after winning Iowa…

15/ And so for a month – Fritz and I did the tarmac walk thing again. No Pressure but fighting Fritz needs you and all the staff to "not let up, remember who we are fighting for"…

16/ It was a comeback win of all comeback wins I have ever been part of — only Doug Jones win in 2017 compares to it. But Fritz won Pennsylvania – and with it regained the momentum to move towards being the Democratic nominee….

17/ After the polls closed and the networks called Pennsylvania for Fritz. I got a call in the boiler room. David Lillehaug, then the aide that traveled with Fritz (and would later serve as an Associate Justice on the Minnesota Supreme Court) was on the line…

18/ "Joe, Fritz wants to see you before he goes down to the ballroom to make his victory speech, get up here quick". I rushed to the elevator and up to Fritz's hotel suite…

19/ when I walked through the door there was Fritz Mondale, sitting down and explaining to an old Italian guy that his son was "in an honorable profession. Fighting for people who were down and hurting — he's making a difference – I count on him and you need to know that "….

20/ Fritz Mondale had remembered a story I had told him months and months ago — eons in the life of a Presidential campaign. He had somehow gotten someone to locate my dad and get him to Philadelphia to be there on Primary night and bring us together to reconcile…

21/ I still tear up thinking about this moment of my life that shows the kind of man Walter "Fritz" Mondale was. David Lillehaug broke the spell as my father hugged me… "Sir we have to get downstairs for your speech" and handed Fritz his "fighting Fritz" gloves….

22/ Fritz turned & said "I don't need these anymore" took out a felt tip and wrote "To Rocky Trippi, with thanks" Fritz Mondale. Handed me the gloves , grabbed my dad, brought him with to the ballroom and dragged him on stage to stand with him as Fritz declared victory…

23/ Years later when my father passed away, I gently tucked one of the gloves with him to rest with him.

This one remains with me as homage to a man that touched my life like few others. RIP Fritz"
Mondale didn't have a chance against Ronald Reagan in 1984, but he had a long, successful career in the US Senate, as vice president, and as ambassador to Japan.
Most of all, he was a decent man who never took himself too seriously. May we all have such a legacy.
Let's close with soothing Saturday music. Listen to "Take Five" written by Paul Desmond, and famously recorded by Dave Brubeck in 1959. Here it's played by the Camaleon Bassoon Quartet, who are  members of the bassoon section of the São Paulo Symphony Orchestra. Who ever heard of Jazz bassoon?