The Daily Escape: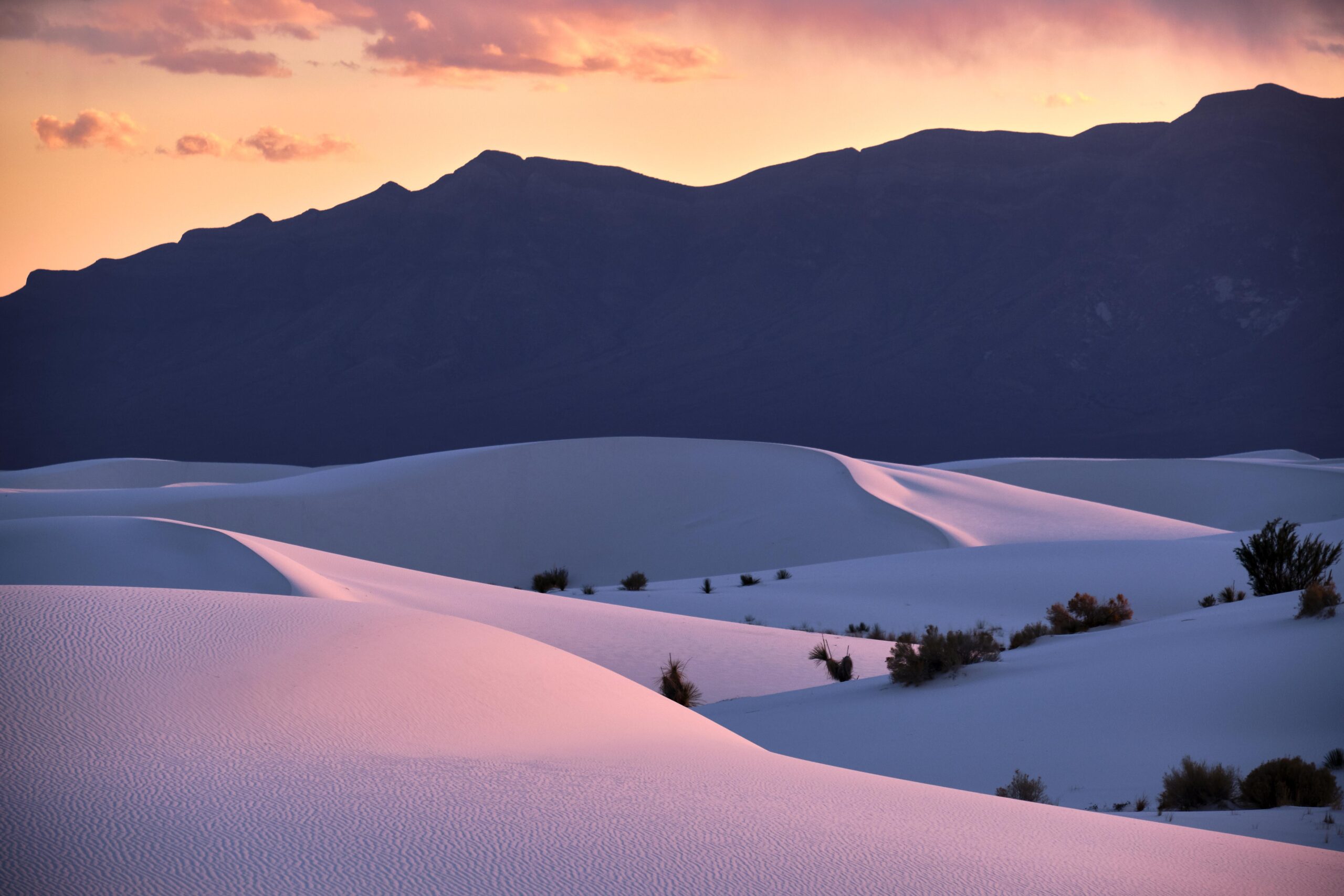 Sunset at White Sands NP, NM – 2021 photo by Guyin6300dollarsuit.
Gabriel Zucman and Gus Wezerek had an opinion piece in the NYT about the divergence between personal and corporate tax rates:
"In the decades after World War II, close to 50% of American companies' earnings went to state and federal taxes. Economically, it was a golden period. Middle-class incomes grew at roughly the same rate as those of the richest Americans.

But as globalization gave companies the ability to choose where they recorded profits, Congress scrambled to keep their business by lowering corporate taxes. In 2018, American companies were taxed at an average effective rate of less than 14%, by our calculations."
For the past 30 years, corporate tax breaks have helped business owners amass huge amounts of money, much of which is kept offshore. Their gain has been the loss for middle-class Americans, who have footed the bill, as Congress has supported our federal budgets by raising taxes on wages: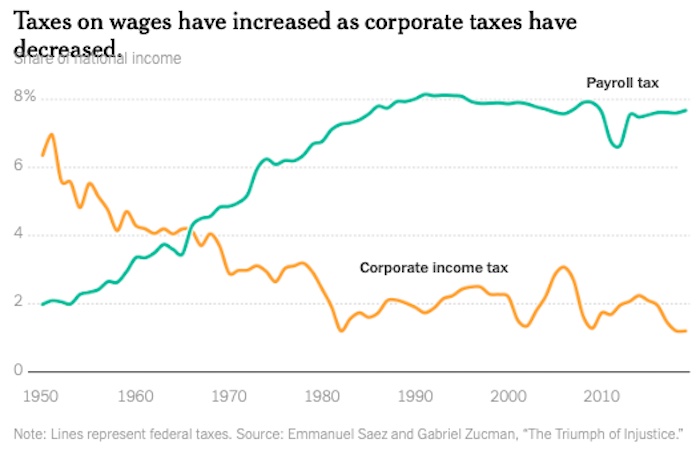 This chart shows the result of Republican policies. Corporate taxes are at an all-time low, while many profitable corporations pay no tax at all, and workers' taxes on wages have risen. This has caused a huge and still growing gap in income and wealth between the rich who lead America's corporations and the rest of us.
Let's spend a minute on some tax arcana. There used to be a tax regulation that kept income out of tax havens. It is called unitary taxation, a method of allocating corporate profit to a particular state (or country) where that corporation has a taxable presence. It attributes the corporation's total worldwide profit (or loss) to each jurisdiction, based on factors such as the proportion of sales, assets, or payroll in that jurisdiction.
If this were in effect, it would slow the parking of profits in tax havens by multinationals. California and other states used to use unitary taxation. It was the subject of two US Supreme Court cases: Mobil Oil v. Vermont and Exxon v. Wisconsin, both decided in 1980 in favor of the unitary tax principle. In other words, in favor of the states.
In 1983, the US Supreme Court again ruled in favor of unitary taxation but this time on a worldwide basis in their Container Corporation vs. Franchise Tax Board decision.
That's when St. Ronnie pressured California and other states to adopt a restricted version known as the water's edge method that excludes the profits of foreign affiliates from a state's pre-apportionment tax base. This allowed profit-shifting to tax haven affiliates to mushroom to what we see today.
Biden is trying to end the race to the bottom on corporate tax rates. But even if Congress approves the 15% global minimum corporate tax, it won't be sufficient to close the growing economic gap between America's corporations and its workers. Taxing multinationals at 15% would still leave them facing a lower rate than the average American pays in state and federal income tax.
What's really needed is a 25% percent minimum corporate tax. That would bring in about $200 billion in additional revenue annually. Over 10 years, that would be enough to pay for nationwide high-speed internet, free community college and universal preschool for 3- and 4-year-olds.
All are worthy uses of tax dollars, but it's doubtful that all Senate Democrats, much less enough Senate Republicans would support a 25% floor for corporations.
A Republican Congress took a shot at reforming the hiding of offshore profits with their 2017 Tax Cut and Jobs Act, which failed. Data from the Bureau of Economic Analysis suggest profits booked in foreign tax havens have not declined since the law was passed.
In 2018, US corporations reported more profit in Ireland than in Mexico, China, Germany and France combined. For example, in 2018, Facebook made $15 billion in profit in Ireland, about $10 million for each of its Irish employees, while Bristol Myers Squibb's reported profit in Ireland worked out to about $7.5 million per employee.
For decades, Congress tried unsuccessfully to play catch-up as business owners and a handful of tax havens have driven our tax policy. The result is that we're a nation where working-class Americans are left with underfunded public schools while the wealthiest Americans are boarding rocket ships in some ego-fueled game.
Time for a post-tropical storm Elsa break! Just when you think all is lost, you discover it isn't. For the first time, Queen Elizabeth has decided that you can now have a picnic on the front lawn of Buckingham Palace. Don't get too excited, there are rules: No knives to slice your cheese, no dogs, no prosecco. Besides, 78,000 people are already on the waiting list:
Now take a moment, and listen to Czech composer Bedřich Smetana's String Quartet No.1 In E Minor "From My Life", the Largo movement by the Amadeus Quartet, recorded in 2013: