The Daily Escape: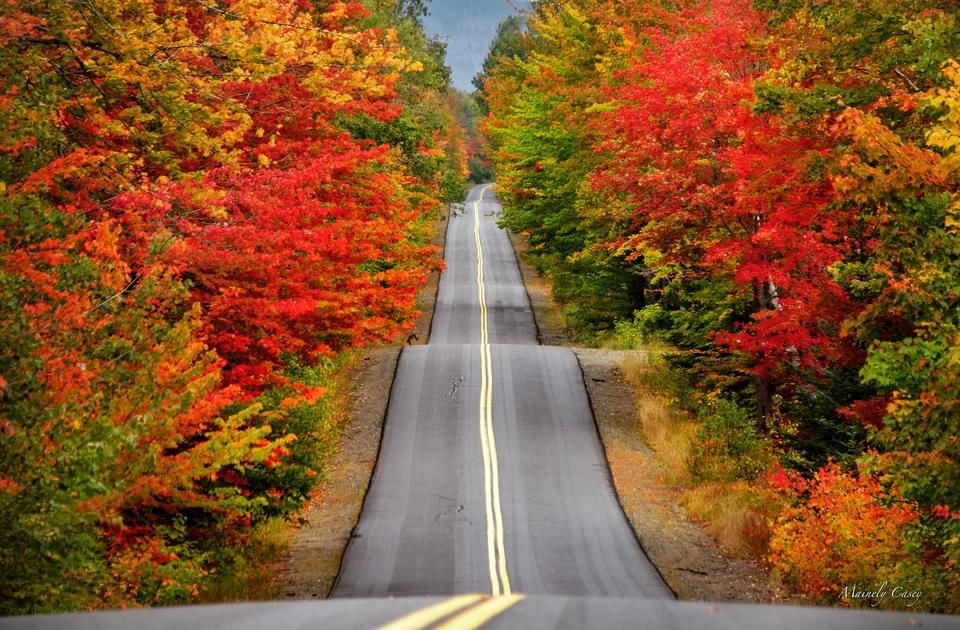 Fall, Longfalls Dam road, Carrabassett, ME – October photo by Laura Casey
The NYT reported on how the German economy is being slowed by product shortages:
"More than 40% of German companies said they had lost sales because of supply problems in an August survey….Europewide, exports would have been 7% higher in the first six months of the year if not for supply bottlenecks, according to the European Central Bank."
And it isn't just Germany. Since the onset of Covid, US consumers have been experiencing disruptions in the supply chain. Wrongo has once again noticed empty shelves are back in our local chain supermarkets.
The bad news is that many think it's going to get worse.
It's no longer a matter of fixing one problem. A cascade of sourcing failures in raw materials, production, shipping, staffing, labor, along with weather disasters, may mean these shortages are around for several years. From Shelley Fagan:
"The US has 20 container ports located along the East and West coasts as well the Gulf of Mexico. Ports are where 70% of all US-international trade enters, accounting for 26% of…GDP."
Even if the goods get to America, we're at the mercy of our system of rails, barges, and trucks that  transport goods to factories, distribution centers, stores, and consumers. Trucking moves 71% of all this freight in America, and there's a shortage of drivers.
But our transportation infrastructure is also vulnerable, and our politicians have yet to lift a finger to help. Maybe next month.
Moving cargo by sea is historically cheap and efficient, so most of our imports from Asia arrive via cargo vessels. But now there's a shortage of shipping containers. This has caused an immense spike in the cost of shipping. From Scott Galloway:
"Until 2020, the cost of shipping a 40-foot container along the world's major trade routes never exceeded $2,000. Then Covid hit, and shipping firms reduced their fleets in expectation of low consumer demand. Instead, demand went up. This has upended the global supply chain. Shipping costs are now up 5 times to a record high: $10,000."
The largest ships can carry more than 10,000 of these and when things run smoothly, about 25 million containers are in use on some 6,000 ships sailing around the globe.
The supply chain disruptions are causing backlogs in transporting all this cargo. About 40% of all US container traffic flows through the ports of Los Angeles and Long Beach. Currently, there are 65 ships waiting to unload thousands of containers. Again, that's complicated by too few drivers in the trucking industry.
Flying into San Francisco last week, Wrongo saw about 30-35 ships also stacked up there. And China's current forced reduction in energy consumption has hurt many high-tech producers. Wolfstreet reports that:
"…suspensions or reductions of industrial electricity supply that manufacturers in numerous industries are hit with, including key facilities that produce components for Apple, Tesla, Intel, NVIDIA, Qualcomm, NXP, Infineon, and ASE Tech….They're now under orders to temporarily halt production…"
And supply chain issues go beyond tech products. Currently, 119 million Americans use prescription drugs, of which 25% are imported. These drugs start out as APIs (active pharmaceutical ingredients) — chemicals like hydrochloric acid and caustic soda. And China accounts for 80% of total raw materials for making medicine.
India is the largest producer of generic pharmaceuticals. They fulfill 40% of the demand in the US generic market. And shortages linked to this vulnerability aren't a new problem. From Pharmaceutical Outsourcing:
"The average drug shortage in the US lasts for 14 months and some last for years when based on a high-risk supply chain. Before COVID-19, the FDA had already placed 145 pharmaceutical products on its drug shortages list."
Since disruptions of the supply chain cause big price increases for goods that are difficult to get, it's a threat to America's economic health. And for medical and pharmaceuticals, it's also a threat to public health.
Government knows about the problem but can't fix it. After the PPE shortages at the onset of the Covid pandemic, you'd think we would develop a detailed plan to address the areas of greatest disruption. But all that happened was a 100-day review, making recommendations to shore up vulnerabilities sometime in the future. The proposals are sound, but they won't help end our current shortages. Consumers can expect the current supply chain issues to persist well into 2022, and possibly beyond.
The geniuses in the multinational corporations who sold us globalization and just-in-time supply chains as the way to our best future are now telling us we just have to get used to shortages.
Economies can't always just fix themselves. That's a fantasy of capitalist utopianism.