The Daily Escape: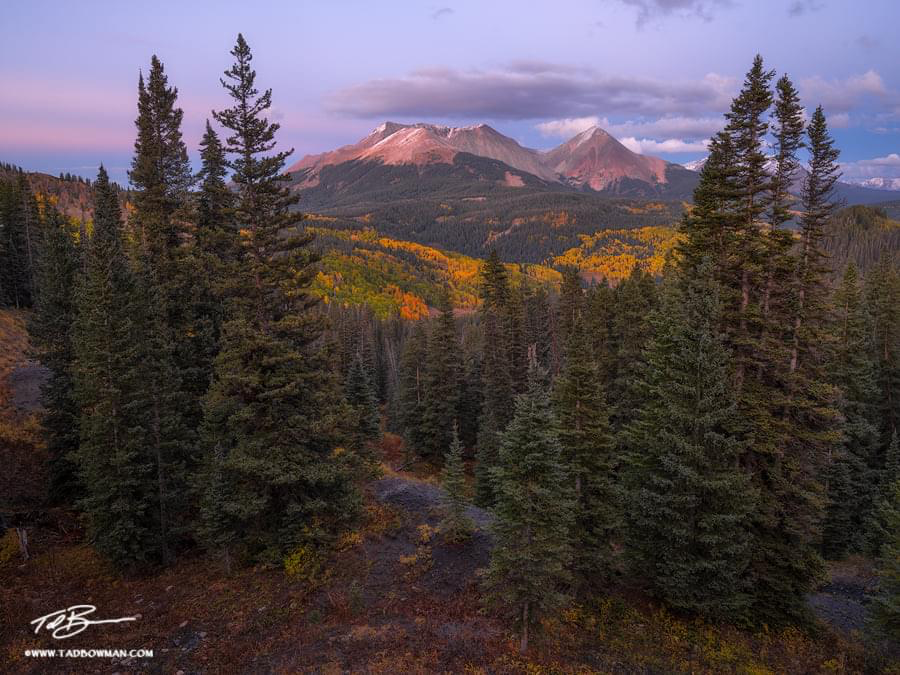 Dusk, San Miguel Peaks, Uncompahgre National Forest, CO – November 2021 photo by Tad Bowman
And we're back from our gratitude-giving, dessert-eating weekend at the Mansion of Wrong. Did I miss anything? Oh yeah, Omicron. It's the 15th letter of the Greek alphabet, but it has a darker meaning for people who fear Covid. Omicron is also known as B.1.1.529 Coronavirus variant. It was first detected in Botswana and South Africa earlier this month.
It's moving fast. Cases have been found in Australia, Hong Kong, the UK, Germany, France, Italy, Belgium, Israel, and the Netherlands, in addition to several African countries. But we know very little about it so far.
Three questions have to be answered: How rapidly does the variant spread? Is it capable of causing more serious disease than the known variants? Can it circumvent the immune protection of the Covid vaccines?
Once again, we're facing an unknown. Dr. Fauci said Omicron looks more transmissible than others, and thinks that it's inevitable that the US will see cases of the new variant. No need to panic, but the US has shut down flights from several African countries. There are questions facing us:
Will we be better prepared for this variant than we were for the past several variants that have killed nearly 800,000 Americans?
If a new variant becomes widespread, will it help make a nation that is already skeptical about its institutions and leaders better able to take direction from the federal government?
Will a substantial minority again toss aside experts and incumbents in a pursuit of self-management of their disease in the name of toxic freedom?
What will the political and economic ramifications of a new surge of disease be as we enter an election year? The battle lines are drawn. We know that the country is very evenly divided, and trying to govern causes one side to demand nearly the opposite of whatever is proposed. People on both sides of the political divide ask: Who can we really trust? Who do we really believe can solve the problem? Who's really for us?
We used to take it on faith that our country works, that the dollar is a valuable currency, that there will always be a peaceful transition of power. But those things are slipping away. Many think that we are teetering on the edge of something very dark, that we must be pulled back, if we are to preserve America.
What are we actually trying to preserve? Our lack of shared values? The sham of our voting laws? McDonald's, apple pie and baseball? Think long and hard about these questions. Regardless of what conclusion you reach, you'll find that it simply won't resonate with a significant minority of Americans.
Time to wake up America! Our social cohesion is dying. The Fund for Peace ranked the political cohesion of countries between 2008 and 2018. They found that the US had the largest drop in cohesion of any country studied, including Libya, Mali, and Bahrain. Martin Longman likens an asteroid headed straight for Earth to where we are as a society. We complain about the asteroid rather than the destruction it will cause.
To help you wake up, listen to U2 play their global hit "One" live at Commonwealth Stadium, Edmonton, Canada in 1997. The song is about finding unity:
Sample Lyric:
Well, it's too late tonight to drag the past out into the light.
We're one, but we're not the same.
We get to carry each other, carry each other… one
Have you come here for forgiveness,
Have you come to raise the dead
Have you come here to play Jesus to the lepers in your head
Did I ask too much, more than a lot
You gave me nothing, now it's all I got.
"One" is a song about disunity written against a backdrop of reunification. U2 decided to work at Hansa Studios in Berlin. The studio used to be called "Hansa by the Wall" but when U2 got there, the Berlin wall was gone. Bono told the BBC:
"The irony of One's title is the band wasn't very close at the time….We were building our own wall right down the middle of Hansa studios."
More from Bono about One:
"The concept of oneness is of course an impossible ask….Maybe the song works because it doesn't call for unity. It presents us as being bound to others whether we like it or not. 'We get to carry each other' – not 'We've got to carry each other'."