The Daily Escape: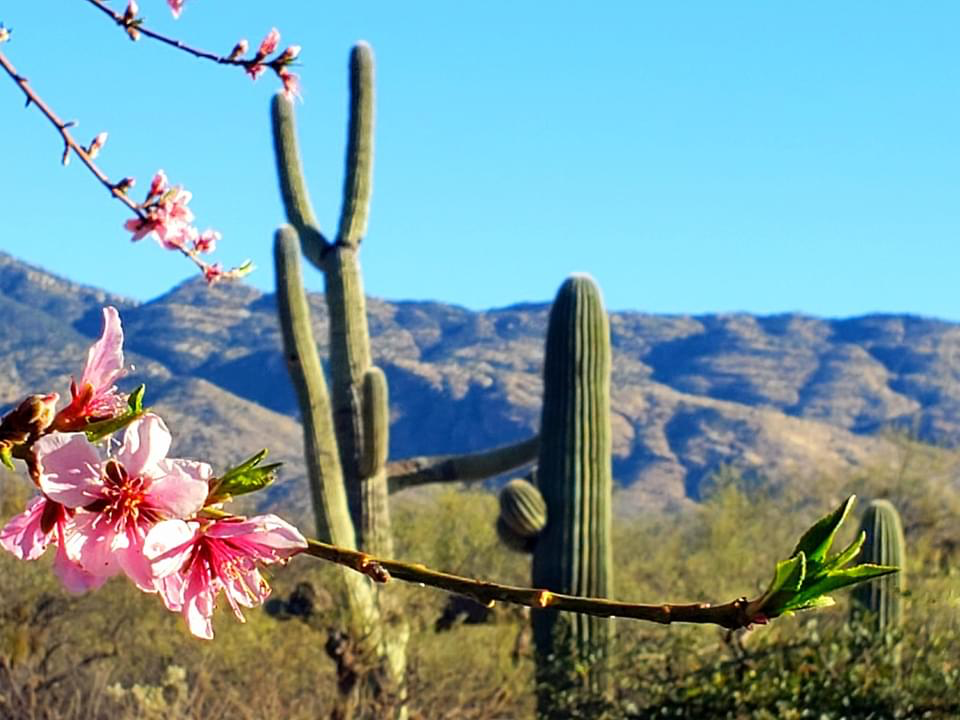 Cherry blossoms, Tanque Verde Ridge, AZ – February 2022 photo by Bel Meader
Wrongo and Ms. Right started our return trip from Florida yesterday. We said goodbye to being able to sit on the patio with our coffee at 8 am and to walk without wearing a jacket. Two observations from our visit: First, it's clear that all older people there are members of a "club". On our morning walks, everyone said hello, something that doesn't routinely happen in the north. Second, virtually everyone is maskless in public spaces.
That's largely due to the public health policies of Florida's governor and legislature. This time around, it didn't work out badly for them. But we all should be at least somewhat concerned about what's visible on the Covid horizon.
We're talking about the arrival of the Coronavirus BA.2 subvariant. The Omicron we know is BA.1. CNN reports that the BA.2 variant is 80% more transmissible than trusty old Omicron, and about as serious an illness. They also say that BA.2 has been growing steadily in the US. The CDC estimates it is causing about 12% of new Covid-19 cases in America.
Hong Kong is in the throes of a severe wave caused by BA.2. It currently has the highest Covid-19 death rate in the world. The WaPo reports this from China:
"China's worst coronavirus outbreak in two years has reached almost all parts of the country, stretching medical resources, shuttering businesses, and manufacturing outfits, and raising questions about the government's staunch commitment to its "zero covid" policy."
Meanwhile, BA.2 now accounts for more than 50% of cases in the UK and in several European countries.
Here's an interesting chart from Charles Gaba, showing the point at which Covid deaths in Red states overtook Covid deaths in Blue states: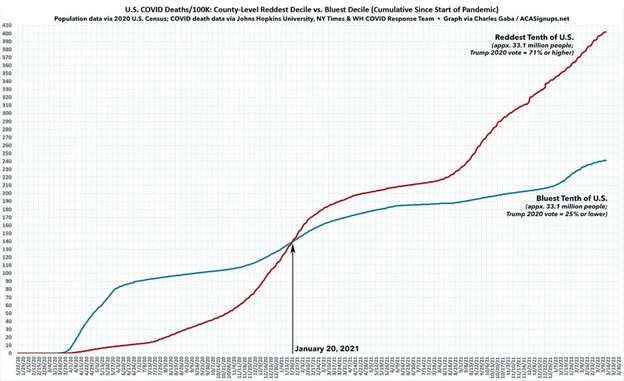 They crossed when Biden was inaugurated. The graph includes all variants of Covid. It shows the cumulative Covid death rates in the reddest and bluest tenths of the US at the county level. The total population of the 50 US states, plus DC, is right around 331.4 million people. That puts each tenth of the population at around 33.1 million each.
The date may be a coincidence, but the data aren't. You know why this happened.
We look like we're about to have another surge. That's depressing since we are barely past the Omicron surge. If the data coming in from places where Omicron BA.2 is surging hold up, it means that our vaccinations should mitigate the worst of it.
But if you are over 60 or are unvaccinated, or unboosted, or have any medical vulnerabilities, you'd better wear your mask when out and about, even in Florida.
A whole lot of people won't do you the favor of wearing one, so you should be extra careful.
Time for our Saturday Soother, where we try to forget about what's happening in Ukraine, or whether Jessie Smollett deserves to be out of jail on appeal. Let's unplug and relax and think about how Spring is just around the corner. Of course that means yard work on the Fields of Wrong, but it also means enjoying weather like we were having in Florida.
To help you relax, grab a seat by a window and listen to Mozart's Rondo from the Horn Concerto Number 4 KV 495. This is a trio arrangement played by Sarah Willis (horn), Tamás Velenczei (trumpet) and Jesper Busk Sorensen (euphonium). It was performed live in a virtual concert in the Berlin Chamber Music Hall for the Pacific Music Festival 2021: