The Daily Escape: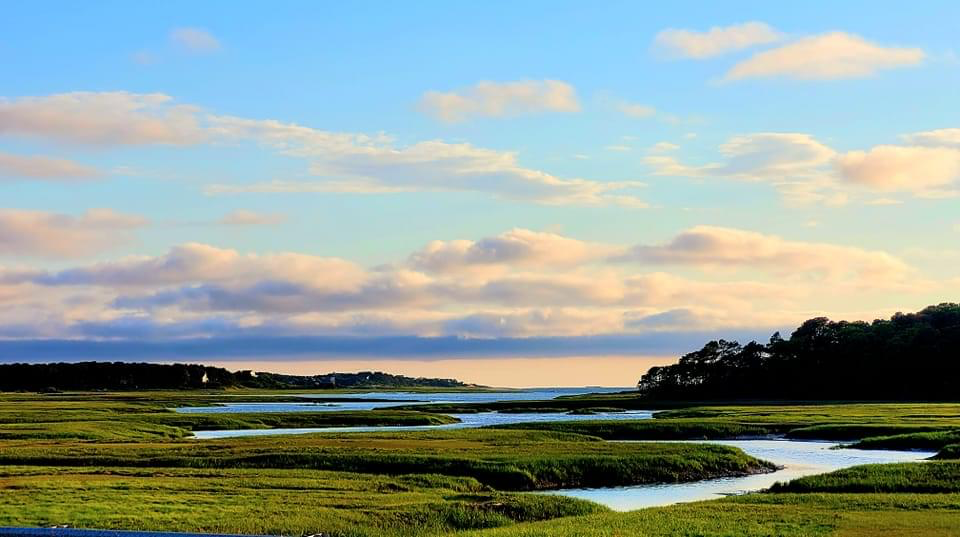 Blackfish Creek, Wellfleet, MA – June 2022 photo by Jo LF
Wrongo and Ms. Right are on the road again, this time on Cape Cod visiting family. So this column will be brief. We saw on Friday that the Bureau of Labor Statistics gave us more bad news, that inflation jumped higher in May. That caused the Dow to decline by 880 points or about 2.7%.
From the Bondad blog: (parenthesis by Wrongo)
"People who were hoping inflation would abate did not get the news they wanted from the May CPI. Consumer prices rose 1.0% in that month alone. Inflation less energy rose 0.7%, and "core" inflation less food and energy rose 0.6%. On a YoY (year over year) basis, prices are up 8.5%, tied for a multi-decade high with a few months ago. Core prices are up 6.0%, down slightly from their February and March peak…"
Bondad says that this means that the Fed will continue stomping on the brakes. The big question is whether the Fed can engineer a relatively short and gentle recession, perhaps in 2023. Or whether instead, they engineer a good, old-fashioned "bust" that hurts all of us.
A recession happens when the economy contracts for two successive calendar quarters. In the first quarter of 2022, GDP declined 1.6%. If we see a similar result for the second quarter, this will meet the classic definition of recession.
Will that happen in 2022? Maybe. Will it happen in 2023? Probably. It is highly unlikely that the Fed's actions alone will bring aggregate demand down to normal levels relative to supply.
Republicans are messaging that it's the Biden administration's fault that inflation got out of control. But if you remove politics from the equation, the reasons are the pandemic's severe global economic impacts, and the efforts by both the Trump and Biden administrations, along with the Fed, to stimulate the US economy.
The stimuli led to a booming economy, even though it didn't help everyone. The Fed's inability to react quickly then left them behind the curve. Russia's invasion of Ukraine created an oil shortage, that pushed gasoline prices even  higher.
The complex causes of our current inflation doesn't lend itself to either Party presenting workable solutions in the short term. And they certainly can't do that by using sound bites. And you shouldn't expect the media to either provide both sides of the argument, or to detail what's being offered to solve the problem.
After all, we're in an election year.
Wrongo will wait a few more days before saying much about the J6 public hearing. We didn't get to see much of it, but the WaPo says that about 19 million people watched the first public hearing. The preliminary data come from Nielsen and do not include the millions more who watched the hearing on streaming apps or social media, where a few clips of the testimony went viral.
The Post also provided some context, comparing the viewership of this hearing to Watergate and to Trump's first impeachment:
"….some 71% of Americans told Gallup that they watched some of the Watergate hearings live back in 1973, the first televised hearing of Donald Trump's first impeachment trial drew only about 13 million viewers in 2019…"
It's time to let the millions of words about the hearing slip from your mind, and to get yourself into a place of calm reflection. That means it's time for our Saturday Soother. We're here on the Cape trying to do just that. The weather so far is fantastic. And we're scheduled for dinners at two fabulous restaurants over the next two nights, in both cases, eating outdoors.
So, take a few minutes to center yourself by grabbing a chair outside, putting on your wireless headphones and listening to Lili Boulanger's "D'un matin de Printemps" (On a spring morning). Lili wrote this piece in 1917 when she was 23. Boulanger was a child prodigy, but she battled bronchial pneumonia throughout her short life, dying a year later at age 24.
Here is the piece played in 2017 by the Chicago Youth Symphony Orchestra, conducted by Allen Tinkham at Orchestra Hall, in Chicago: