The Daily Escape: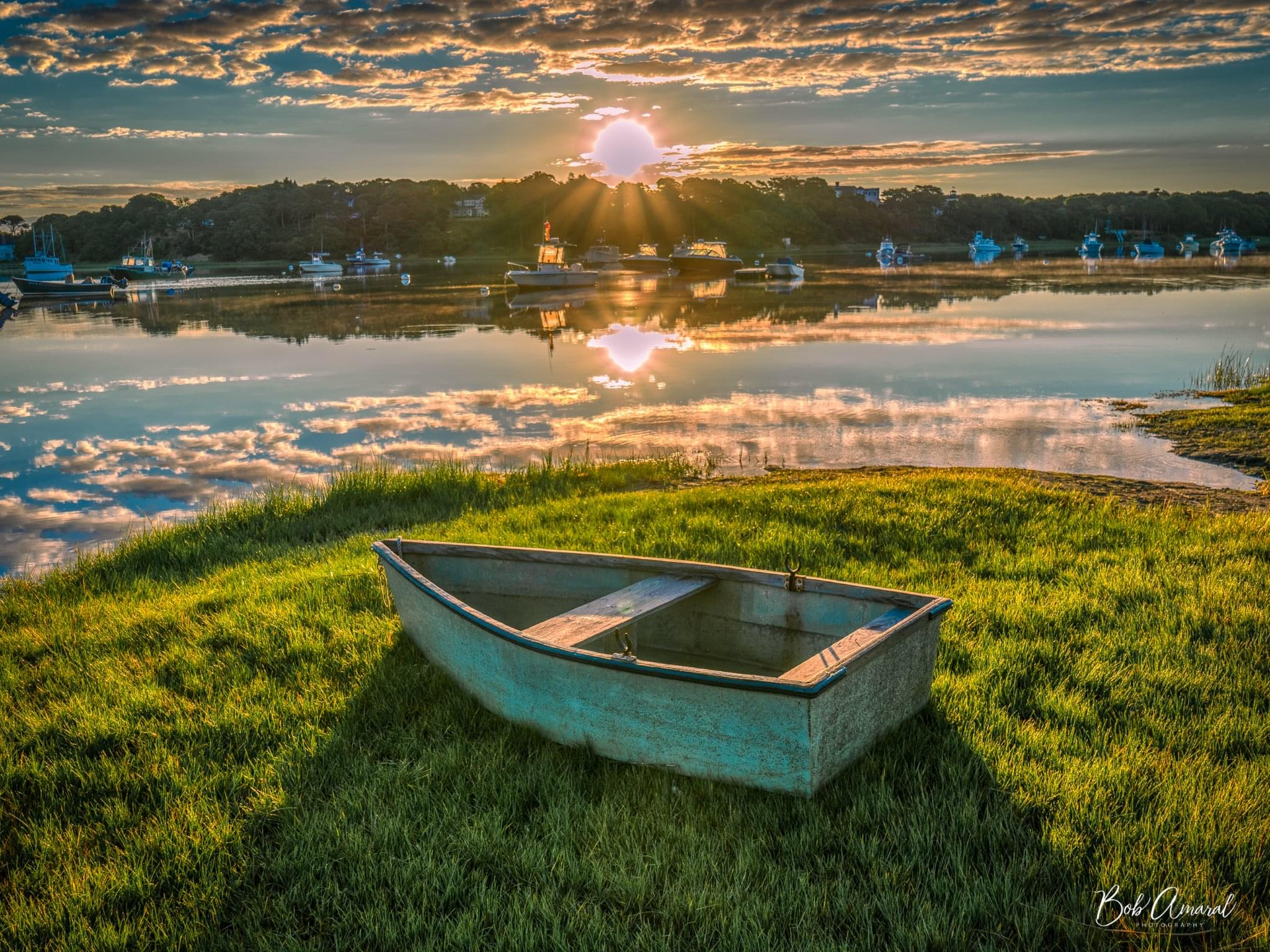 Sunrise, Chatham, MA – July 2022 photo by Bob Amaral Photography
We are 100 days away from the midterms. That's usually a blink of an eye in political time. But it can also be an eternity in politics under the right circumstances. And in this year of all years, nothing can be assumed. The Jan. 6 drip of negative information about Trump and his Republican henchmen, and the looming revolution that the judicial overturning of Roe has caused, might mean that anything is possible.
For more than a year, the news media have snowed us with their conventional wisdom about the mid-terms, insisting that the president's Party will lose seats in Congress. But, Josh Marshall has thoughts about this (paywalled):
"New Georgia Senate poll out this morning from The Atlanta Journal-Constitution: Warnock 46%, Walker 43%….Meanwhile, three new congressional generic polls have come out over the last 24 hours, two of which give the Democrats a six point advantage and one of which gives a 4 point margin. One of those 6 point margins is actually a Republican Party poll."
Given the Republican advantage in Red states, six points may not insure that the Dems hold Congress. But we clearly shouldn't give up, because right now, the House isn't a lost cause.
Positive polling momentum brings with it both the energy and hope that a political turnaround is possible, even in 3+ months. Momentum is a thing in sports. Players and coaches usually cite momentum as a reason for victory in close contests. Maybe we're seeing Biden and the Democrats building some political momentum.
It's also true that Republicans aren't reading the national mood as well as they think they are.
Just hours after the Republicans worked with Dems to pass the Chips and Science Act (CHIPS) which includes $52 billion in subsidies for chipmakers building new foundries in the US, Senate Majority Leader Chuck Schumer announced a deal to revive big portions of the Build Back Better (BBB) bill.
Sen. Manchin (D-WVA) had walked away from negotiations with Schumer on a scaled-down BBB tax bill that could only pass via Reconciliation two weeks ago. Then Senate Minority Leader McConnell let his guard down, and allowed Republicans to vote for CHIPS, which was popular with Senate Republicans.
Apparently Schumer and Manchin waited until the CHIPS bill cleared the Senate before announcing agreement for an even more scaled-down BBB program now called the Inflation Reduction Act (IRA), which has both significant funding for climate and a minimum corporate tax. It too will need to be passed by reconciliation, since it will have zero Republican support.
Schumer's move caused a McConnell meltdown. Under orders from Mitch, Republicans got revenge by voting against a procedural vote to advance a bill that would expand health care access for military veterans who became ill after being exposed to toxic burn pits in Iraq and Afghanistan.
It was a near-legendary playing of McConnell by Schumer and Manchin. And it infuriated McConnell so much he took the bill to give medical care to dying veterans exposed to toxic burn pits hostage. It was a bill that Republicans had helped to pass overwhelmingly just a few weeks ago (it needed a technical fix). Blind sided veteran groups erupted in anger and indignation.
The GOP revealed itself to be, at least for now, incapable of making decisions that promote the common good. Their decision to turn against veterans was a grave miscalculation that will hopefully rouse a few million of the recalcitrant, alienated, apolitical 100 million Americans who typically decide not to vote in elections, to get straight to the polls.
This family-sized combo of a revival of the Biden agenda and angry Republicans making terrible choices on popular legislation may help the Dems in November.
Maybe a cosmic ray beam hit Washington and gave Schumer the Machiavellian cunning of a Republican and McConnell the guileless ways of a Democrat.
Had enough for this week? Wrongo certainly has. Let's try to grab a few minutes and not think about the state of the world, or why Republicans insist on speaking like neo-Nazis. It's time for our Saturday Soother.
The drought in New England still has the upper hand. We have little need to cut our grass every week. We're watering a few specimen plants, but since our water source is a well, we must be careful.
Time to grab a mug of cold brew (or iced tea) and find a seat under a tree. Now watch and listen to Yo-Yo Ma perform "In the Gale", which was shot outdoors in late spring. It is from The Birdsong Project, a community dedicated to the protection of bird life.
This performance includes many wild birds accompanying the cello: