The Daily Escape: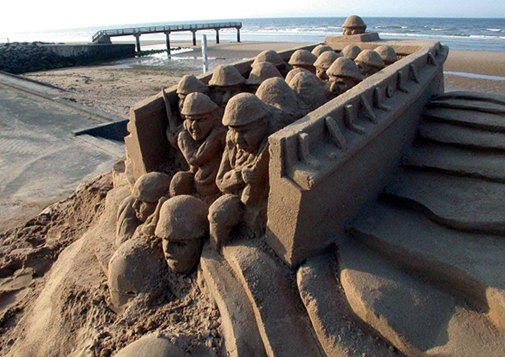 Sands of Remembrance" sand sculpture, Normandy, FR – made for D-Day, 2004 via
On Veterans Day, Wrongo salutes all who have served! Wrongo's own service occurred during the Vietnam War. His father was a WWII veteran. His grandfather, a WWI vet. Did you notice that neither Party mentioned anything about caring for our veterans in their midterm campaigns?
Wrongo's not a political analyst, just a retired CEO with a laptop, but he feels like he has more to say about the now almost-completed midterm elections.
Some overnight updates: In the House, Democrats continue to overperform, including Wrongo's own district where Democratic Rep. Jahana Hayes won a third term by a razor-thin margin. Dems still need to sweep the remaining toss-up House races in order to have a shot at a House majority.
Encouraging news from Nevada where Dem Sen. Cortez-Masto trails Adam Laxalt by about 16k votes. Jon Ralston the dean of Nevada political analysts tweeted this: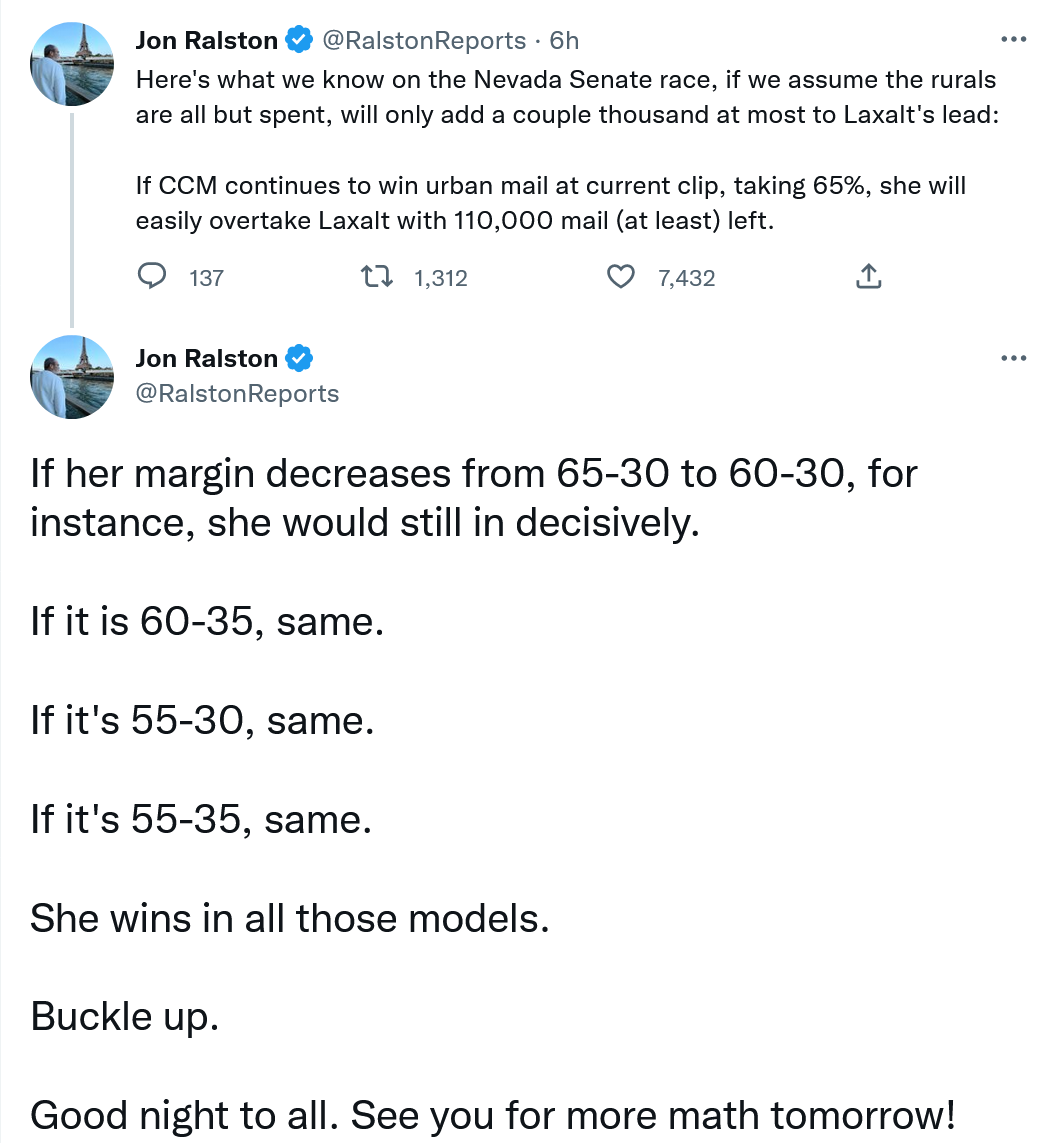 If Cortez-Masto pulls it out and Mark Kelly hangs on in Arizona, which seems probable, the Georgia Senate runoff won't be for control of the Senate, but would deliver a 51st Dem seat in the Senate. With less at stake, it might mean a significant number of Georgia's Right wingers will decide to stay home rather than waddle to the polls to vote for Walker.
But today let's take a look at some decision making by the Democratic Party's powers-that-be. Take Florida: Dem donors (and the Party) gave candidate Val Demings $72 million. She went on to lose to Republican Sen. Marco Rubio by 15 points. It was plausible early on to think that Demings had a chance, but it's been clear for months that she would lose.
In Wisconsin, Mandela Barnes lost to the execrable Ron Johnson by ONE point. The Dem brain trust allowed Barnes to get swamped in the media in September and October due to lack of funding. Would Barnes have won if he had more money? Think about it: Biden carried the state in 2020 and Tony Evers, the current incumbent Dem governor just won again in 2022. Evers got 1,336.9 million votes while Barnes got 1,310,4 million. Could more money have picked up the 26.5k votes between Sen. Johnson and Barnes? Sure!
Shouldn't Barnes have been a higher priority than Demmings' longshot in Florida, a state with terribly expensive media markets? Wrongo understands that people want to give emotionally, and obvious villains like Rubio make good targets.
Compare the amount of attention Florida got vs. Wisconsin. Very few individual donors sit down and  systematically dig through all the races to decide where their money will give the most bang for the buck. Theoretically this is something the Democratic Senatorial Campaign Committee (DSCC) ought to do, and then everyone could just give them money. But why when their decision making seems flawed?
You can say that Wrongo shouldn't complain, if we expand the Senate to 51 seats, but did we leave seats on the table in North Carolina and Wisconsin?
The money flowed inefficiently to Florida instead of to North Carolina and Wisconsin. North Carolina made much more sense as a "reach" target for the Democrats. It has a Democratic governor; a vacant Senate seat and Dems have won statewide before. Beasley lost in NC by 136k votes (3%).
The Party and individual donors need to be actively pursuing the best actual strategy. And going forward, donors should forget giving money to any entity except directly to the candidate's campaign. Many Dem organizations are fundraising using a given candidate's name, and then are splitting the money with the candidate and other races.
For example Wrongo has already received email and text requests for Warnock donations that included sharing the funds with Adam Schiff, with the Dem governors association and with the DSCC.
Warnock needs all of our money and it's a travesty that other Democrats are raising money using his name.
Two final political thoughts: First, several states had ballot questions concerning whether slavery should be abolished in their state constitutions. SLAVERY! Tennessee and Vermont voted 90% for abolition, while in Oregon, 45% voted in favor of slavery. In Louisiana the vote was 61% to keep slavery in their constitution.
Second, back to veterans, it's always been Democrats who have made the biggest effort to support the VA. Even though it is probable that the majority of enlisted and commissioned armed forces veterans remain Republicans.
It's a paradox: when the Republican Party is in control, it makes a poor effort to support veterans; but they're typically the ones sending our troops off to war.
Let's close with a moving song that can honor veterans. Watch "Bring Him Home" from the play, Les Misérables. While not about veterans, the song packs a wallop. Here, its performed by Alfie Boe and the Mormon Tabernacle Choir:
Sample Lyric:
He is young
He's afraid
Let him rest
Heaven blessed.
Bring him home
Bring him home
Bring him home