The Daily Escape: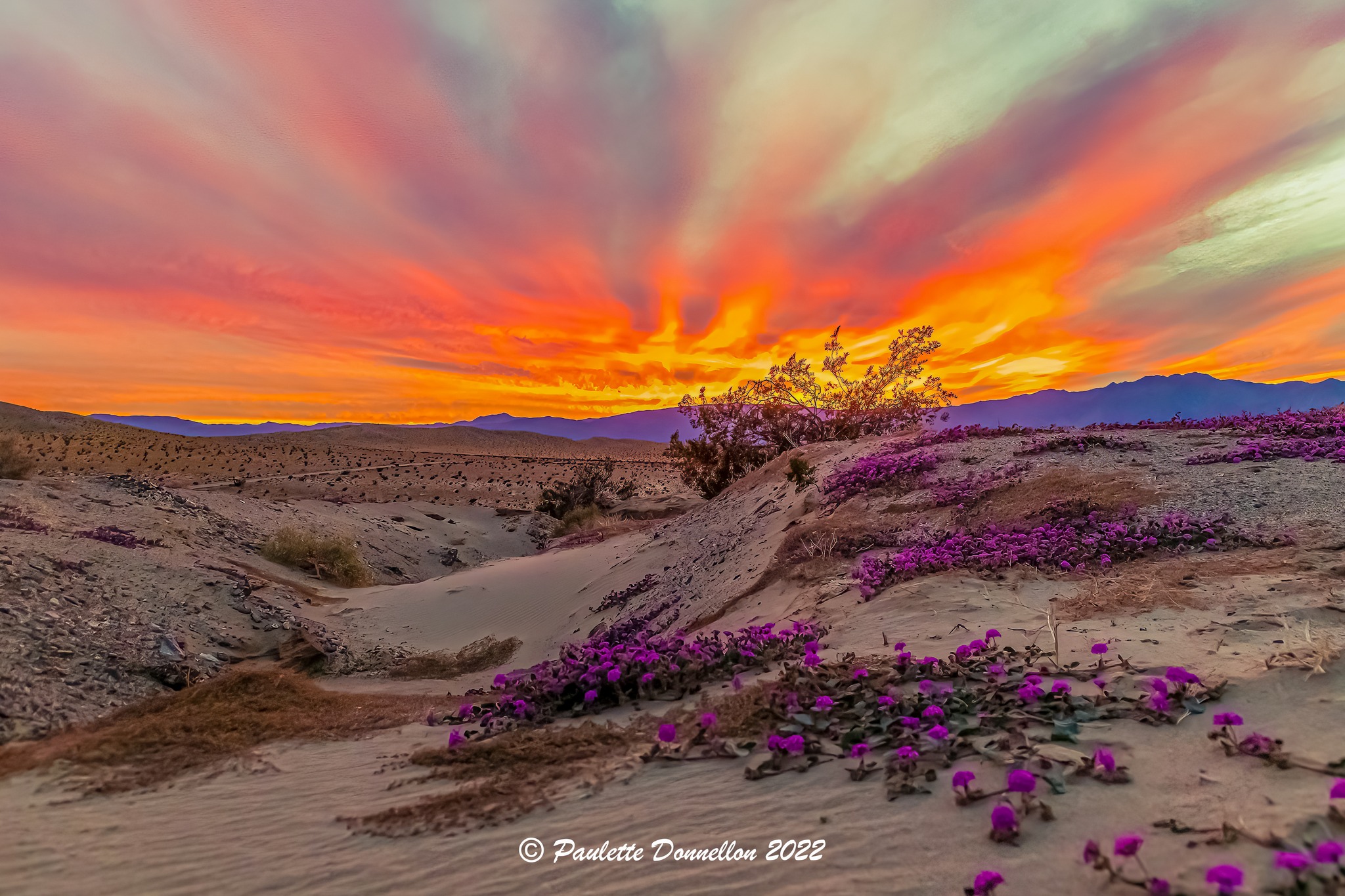 Verbena and sunset, Anza Borrego SP, CA – November 2022 photo by Paulette Donnellon
We start Saturday with a reflection on the outgoing Speaker of the House Nancy Pelosi (D-CA). Many think that she ranks as the best House Speaker in modern times.
Wrongo remembers her for standing up to Obama and his chief of staff, Rahm Emmanuel during the debate over the shape of the ACA. There was much concern about how far the Democrats could go with the bill. Emmanuel wanted to tone it down to meet objections from the GOP and from moderate Dems.
Pelosi met with Obama and his aides and said that she wouldn't support anything but the full monte. That caused the White House's effort to find a more moderate way forward to crumble. And America made its biggest single step toward providing health insurance to all Americans.
At the end, It was Pelosi not Obama, who made it happen. It was her ability to deliver her caucus that gave Obama et.al a spine.
Wrongo recently learned that when Nancy Pelosi was a teen and her father, Thomas D'Alesandro Jr., was mayor of Baltimore, she maintained his "favors book". That explains much about her effectiveness when she finally got to Congress at age 47. At the point when she took office, she had five kids. Wrangling them, plus learning to keep a "favors book" was probably ideal preparation for being the first woman House Speaker.
This week, control of the US House has passed to the Republican Party. That means two things: First, that Republicans will now say that compliance with House subpoenas is mandatory, even though they purposefully ignored them for the last two years.
Second, Americans should prepare for investigations of the Biden administration by grandstanding GOP Congresscritters. James Comer (R-KY) held a press conference saying that he will be looking into Hunter Biden, his laptop, and his father. Comer, the incoming Oversight Committee chair, has said an investigation into Hunter Biden and other Biden family members and associates will be a priority. His idea is to try and position the president as having compromised national security.
If that seems to echo the FBI/DOJ investigations into Trump, well, that's purely a coincidence. Be prepared to see absolutely nothing get done over the next two+ years that might improve the lives of the American people.
Let's spend a minute on Hunter Biden's laptop. Last March, the WaPo did a story on a security review it had authorized of the disk drive on the "Hunter Biden laptop". The WaPo asked security experts Matt Green and Jake Williams to review the drive to see what they could authenticate. From the WaPo:
"In their examinations, Green and Williams found evidence that people other than Hunter Biden had accessed the drive and written files to it, both before and after the initial stories in the New York Post and long after the laptop itself had been turned over to the FBI."
So people had kept adding content to the "laptop," making it impossible to say what was on the "laptop" when it was originally provided to the Delaware computer repair shop.
More from the WaPo:
"Analysis was made significantly more difficult, both experts said, because the data had been handled repeatedly in a manner that deleted logs and other files that forensic experts use to establish a file's authenticity."
But according to the House Republicans: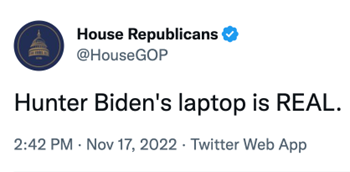 You should read the entire story of the laptop in the WaPo. It details the laptop's convoluted journey from Hunter to the FBI, while several other copies of its hard drive were made. They went to Rudy Giuliani and Steve Bannon. The WaPo reviewed one of the Republican copies, but not the one in the hands of the FBI.
What would a jury decide if this laptop was Exhibit A? Would they consider it to be tainted evidence? Seems like there are too many unknowns and too many people who had access to it.
But what will the House GOP grandstanders make out of it? Will laptop-gate be legitimatized by the media? And will many citizens fall for it just like they did with Clinton's email server? The Right has lots of practice at turning complicated stories into political gold.
Time to move on to our Saturday Soother. Here on the fields of Wrong, nearly all of our yard work was completed before the first snowfall this week. Along with everyone in the northeast, our weather turned cold, and winter jackets are now hanging on the hook by the back door.
To ease into Saturday, start by brewing up a hot steaming mug of Villa Betulia Maragesha ($30/8oz.) from Colorado's Corvus Coffee. The roaster says it has flavors of peach liqueur and strawberry syrup. Maybe that's why it's so expensive.
Now grab a seat near a south-facing window and watch and listen to the Adagio movement of the "Concierto de Aranjuez" by the Spanish composer Joaquín Rodrigo. Written in 1939, it is Rodrigo's best-known work. Here it is played by Hauser on cello and Petrit Çeku on guitar at the "HAUSER & Friends" Concert in Croatia in 2018, along with Ivo Lipanovic conducting the Zagreb Philharmonic Orchestra: