The Daily Escape: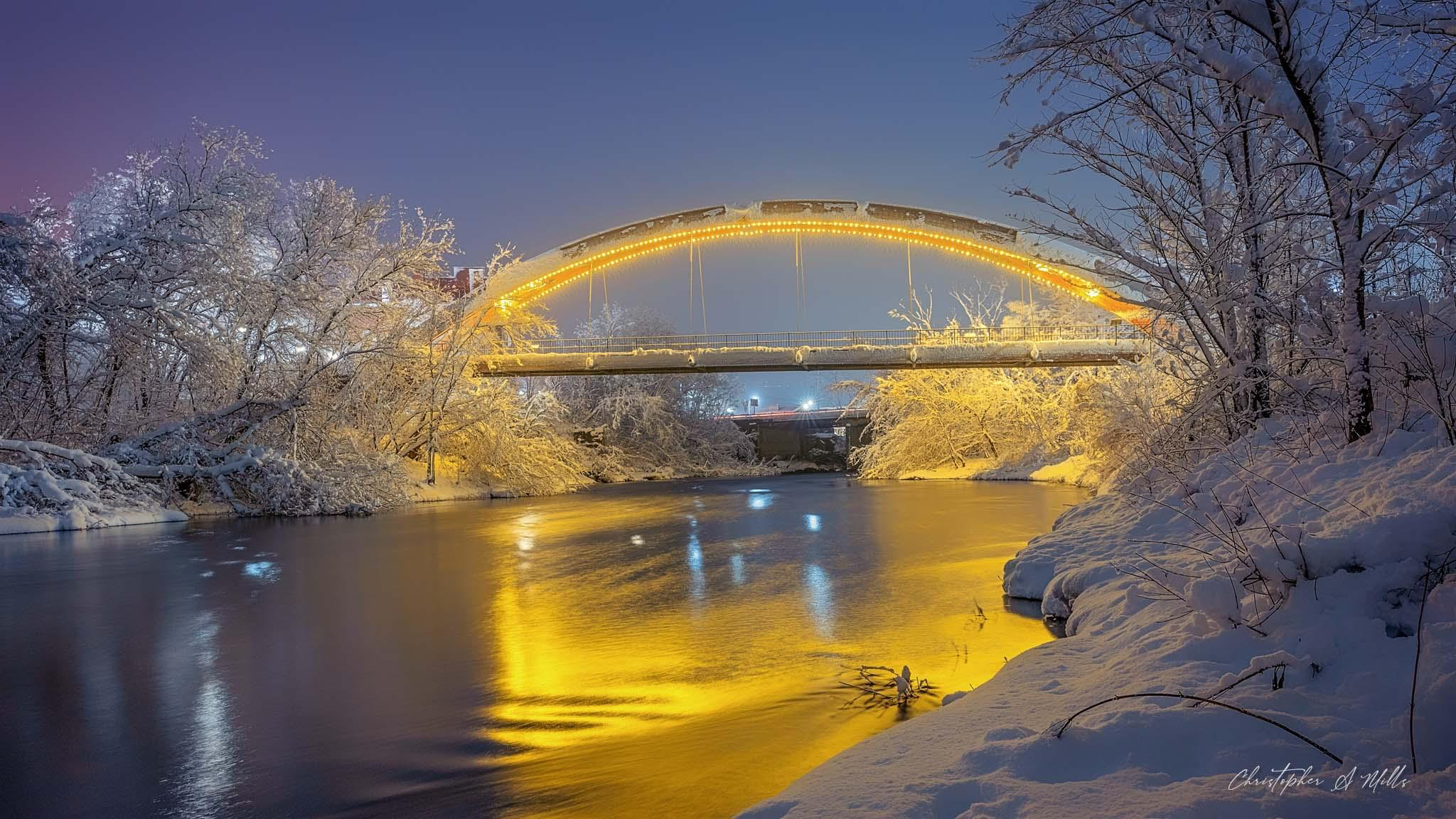 Gateway Crossing Bridge, Houlton, ME – December 2022 photo by Christopher Mills Photography
The Jan. 6 Select Committee has completed its job. On Monday it approved a criminal referral for Trump, a former President, and a current Presidential candidate, on a series of charges that include insurrection and conspiring to defraud the US. Marcy Wheeler summarizes the findings of the Committee perfectly:
"Trump corruptly tried to prevent Congress to certify the electoral victory of Trump's opponent. He did so by committing other crimes. He did so by mobilizing a violent mob. He did so using fraudulent documents. And most importantly, he did so for personal benefit."
The Committee will publish their final report next week. They will turn over the unredacted interview material to the Department of Justice (DOJ) and its Special Counsel, Jack Smith. According to Punchbowl, the Committee has already begun cooperating with Smith, who apparently sent the Committee a letter on Dec. 5 requesting all of the panel's materials from the 18-month probe.
Sadly, it seems that their report ignores the policing failures that occurred both before and on Jan. 6.  One of the objectives of the Select Committee was to make recommendations about how the US Capitol could avoid a similar attack in the future. But it doesn't seem that subject has been properly addressed.
While Wrongo believes that the investigation into Jan. 6 was critical and that it may eventually result in the DOJ indicting Trump at some point, conspiracy is a very high bar to prove against a common thief, much less against a former president who is used to communicating like a mob boss.
"…we will all wake up and go about our business. Donald Trump will continue to be the frontrunner for the GOP nomination and a legitimate contender to be the next President of the United States. The vast majority of Republicans will continue to stand with Trump — and most will do so enthusiastically."
Before issuing any indictment, DOJ  prosecutors must decide if there is a case to be made that includes sufficient evidence to convict the former President beyond a reasonable doubt.
And it could take the DOJ a year or more to get a grand jury to indict Trump. While the DOJ has had grand juries up and running and considering evidence about Jan. 6 for a very long time, building such a complex case may take long enough that by the time they're ready to bring a case, it will be near the time of the GOP primaries.
The Mar-a-Lago secret documents case is an easier one to make. We know that an FBI search of the former President's Mar-a-Lago home in Florida found more than 300 classified documents.
Trump's removal of official government records from an office of the US is one possible charge. A second separately chargeable offense is theft of government records. Those two crimes carry maximum three-year and 10-year sentences respectively.
Then there's the Espionage Act, which also carries a sentence of 10 years in prison. We know that before January 20, 2021, the Acting Archivist of the US asked for those records to be returned, and Trump's White House Counsel Pat Cipollone agreed that Trump needed to return them before his term ended.
After Trump left DC with the documents, a grand jury subpoena demanded that all of them be returned to a courthouse located in Washington, DC.
These three crimes are relatively straightforward to prove. Garland and his team might decide that charging them alone suffices, without adding a fourth offense of obstructing a pending federal criminal investigation, into improperly taking and retaining the stolen documents.
Obstruction carries a 20-year maximum sentence — double the penalty for violating the Espionage Act. That shows how seriously that charge is considered under the law.
We know that Trump and his attorneys stonewalled the government for more than a year, refusing to return the 13 boxes of classified documents that the FBI's August 8, 2022 search recovered. Most of this year has been an effort by Trump to delay the FBI and the DOJ from inventorying all of the classified documents that Trump took to Florida.
The DOJ has a strong case against Trump on the charges described above. They are easier to prove, and existing laws are very clear what the penalties are when it comes to the theft of classified documents. And there's plenty of legal precedent for putting people who steal US government secrets in jail for a long time. If we want Trump taken off the battlefield before 2024, the theft of classified documents case is the best shot.
Let's close with "Christmas Must Be Tonight", a 1975 tune written by Robbie Robertson. It was released on the Band's 1977 album "Islands". This version is from that album. The tune appeared in the movie "Scrooged" in 1988. There is Rick Danko's singing along with Robbie Robertson's lyrics. It doesn't get any better than this:
Chorus:
How a little baby boy bring the people so much joy
Son of a carpenter, Mary carried the light
This must be Christmas, must be tonight