The Daily Escape: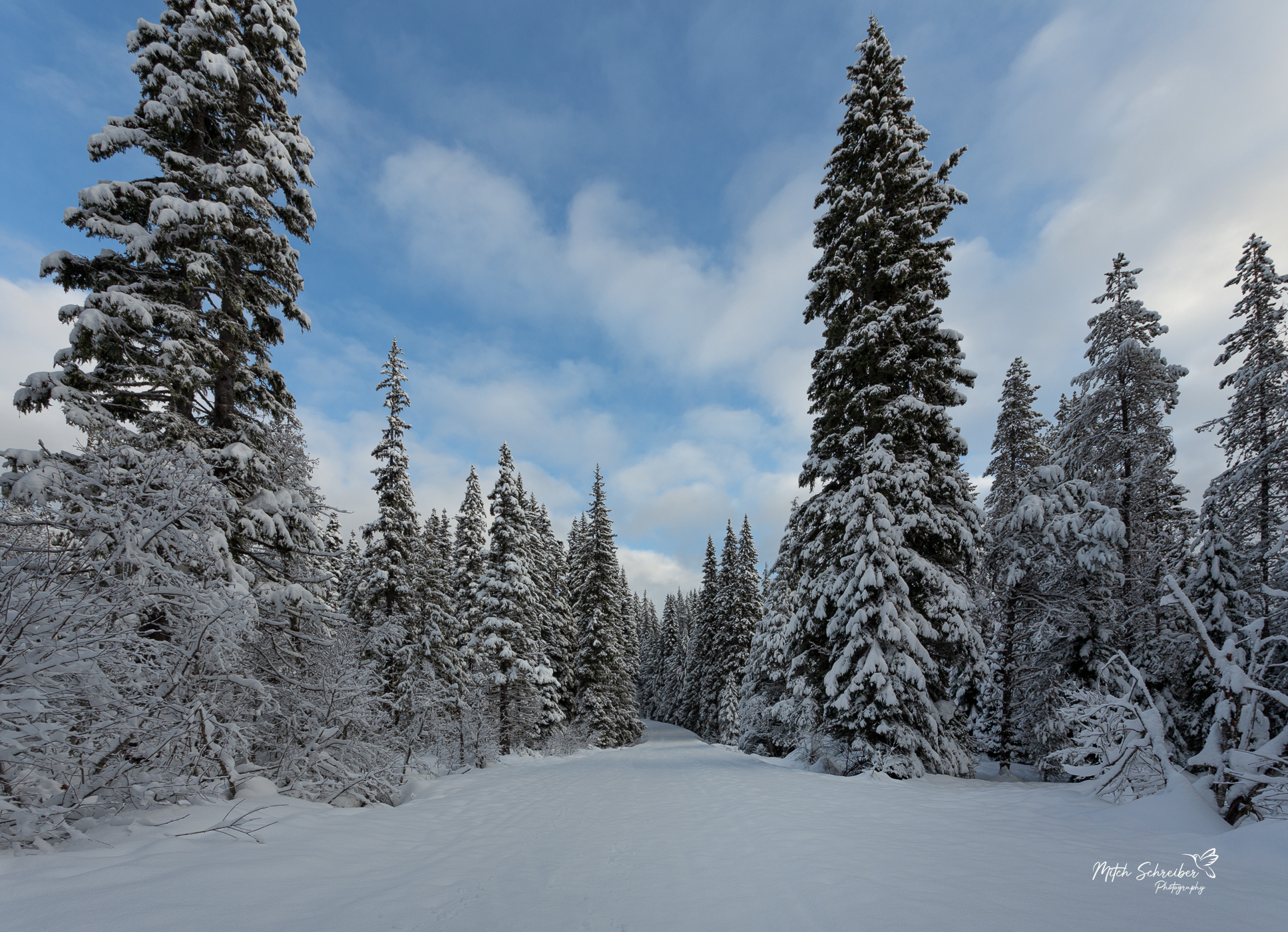 Near Government Camp, OR – January 2023 photo by Mitch Schreiber Photography
Everyone is talking about the national debt and/or about increasing the nation's debt limit. Congress should increase the debt limit because it's the right thing to do. But there are many in the "very serious" media who are concerned that the Fed can't continue to hike interest rates to 5.0% or higher because the government can't afford to pay such high interest rates on our gargantuan debt.
Some pundits are pushing the idea that the Fed must cut interest rates or else. Or else what? The US government won't go broke, regardless of how high interest rates rise.
While it's true that the government's cost of borrowing rises when interest rates rise, what these pundits are missing is that US tax receipts (which are used to pay that interest expense) have also spiked. They're also missing the fact that interest expense as a percent of tax receipts was at a historic low in Q1 2022. And while it has moved up, it remains quite close to historic lows. Interest expense as a percent of tax receipts is one primary measure of whether the government can afford the interest expense or not. Wolf Richter of Wolf Street provides us with a chart: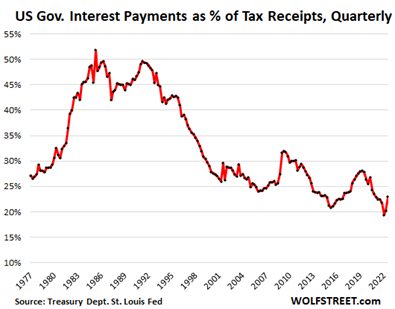 As you can see, while the percentage of interest/tax receipts has "spiked" in 2022, it was at a historic low in 2021. And compare that to when the ratio hovered around 50% in the 1980s and early 1990s. In Q3 2022, it was 22.9%, still very near a historical low.
One reason for this was that inflation helped to increase tax receipts thereby lowering the government's burden for paying interest on our existing debt.
Between the Trump and Biden administrations, the government's debt spiked by 34%, or by $8 trillion, in the past three years. That additional debt quickly added a lot of interest expense for the government, as we see with the spike above on the chart in 2022.
As older Treasury securities mature, and assuming the national debt doesn't go down, they are replaced by new Treasury securities with today's higher interest rates, and the higher interest costs of those new securities are starting to show up in the government's interest expense. Richter says that total interest expense in Q3 2022 spiked by 24% from a year ago and by 43% from two years ago. This spike in interest expense looks like this: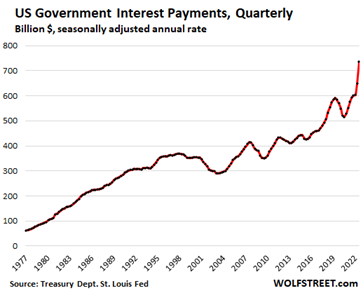 And this scary chart is what the GOP will be presenting as their reason to cut the debt. When you omit the spike in tax receipts and the historically low level of interest expense as a percent of tax receipts, as we saw in the first chart, you're not presenting the whole picture.
Another way to look at the situation is Government interest payments as percent of nominal GDP. This is a classic measure of the cost of government debt compared to the overall economy. Richter offers us another chart: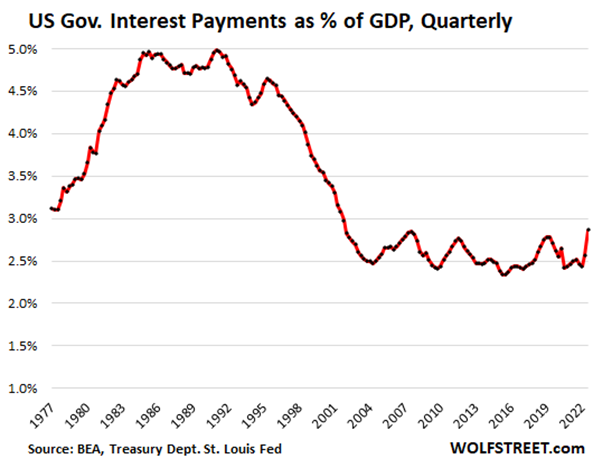 As you can see, by this measure, interest on our national debt remains lower than it was at any time between 1977 and 2003. And it has remained in a narrow band from 2004 to today.
Without question, we should reduce our national debt. But unless and until interest expense on our debt returns to the level of 50% of tax receipts as it was in the 1980s, we shouldn't expect much to change in Washington. If it starts to get near those highs, maybe we'll see action by Congress to increase revenues and reduce spending. And despite all the GOP's screaming, the Federal Reserve is doing the right thing: Hiking interest rates to stem inflation.
Time to wake up, Congress! The Fed is trying to gently nudge you into thinking that the country needs to raise revenues while also cutting expense. You need to consider the revenue side of the equation more seriously, if for no other reason than what will happen to our currently high tax receipts whenever the coming recession strikes.
To help you wake up, listen to the late David Crosby's song "Laughing" from his first solo album, 1971's "If Only I Could Remember My Name. Crosby wrote it for the former Beatle George Harrison, who never used it, so Crosby used it instead:
Several legendary musicians appeared on this recording, including Graham Nash and Joni Mitchell on background vocals; Jerry Garcia on pedal steel guitar, and Bill Kreutzmann on drums. Garcia is magical.