The Daily Escape: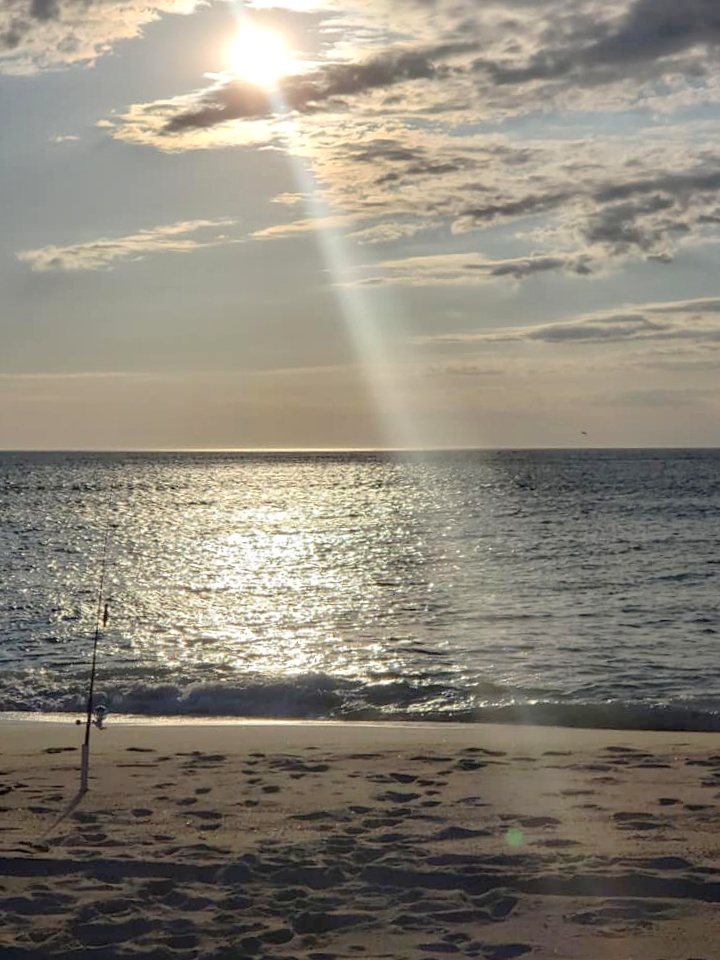 Morning surf casting, Nauset Off Road Beach, Orleans MA – May 2020 photo by Chef Bob
Happy Summer Solstice fellow disease vectors!
The political scene remains in flux. There are 135 days to go until the November election, and while things look encouraging for Biden, there's plenty of time for Trump to mount a successful counter-attack. We'll see the start of that effort tonight in Tulsa.
The 2020 Senate races are the most important to Wrongo. If Biden wins, Democrats need to pick up just three seats to control the Senate. If Biden loses, they need four seats, actually five, since Sen. Doug Jones (D-AL) is likely to lose his seat.
The Cook Political Report just moved Montana Democratic Gov. Steve Bullock's race against incumbent GOP Sen. Steve Daines to toss-up status from "leans Republican". A race of the two Steves. Daines won the seat in 2014 by 18 points.
Montana has become competitive in part due to Bullock's successful handling of the COVID-19 issue, and because the pandemic has limited campaigning. Bullock has seen his approval ratings rise to 75% in one poll. Montana has one of the lowest per capita infection rates (49th out of 50), with only 20 deaths as of June 17, and Bullock has gotten credit for closing the state early. From Cook:
"Recent private Democratic polling in the contest gives Bullock a small lead and finds that Bullock's approval ratings are more than 20 points higher than Daines…"
That's fine, but Cook also reports that:
"GOP polling also shows that it's a close race, but one where every internal poll for them has still shown Daines leading. "
Remember that Trump won Montana by 20 points in 2016. Democrats argue that Biden isn't as toxic in Montana as Hillary Clinton was in 2016, and that Obama only lost the state by 2 points in 2008, so if Biden could get close, he'll help Bullock.
Bullock has outraised Daines by about $2.1 million in the first fundraising quarter, and again outraised Daines ahead of the June 2 primary by a nearly two-to-one margin. But Daines retains a $1.6 million cash on hand advantage.
The national state of play: There are now five GOP Senate seats rated as toss-ups: Daines, Susan Collins in Maine, Cory Gardner in Colorado, Thom Tillis in NC and Martha McSally in Arizona.
There are another four Republican seats in play, albeit where they have leads in the polls. Both Georgia senators (Kelly Loeffler and David Perdue), Joni Ernst in Iowa, and Kansas's open seat could swing to the Dems. That totals nine Republican Senate seats within reach.
Notice that Mitch McConnell (R-KY) isn't in the Dem's competitive column.
If you gave money to centrist Democrat Amy McGrath, she's trailing progressive opponent Charles Booker in the polls for the chance to go against McConnell despite raising $41 million.
It's nearly certain that the GOP picks up Jones's (AL) Senate seat. They're expecting to hold on to the four seats above, so the Dems would have to win all five of the toss-ups to gain Senate control if Trump won reelection.
That could be a heavy lift. Remember that the GOP gained two Senate seats in 2018, despite the Democratic wave moving control of the House to the Democrats.
Enough calculating about what may be happening in a few months. It's time for our Saturday Soother!
The summer solstice is Wrongo's least favorite day of the year, since the days start growing shorter tomorrow. Temperatures at the Mansion of Wrong look to be in the high 80s to low 90s for the next week, so summer seems to have finally arrived.
In honor of summer let's make a cold brew. Try The Dredger ($16/12oz.) from Jersey City, NJ's Modcup brewers. The Dredger is said to have a deep toffee like sweetness and a slight fruity undertone. Note that Modcup refuses to sell any coffee 18 days after its roast date.
Now take your cold brew, settle back at an appropriate physical distance, and enjoy the hot sun. Today, you can hear a classic pop song that speaks about the power of "dreamers" in honor of the Supreme Court's decision on DACA.
Here is Carly Simon's "Let the River Run" from the 1989 soundtrack of the movie "Working Girl". Simon won an Oscar and a Golden Globe for it. At the link, you'll see throwback haircuts and shoulder pads on women's clothes from the 1980s and a few poignant scenes of the WTC:
Sample lyric:
We're coming to the edge
Running on the water
Coming through the fog
Your sons and daughters
Let the river run
Let all the dreamers
Wake the nation
Come, the New Jerusalem
 Those who read the Wrongologist in email can view the video here.