The winter solstice is the shortest day and longest night in the year. The US East Coast sees only nine hours and 15 minutes of daylight today.
With an awesomely bad 2016 drawing to a close, the good news is that days will get longer. From now on, there will be more light, though little of it will emanate from Washington.
Wrongo has a nearly pagan appreciation of the Solstice as a turning point (and favorite day) in his year. We now count forward the added minutes of daylight. This map shows that winter arrived in the Northern Hemisphere @ 5:44 am: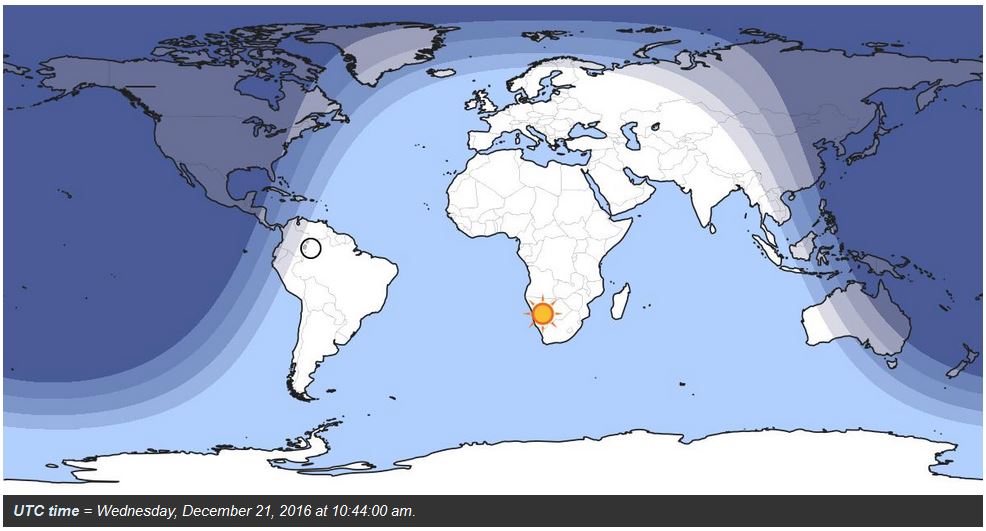 Here are more fun solstice facts. From Yahoo:
Tonight, two astrological events will combine to create a truly rare occurrence. The winter solstice occurs tonight — or tomorrow morning, depending on where you happen to live — meaning that it's the longest night of the year. Combine that with a lunar eclipse, which only occurs a few times per year, and you have the recipe for one of the longest, darkest nights that any living human has had the opportunity to witness. This rare combination hasn't occurred since 2010, and before that it hadn't happened in nearly 400 years, so it's pretty special.
The eclipse should begin at around 1:30 a.m. EST, but the best time to view the eclipse will be around 3:17 am tomorrow.
With the Winter Solstice, there are 24 hours of darkness at the North Pole. It is the opposite at the South Pole, where the sun never sets at this time of the year. This reverses for the Summer Solstice.
Time for upbeat music about the sun, something that's not all new age-y, or about cleansing your spirit. Here is George Harrison with "Here Comes the Sun" from the album "Abbey Road" released in 1969. Here, George plays with Paul Simon on Saturday Night Live in 1976:
This song should make your day brighter, and give you some hope in what are otherwise dark times.
Those who read the Wrongologist in email can view the video here.
Sample Lyrics:
Little darling
It's been a long, cold, lonely winter
Little darling
It seems like years since it's been here.
Here comes the sun
Here comes the sun
And I say
It's alright.
Sun, sun, sun, here it comes x4
Little darling
I see the ice is slowly melting
Little darling
It seems like years since it's been clear.
Here comes the sun.
Here comes the sun.
It's alright.
It's alright.