The Daily Escape: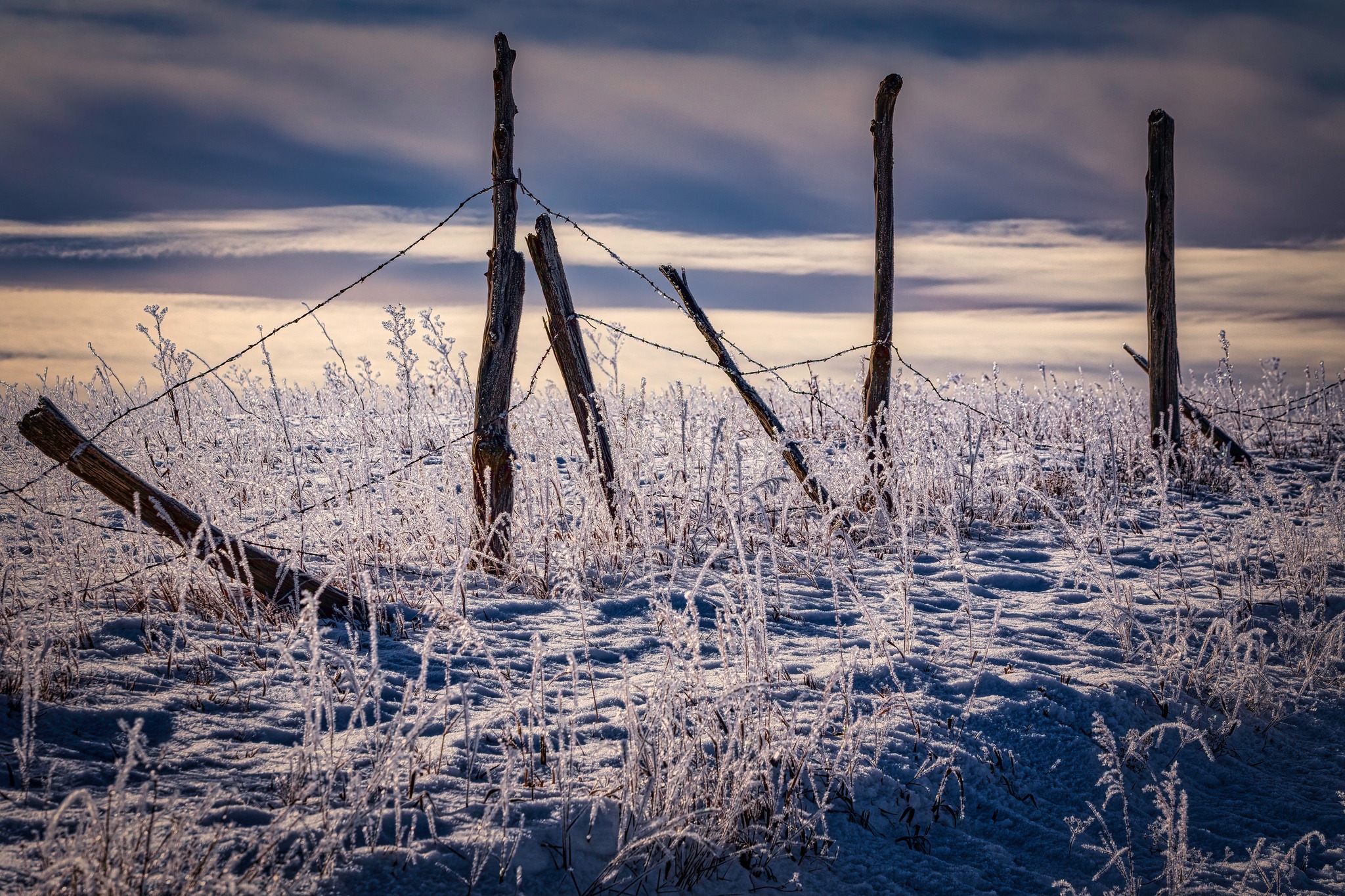 Early morning, -10°F, Pagosa Springs, CO – December 2021 photo by Ben Hazlett Photography
Evan Osnos reports in the New Yorker that it was Sen. Manchin who suggested to Biden that the physical infrastructure bill and the social infrastructure bills be split from each other:
"I'm saying we can get an infrastructure deal—a traditional infrastructure deal….Then we come back on human infrastructure and look at the needs."
Osnos goes on to say that even after the bills were split, and after months of giving ground to Manchin on the social spending particulars, Manchin never budged from an unreconstructed conservative talking point: give Americans too much help, such as extended unemployment insurance, and they will become lazy and dependent. Manchin told reporters:
"I cannot accept our economy, or basically our society, moving towards an entitlement mentality."
Manchin's opposition to the Build Back Better (BBB) bill has ended the expanded Child Tax Credit (CTC) program. According to the Treasury Department, in West Virginia, it delivered payments to 305,000 children. And statewide, 93% of children are eligible for the credit, equaling the highest rate in the country.
ABC reported that Manchin questioned whether parents would misuse CTC payments to buy drugs. In private conversations, Manchin also said he believed paid family leave would be exploited by West Virginians to go hunting during deer season. Bloomberg says he's wrong: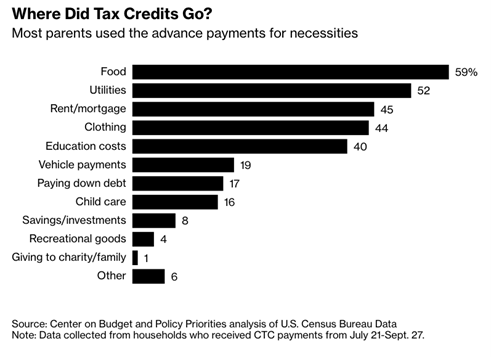 Looking at the chart, people overwhelmingly have used it for food, rent, utilities and to buy clothing and education. The poorer the family, the greater chance the CTC will be spent on necessities: a report from the Center on Budget and Policy Priorities found 91% of households making less than $35,000 per year used the money to pay for food, shelter, clothing and other necessities. They also found that Black and Hispanic families were more likely to use their credits on education-related costs, such as school supplies.
An October survey by the Census Bureau found that 25% of parents with young children also use the credits to pay for child care. Manchin is worried that there will be people gaming the system, and since perfection is unattainable, we shouldn't be giving these kids and their parents anything.
His attitude is one that many Americans agree with. They think that since they aren't going hungry, there's no reason for anyone else to be hungry, either. It's a vestige of the Protestant work ethic. They think that people like CTC recipients shouldn't get free stuff, because it is taking something from them.
It's an ugly, selfish way of looking at life.
America has successfully stigmatized being poor. How many in the bottom quartile of income are conditioned to believe they don't deserve help? While corporations and the top 1% always lobby for financial assistance, and welcome it when it comes.
There are persistent rumors that Manchin will switch Parties. That shouldn't be the Democrats' objective, but to the extent there is a purity test to be a Democrat, it probably includes helping poor children and their struggling parents.
OTOH, the Build Back Better bill isn't fully dead, nor is the voting rights bill. There's a whole year left of appointing and legislating before the Republicans (possibly) retake Congress. Maybe we'll want 50 Senators until then?
Remember that the Senate confirmed President Biden's 40th federal judicial nominee a week ago, the most judges confirmed in a president's first year in the last 40 years.
Democrats know that few of those judges would have been confirmed without Manchin voting for cloture to end debate on their nominations. If Manchin were to change Parties and stop voting with the Democrats on procedural issues, almost none of the remaining White House appointments would be filled.
It seems clear that IF some version of BBB does pass the Senate, it won't include all of the progressive goals. Wrongo assumes that both immigration reform and the CTC may need to be dealt with separately.
What Democrats will then need to decide is whether they're willing to hold their noses and vote for a bill that includes $500 billion in climate change investments, plus a critical childcare provision, more for health care, and a few other goodies.
Here's another seasonal tune, "Christmas Wrapping" by The Waitresses from 1981. This year marks 40 years since this holiday classic was released. In the song, the lead singer hints that there is a guy she met at a ski shop that she regrets not having the time to date. Later, she realizes that she must go back to the store, and meets the guy she had wanted to connect with:
Be kind, not just at Christmas, but all the time.