The Daily Escape: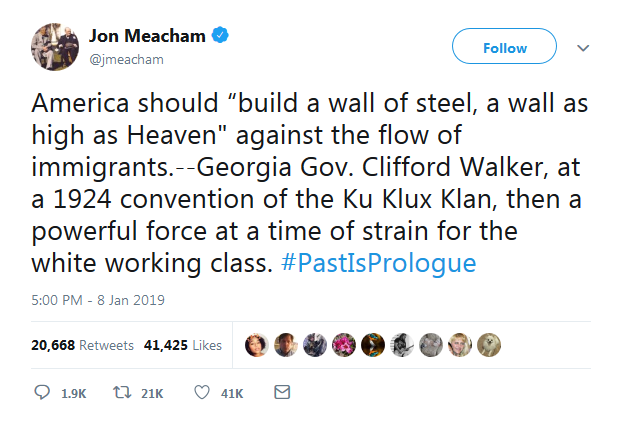 We're at such a low point, that quoting a racist White Governor at a KKK convention in 1924, doesn't seem out of character with today's politics.
"Build a wall of steel, a wall as high as Heaven" might have easily been said by Trump on the 2016 campaign trail.
From the NYT:
At midnight on Saturday, the shutdown entered its 22nd day, which makes it the longest gap in American government funding ever. That beats the previous record, under President Bill Clinton in 1995, of 21 days.
Of the 21 federal government shutdowns since 1976, nine of the ten longest occurred under Democratic presidents, where the obstruction was by Republicans.
But the current shutdown is a self-inflicted wound by Trump, so it's also caused by a Republican.
Trump has help from Mitch McConnell, who is the most powerful man in DC. He has run our national politics since 2010. He was able to neutralize Obama, and now it's his call how long this shutdown goes on. From the WaPo:
President Trump is not the only person in Washington who could end this government shutdown now.

Senate Majority Leader Mitch McConnell (R-KY) could bring a "clean" funding bill to the floor, free up his GOP caucus to support it and could quite possibly secure enough votes to override a presidential veto.

McConnell already did it once, when he believed he had Trump's blessing. Before the holidays he allowed a vote to keep the government running until Feb. 8, to avoid a shutdown and buy more time to negotiate Trump's demand for border wall funding. It passed easily.
After the past three weeks, it should be no surprise that, based on what we know, the GOP's slogan is:
"Party over People, we really don't care, do you?"
There are a few simple truths about American history. First, that racism is our worst legacy. Second, that we're a nation of, and built by, immigrants. Except for Native Americans, we all trace our origins to places beyond our borders.
So why do White nationalists and White Evangelicals insist on saying that we have the right to shut out all immigrants except those from Norway? From NPR:
From 1870 to 1910 a quarter of Norway's working-age population immigrated, mostly to the United States. You read that right — one-fourth of its workers left the country.
Why? They were economic migrants. Their average wages were less than a third of what they could earn in the US. It also turns out that the immigrants that Norway sent to the US during the 1870s were its poorest and least educated citizens.
According to Leah Boustan, an economist at Princeton University, compared to immigrants from the 15 other European nations that were part of the same wave of arrivals:
…the Norwegians held the lowest paid occupations in the US. They tended to be farm laborers. They were also fishermen. If they were in cities they were just sort of in the manual labor category — what today you would think of as a day laborer.
Does any of this sound familiar?
Twenty years after their arrival in the US, the Norwegian immigrants were still making 14% less than native-born workers. In other words, they have a lot in common with many of today's immigrants from El Salvador, Guatemala and Nicaragua.
Time to wake up, America! Trump doesn't want to develop an immigration policy. We know that, because he only creates phony crises, while he wishes away real ones.
Trump has declared conflicts with Mexico, NATO, Australia, and Canada where none exist. He has tried to frighten Americans by fabricating emergencies that do not exist on the Mexican border.
He declares victories where there are none: saying he's solved North Korea's nuclear threat, and that he has beaten ISIS in Syria.
This isn't just Nancy Pelosi's problem to solve. Republicans in the Senate need to show moral courage, force Mitch McConnell's hand, and pass a veto-proof funding bill.
The number to call is the Senate's switchboard: (202) 224-3121.