Last week was dominated by an emerging Republican narrative about Democrats: Dems are socialists. They are an angry mob. They frighten ordinary people. The framing by Trump is that the mid-term election is "patriots vs. socialists".
And Trump said this on Friday night in Cincinnati:
A vote for a Republican is a vote to reject the Democratic politics of hatred, anger and division.
The Democrats' closing argument for the mid-terms is considerably more nuanced, and it may not be heard clearly. They are against Trump, and all that he and his party stand for, but they talk about wanting a chance to provide a "check and balance" against Trump's (and the GOP's) worst instincts.
Sure, some will vote for that, but will enough turn out to vote for it to take the House?
The Democrats haven't recovered from the public's disapproval of their demonstrations against Kavanaugh after his swearing in. A reasonable minority of Dems don't understand that most Americans are uncomfortable with demonstrations. Amy Chua has an astute observation in her book, "Political Tribes" where she quotes a South Carolina student:
I think protesting is almost a status symbol for elites. That's why they always post pictures on Facebook, so all their friends know they're protesting. When elites protest on behalf of us poor people, it's not just that we see them as unhelpful; it seems that they are turning us…into the next 'meme'. We don't like being used for someone else's self-validation.
On one side, we have the GOP, who can apparently say anything, offer insults and tell lies. On the other side, we have the Democrats who can't do much of that without the mainstream media taking umbrage. Dems allow the media and the Right to write their story. The GOP and the media have made the Democrats the party of identity politics, the PC party, one that is so busy protecting the big tent that it's unable to govern.
Trump's Traveling Nuremberg Rallies will continue until the mid-terms, and Dems must decide what messaging will be successful in 2018. It's going to be tough, because since the dawn of time, no one has truly figured out how to deal effectively (and conclusively) with authoritarian and anti-democratic ideas.
But, Dems have to do just that, or else remain a fringe party.
In American politics, it seems like it's always 1968. Republicans are the law-and-order party. Democrats are the party affiliated with the demonstrators in the streets of Chicago, even though those demonstrators were radicals, not Democrats. The demonstrators were furious at the Vietnam War, which was led then by Democrats. And today, that viewpoint persists.
Both parties think the other is appalling, so you don't have to like your own party, you just have to hate the other one. And one thing the Kavanaugh mess has done, it's made both sides feel the other is appalling.
How it all turns out 22 days from now is anyone's guess. Let's hope the Democrats fight hard for the issues that really matter. On to cartoons.
It's football and election seasons, and it's always tough to pick the winners: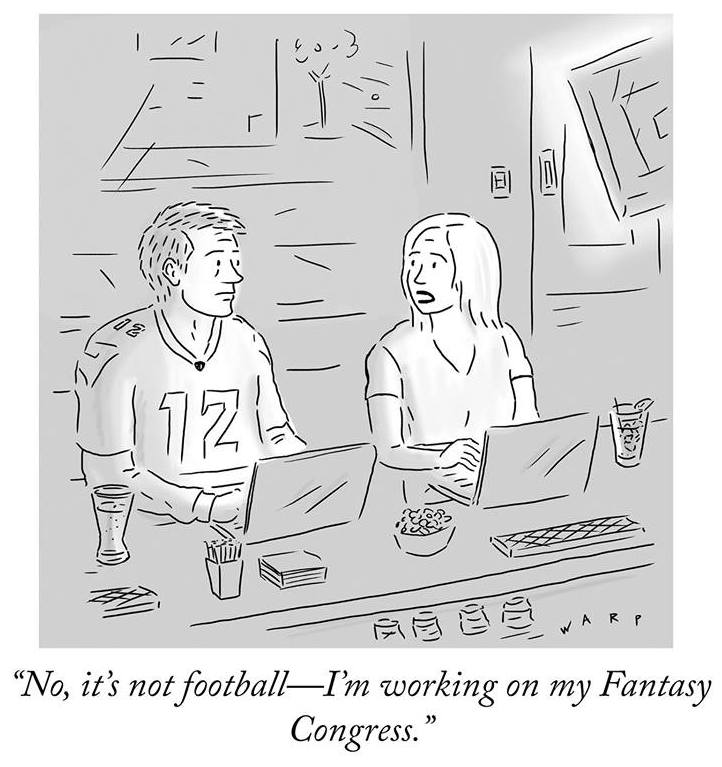 It's laughable to think back to the days when the US sent observers to other countries to ensure fair elections: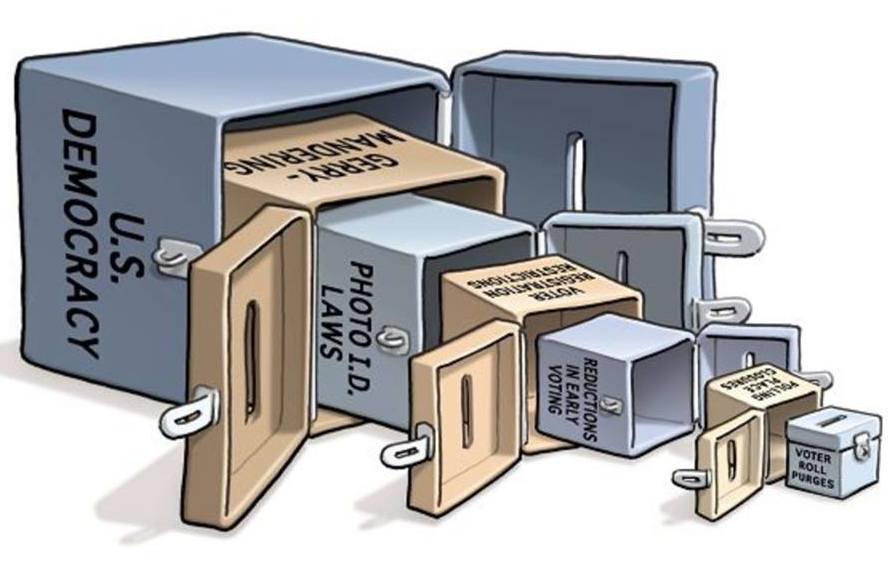 Nikki Haley resigned. Kanye went to the White House. What to expect next: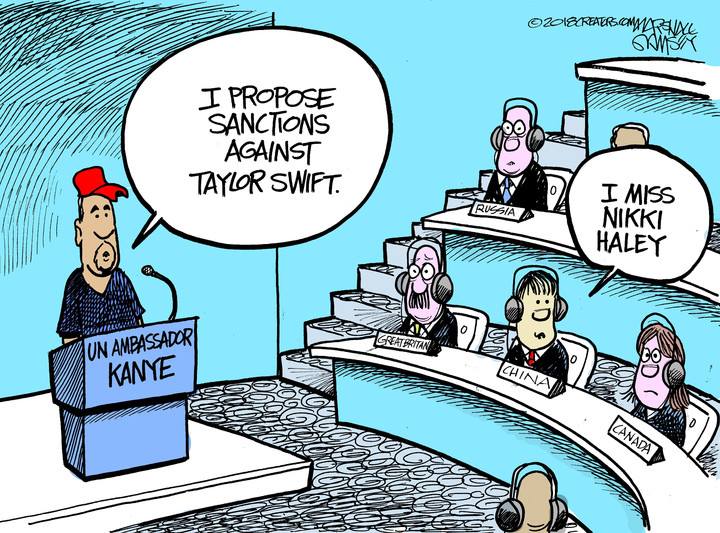 Hurricanes have become like school shootings, so many of them, and all so devastating. We treat these events the same, with thought and prayers, but no plan to deal with the causes: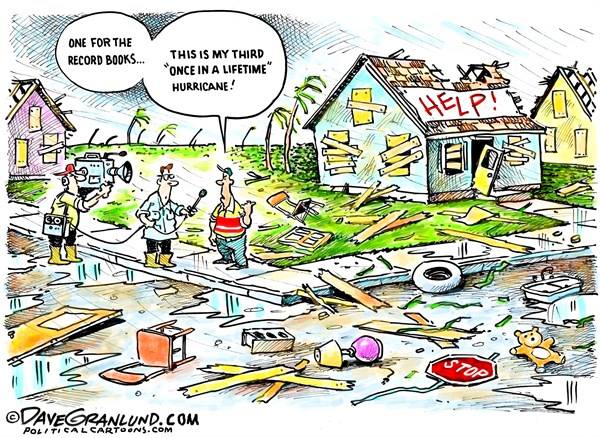 What Trump and Fox want the campaign trail to look like: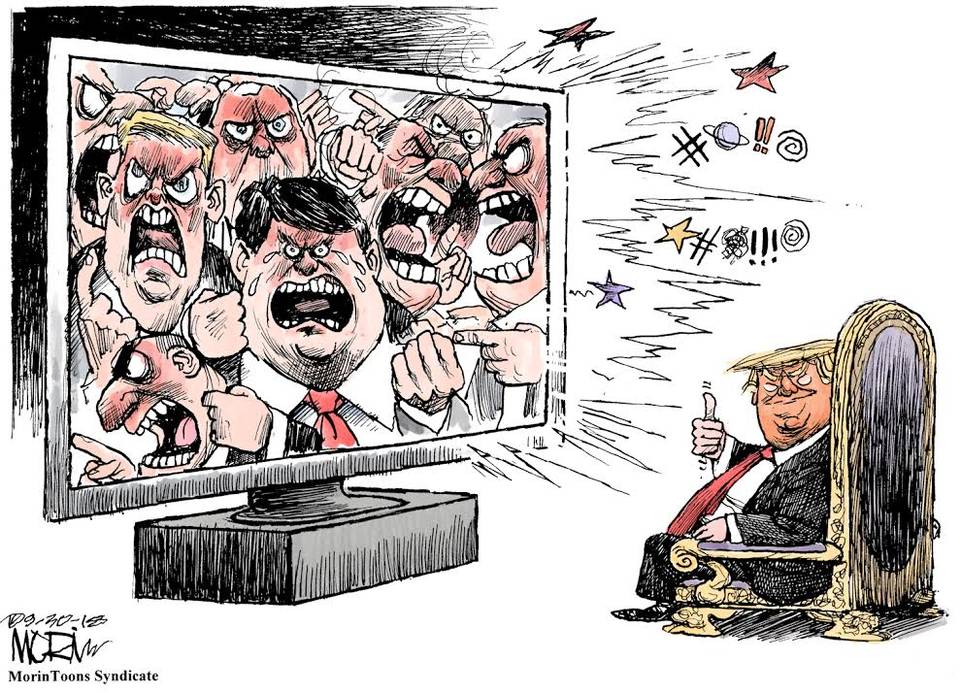 Trump sprang into action after Jamal Khashoggi's disappearance. He said we shouldn't jeopardize our arms sales to Saudi Arabia: